Sh*t MC Girls Say: Live Coverage from the 2014 Grammys
Roll out the red carpet, top off your drinks, and join the MC girls for our live coverage of the 2014 Grammy Awards.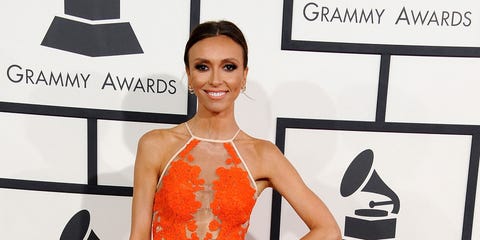 Roll out the red carpet, top off your drinks, and join the MC girls for our live coverage of the 2014 Grammy Awards.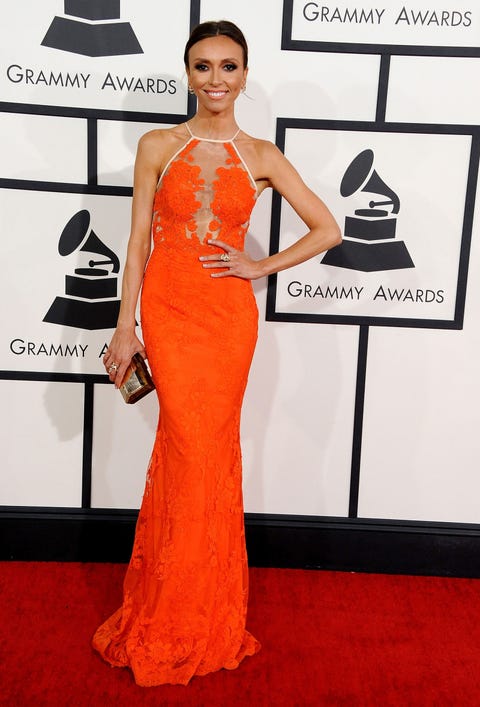 Giuliana Rancic
Deanne Kaczerski, Digital Director: Two for two! Love the red lace with the white piping around the neck.
Liana Satenstein, Freelance Writer: I like the flower cut-out décolletage — that's about it.
Rebecca Shapiro, Senior Web Editor: This is the best she's looked all season—by far.
Hallie Gould, Social Editor: If it's red, love. If it's orange, nah G.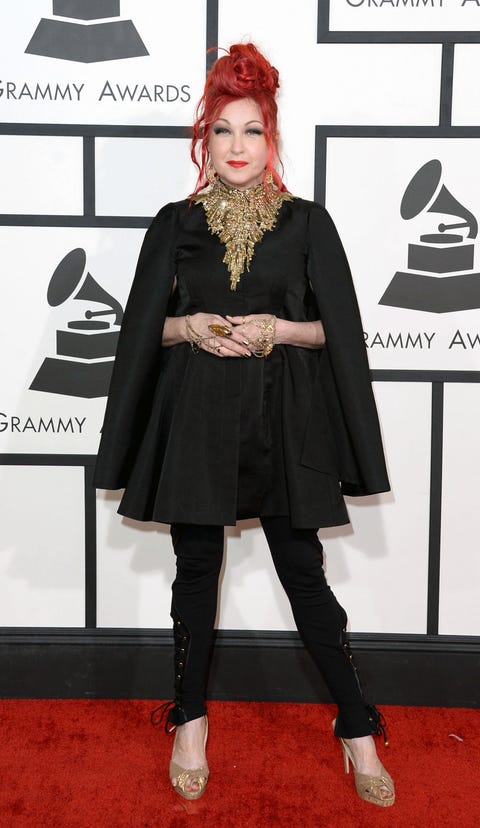 Cyndi Lauper
Deanne: One of the original punk-pop princesses, I'm loving her hair color, but wish her dress was a bit more fun..
Liana: Ohhhh, I like it. She looks sleek with the pants.
Rebecca: I love her so much. She can do no wrong in my book.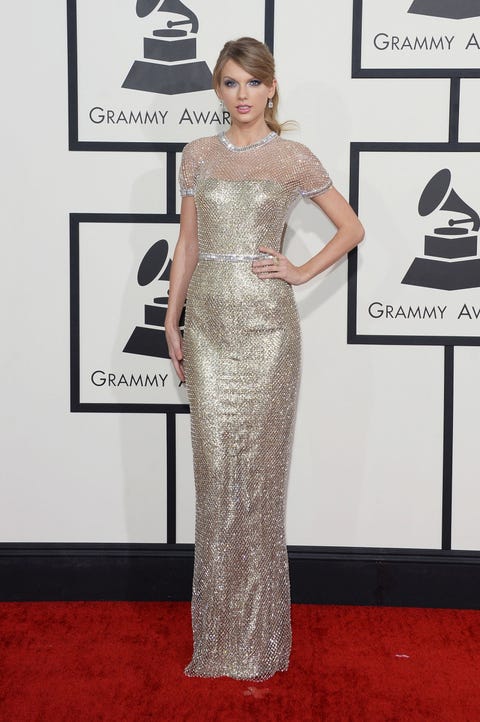 Taylor Swift
Deanne: Predictable, but seriously amazing. She sparkles from the inside out. It's like sexy, modern chainmail. I miss her in red lipstick though.
Liana: #Blessed
Rebecca: She's on an entirely different level. I love how she makes otherwise conservative dresses so exciting and sexy.
Hallie: I mean, of course she looks amazing. But maybe one day she won't wear sparkles?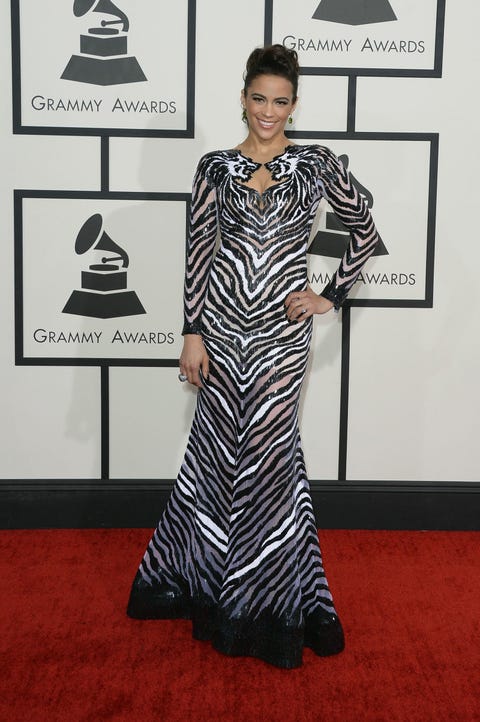 Paula Patton
Deanne: Um. This feels like a joke: How many sequin zebras did Paula Patton have to kill to make her dress?
Liana: Noooo...this reminds me of some Golden Girls gone glam mess.
Rebecca: A terrible, horrible, no good, very bad, sparkly zebra-tiger dress.
Hallie: This belongs on the floor of an NYC bachelor pad. As in, it looks like a rug.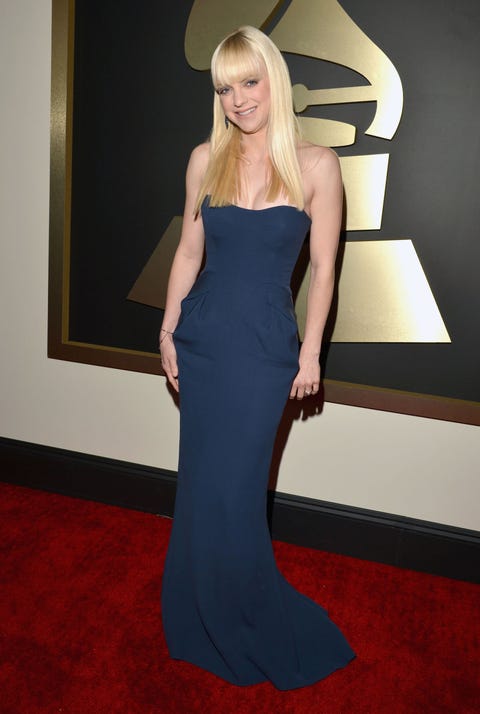 Anna Faris
Deanne: That blue dress is divine. She's channeling her inner-Reese Witherspoon.
Liana: I'm going to go with Deanne and Hallie on the Reese vibes. Kind of tepid though...
Rebecca: This dress is so beautiful but is so boring on the Grammys red carpet.
Hallie: OMG totes Reese! Her handpiece is exquisite and earrings to match.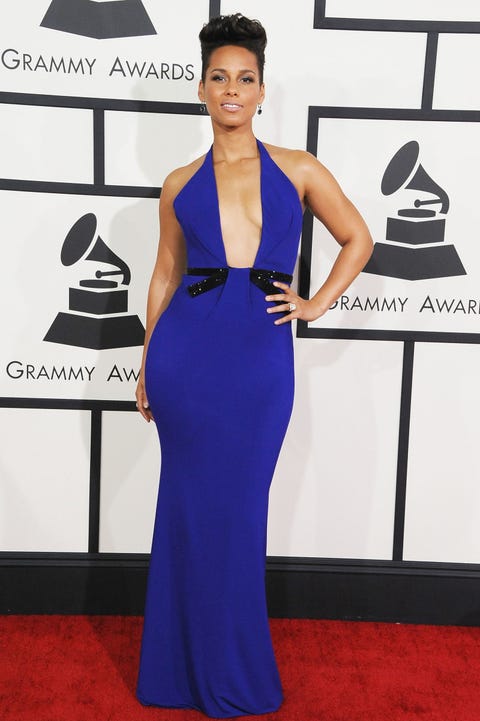 Alicia Keys
Deanne: TKO. She looks #totesamaze
Liana: I don't like the toppling bun hair I've been seeing today...
Rebecca: I do not enjoy this dress but she looks absolutely gorgeous.
Hallie: Meh. Her body is banging though.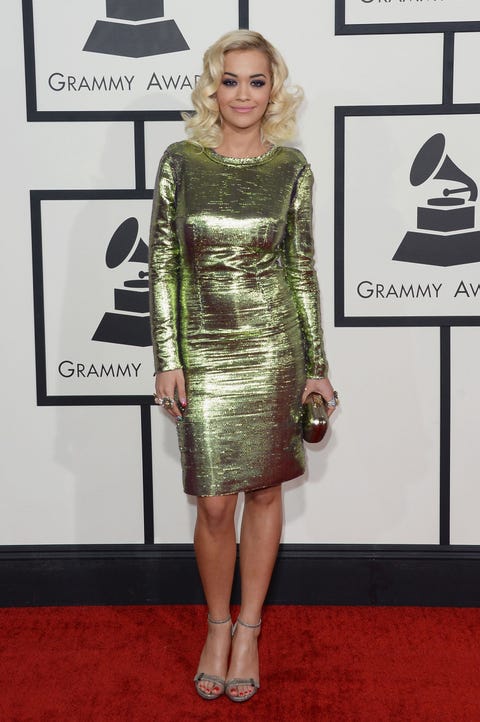 Rita Ora
Deanne: I wrap my sandwiches in her dress every morning. And it looks just as wrinkled.Not flattering. But her mani is killer.
Liana: I'm into it. She rocks the red carpet casual very well.
Rebecca: It's not the greatest dress but I just love her too much.
Hallie: THE. MANI.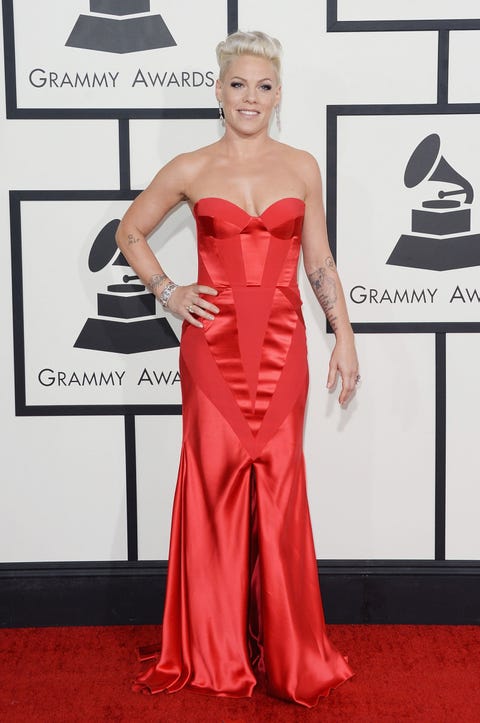 Pink
Deanne: Holy hotness, Batman! She is so awesome.
Liana: I love the color but she looks stiff in it.
Rebecca: I'm not crazy about the fit because the seams are pulling around her hips, but this is one of my favorite dresses on the carpet tonight.
Hallie: A little underwhelming, but beautiful just the same.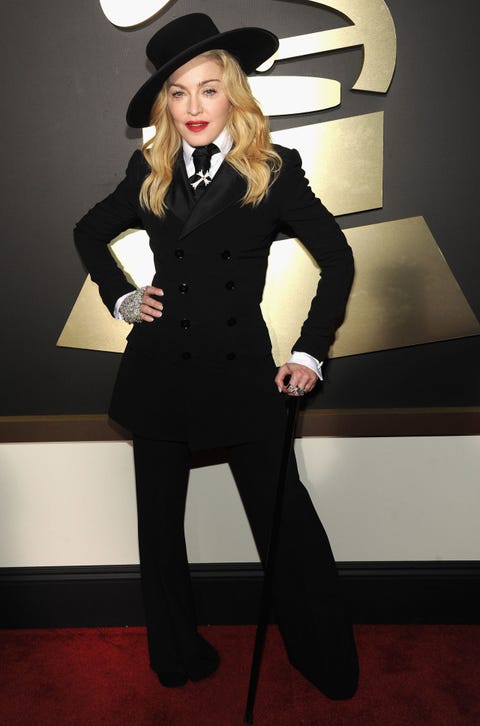 Madonna
Deanne: I like the idea of this, but wish the blazer was a bit more opened...perhaps a two-button style. The cane, grill, and sparkly glove is lame and overkill. It's like she stole defining characteristics of other musicians and wore them all at once.
Liana: Diane Keaton gone bad.
Rebecca: I really love everything about this except the hat.
Hallie: A little Prince (cane), a little MJ (glove), and a lot Zorro.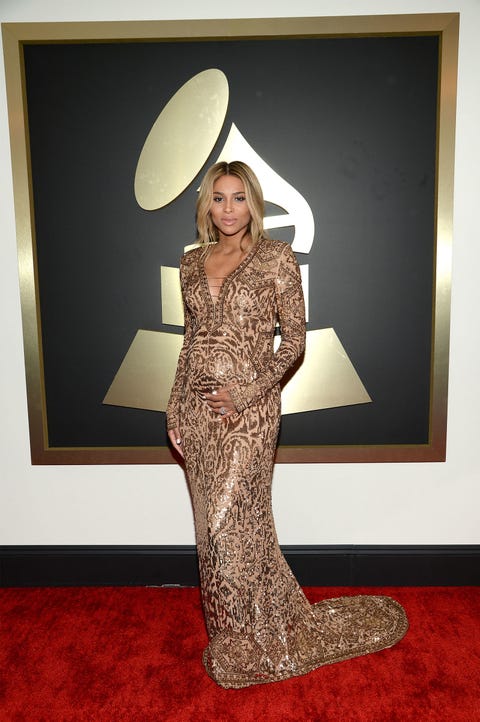 Ciara
Deanne: Girl looks good. This is how pregnant women need to dress for formal events. She looks gorgeous! It's also not fair that her skin is incredible.
Liana: This structured, bronzy dress is a gold star on her.
Rebecca: I am OBSESSED with this. I love the detailing and the color. It's just so perfect for her - pregnant or not.
Hallie: Gorgeous hair, gorgeous dress, gorgeous natural makeup. #perfection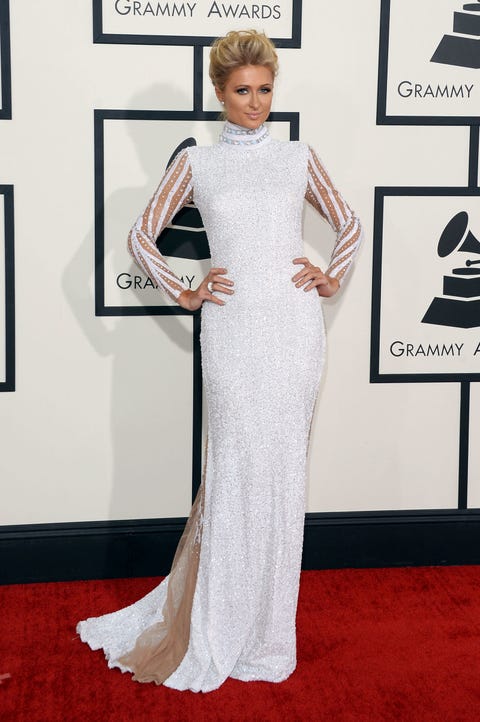 Paris Hilton
Deanne: She is finally looking good. Congrats.
Liana: Too Vanna White goes to Vegas for me.
Rebecca: Okay the back reminds me of an ice skater's costume so I'm kind of obsessed.
Hallie: I'm not going to lie, It's kind of cool.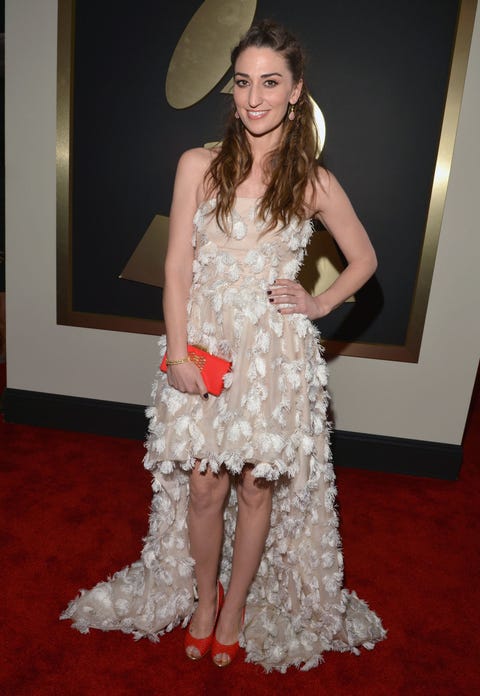 Sara Bareilles
Deanne: Oh, I've needed a new Swiffer for dusting. Sweet.
Liana: Yeah! Mullet dresses!
Rebecca: Yeah this is all pretty terrible. And I usually LOVE braids.
Hallie: She found Björk's swan dress, ripped it up, and then pasted it back together. Crafty!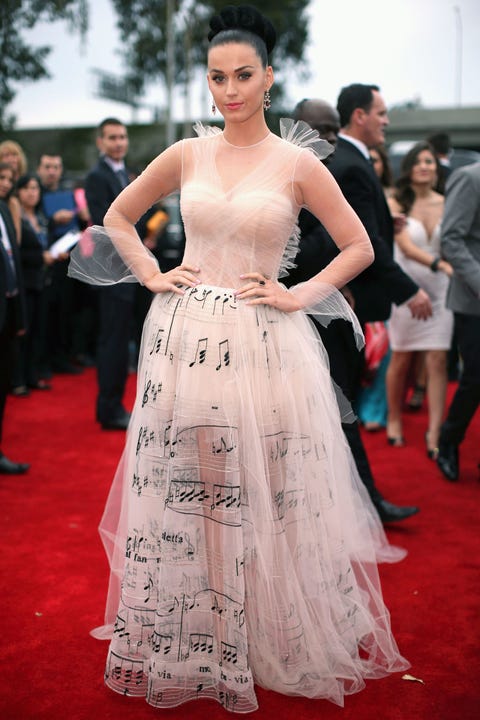 Katy Perry
Deanne: Exactly what I would have imagined her in (as did George S.). It was a dress meant for her.
Liana: Katy Perry hits a high note (knee-slapper) in this number
Rebecca: My judgement is clouded as this is my shower curtain from Bed, Bath & Beyond.
Hallie: It's pretty and playful, just like our girl.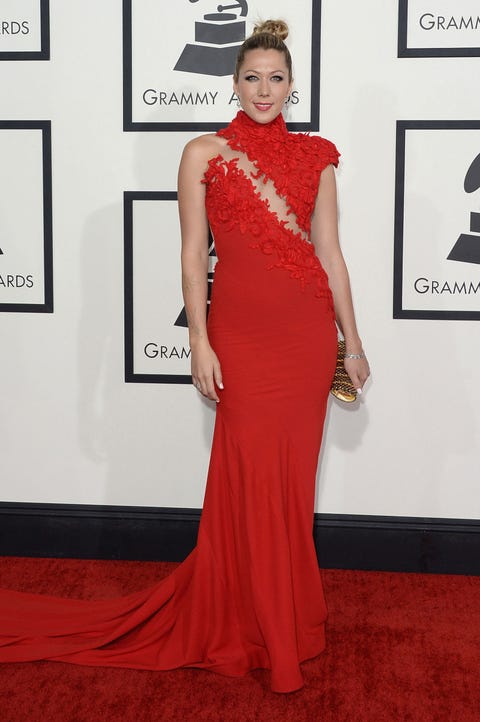 Colbie Caillat
Deanne: I'm really loving the lace-on-sheer of her dress. I would have preferred a shorter collar, but it's beautiful nonetheless.
Liana: I'm with Rebecca on the high collar meh-ness.
Rebecca: The high neck is SO bad! And the hair makes no sense for this dress. I'm just confused.
Hallie: Is Giuliana feeling awkward standing next to her? It's a little Dancing with the Stars-ish.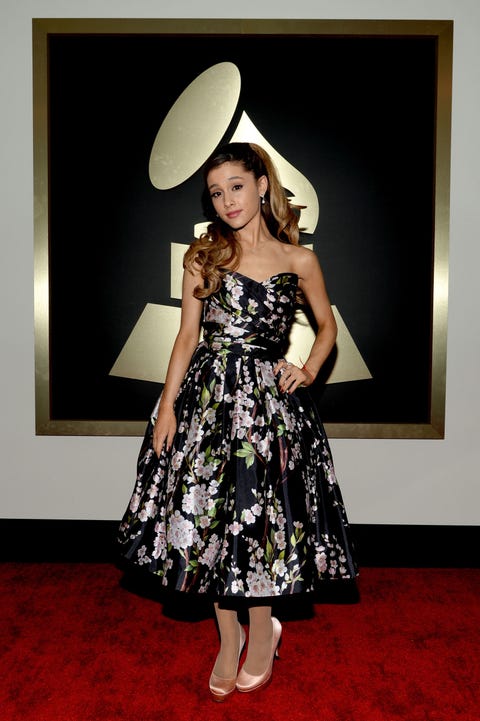 Ariana Grande
Deanne: Mattel should wrap her in plastic and pass her off as Flower Barbie.
Liana: What all the cool girls wore to their Bat Mitzvahs circa 1987.
Rebecca: I had a very similar bedspread throughout middle school, which I do not remember fondly.
Hallie: Aw girl, no.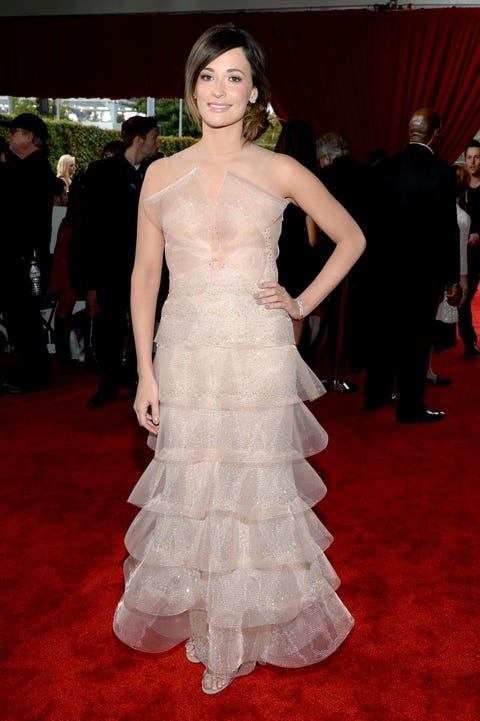 Kacey Musgraves
Deanne: I am in love. This ethereal blush color for spring that we've seen on a few others this award season is just so beautiful. Looks great.
Liana: Tiered to perfection.
Rebecca: Everything looks so effortless and natural — it's just gorgeous.
Hallie: Whimsy! Romance! PINK SPARKLES!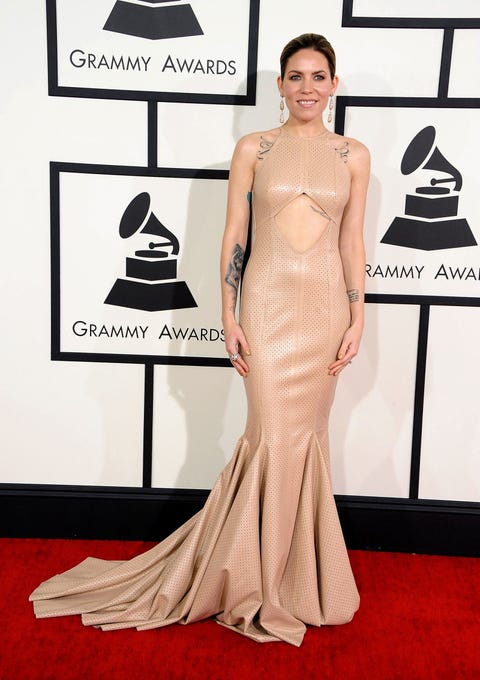 Skylar Grey
Deanne: There's that blush color again, but this time in perforated leather. Yowza!
Liana: I'm an automatic fan of anyone who shows off their tats in a gown on the red carpet. Rock it, girl.
Rebecca: So this is what a plastic Band-Aid would look like as a gown!
Hallie: Is it weird that this is my favorite so far? #SorryNotSorry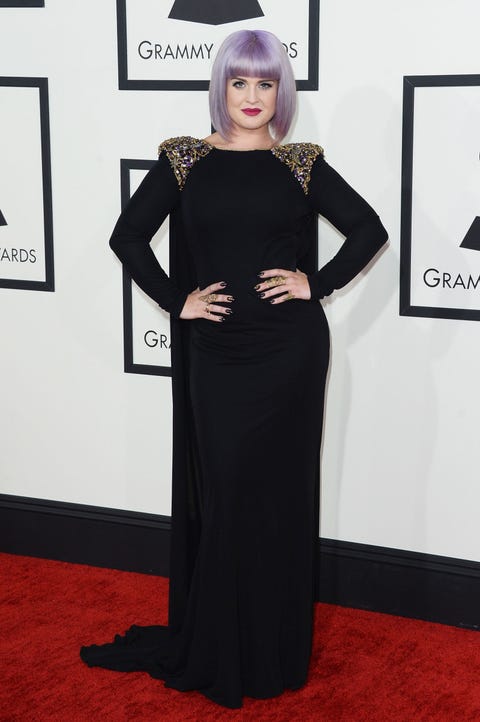 Kelly Osbourne
Deanne: I love Kelly, but she looks like she's wearing a purple helmet and that dress does nothing for that kick-ass bod of hers.
Liana: Some Cher-meets-space-age ish going on here.
Rebecca: Deanne is totally right! What is going on with that cut?! Way too conservative for her.
Hallie: Didn't she wear this to the Golden Globes?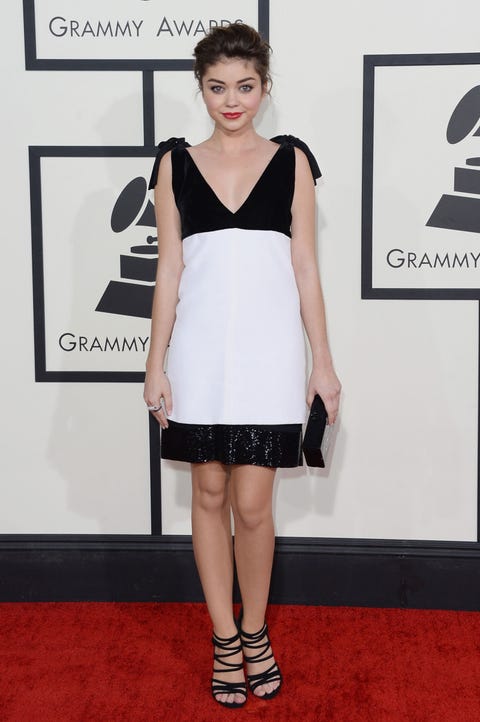 Sarah Hyland
Deanne: This look is such a departure from her SAG award's look. It does nothing for her. It's something I'd expect a Teen Mom to wear to an awards show.
Liana: It's cute but way too young.
Rebecca: This look makes me sad.
Hallie: Me too. She was doing so well this Awards Season…
This content is created and maintained by a third party, and imported onto this page to help users provide their email addresses. You may be able to find more information about this and similar content at piano.io