The Best Moments from the 2019 Golden Globes
From Taylor Swift's presence to Regina King's important pledge, here were all the best moments of the Golden Globes.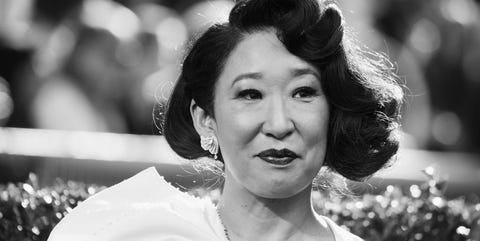 The Golden Globes is a great awards show because everyone seems to be in a good mood. It's not quite as prestigious as either the Emmys or the Oscars, though it's telling about both of them. Instead. stars from screens big and small are ready to get dressed up, get a little tipsy, and hang out with each other. You'd expect some political jokes, but there wasn't much of that. Instead, there was a lot of talking about how Hollywood could be better, more diverse, and more equal. Sure, that meant there was a bit less dramaaa than in years past, but it was also really heartwarming.
Here were all of the best, can't-miss moments of the 2019 Golden Globes: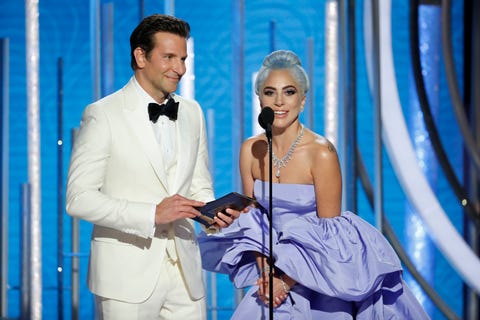 Is it not enough that Gaga is an incredible singer and songwriter, a provocateur, and an award-winning actress but she also has to be breathtakingly radiant too? It would be unfair if she was less lovable, and her blue hair and blue dress combo, possibly a shoutout to Judy Garland's original A Star Is Born look, was unbeatable. High drama!
2
Sandra Oh's Representation Joke Ruled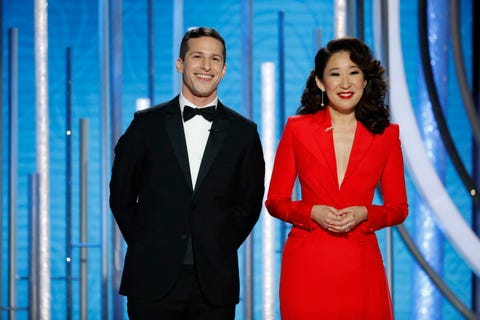 Okay, so Andy Samberg and Sandra Oh are kind of a strange pairing for cohosts of the Golden Globes. After all, the only thing they have in common is that they are perfect and no one has a bad thing to say about them. So naturally, their monologue was pretty easy-going and good-natured, without much of the swashbuckling and pointed ribbing of monologues past. But there was one joke Oh made about Crazy Rich Asians, in which she pointed out that it was "the first studio film with an Asian American lead since Ghost in the Shell and Aloha"—two films that controversially starred white women Scarlett Johansson and Emma Stone, respectively, in roles that were written for characters of Asian descent. The joke had bite! Enough that Emma Stone felt compelled to yell, "I'm sorry!" from her table.
3
Carol Burnett Got an Award Named for Her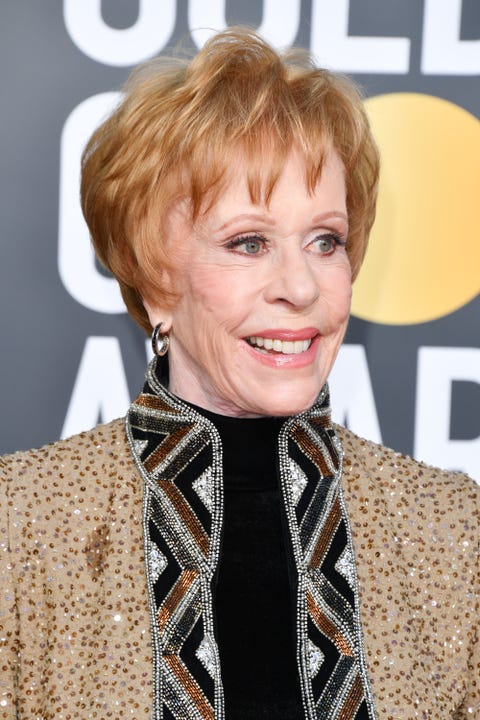 George Pimentel
Getty Images
Steve Carrell came out and we thought he would be very serious presenting a prestigious award because, if you've seen Beautiful Boy, you know he can be serious. But for the Carol Burnett Award, presented to Carol Burnett, he was the perfect mix of light-hearted and adoring—everything the queen Carol Burnett deserves. Her six decade-long career has spanned multiple media (many times in which she was a "first") and, according to Carrell (quoting what some people say), "she makes Tom Hanks look like an asshole." She's the perfect person to name an award for—a true living legend. In accepting the inaugural Carol Burnett award, she joked, "Do I get to accept it every year?" We certainly hope so.
4
Regina King Made an Important Pledge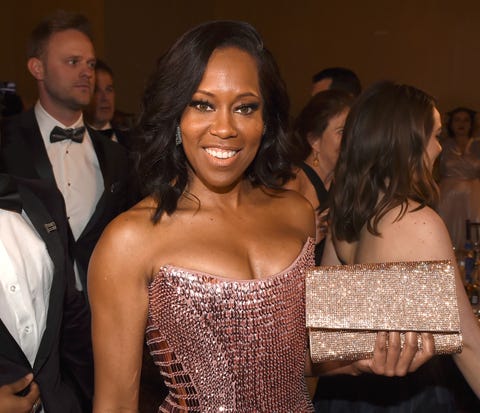 In accepting her award for If Beale Street Could Talk, Regina King made a pledge: That every movie she produces in the next two years will have 50 percent women. The music that was cued to play her off stopped after she gave her thanks so that she could make this important promise. In an awards where so many women—and especially women of color—are getting acknowledged, it felt so fitting and necessary.
5
Hey, Taylor Swift Was There!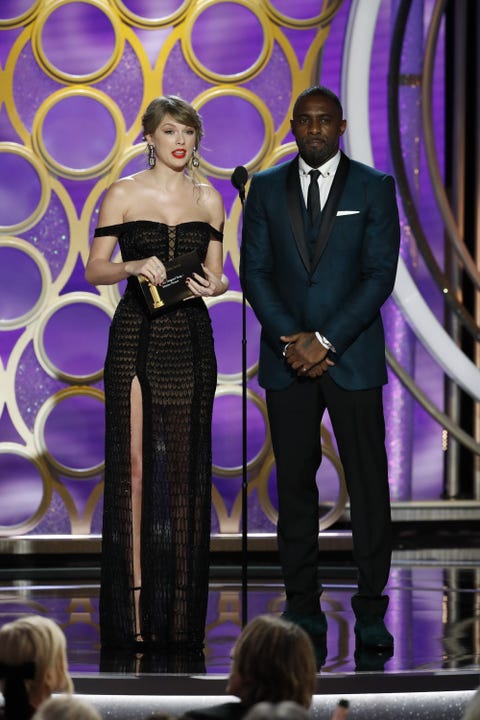 Not that we should be that surprised that Taylor Swift presented an award for Original Score for a Motion Picture (which went to First Man) and Best Song in a Motion Picture (to "Shallow" from A Star Is Born, thank god) —she was already there, thanks to her relationship with Joe Alwyn and his star-making turn as Reluctant Hand Job Recipient No. 1 in The Favourite. And when you have Taylor Swift in the room you GET HER ONSTAGE. Still, this show is taking a long time and her beautiful visage was a treat.
6
The "Most Inspiring Moments" Montage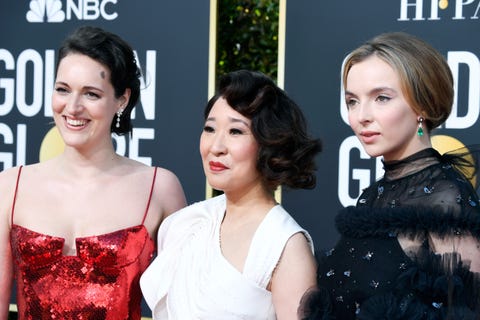 Frazer Harrison
Getty Images
Co-hosts Andy Samberg and Sandra Oh presented a montage of the most important Golden Globes moments ever, the ones that really inspired them...And it was about six seconds long and consisted only of the two respective awards that Samberg and Oh won in years past. "What?" said Oh. "We said the moments that inspired us." And now Sandra will have another inspiring moment: After this, she won an award for her lead role in the brilliant show Killing Eve.
7
Jeff Bridges Was Charming As Heck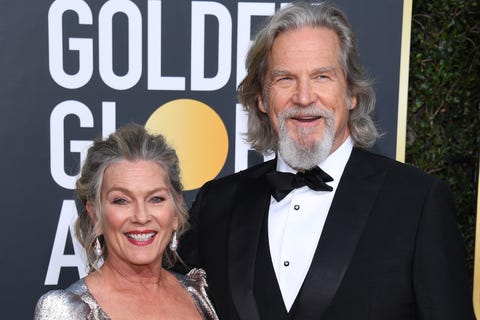 Daniele Venturelli
Getty Images
Iconic actor Jeff Bridges took home the prestigious Cecil B. DeMille Award, presented by Chris Pine and featuring a montage of his biggest roles with a voice-over by Sam Elliott (who was the narrator of The Big Lebowski, you'll recall). During his acceptance speech, he was absolutely The Dude, sweetly shouting out the actors, mentors, and family members who helped him get to where he is. He was charming and laidback and even if the speech was a little long-winded, it was so nice to spend a few minutes in Jeff Bridges mind that I basically got a contact high. More Jeff Bridges!
8
Olivia Colman Loved Her Coworkers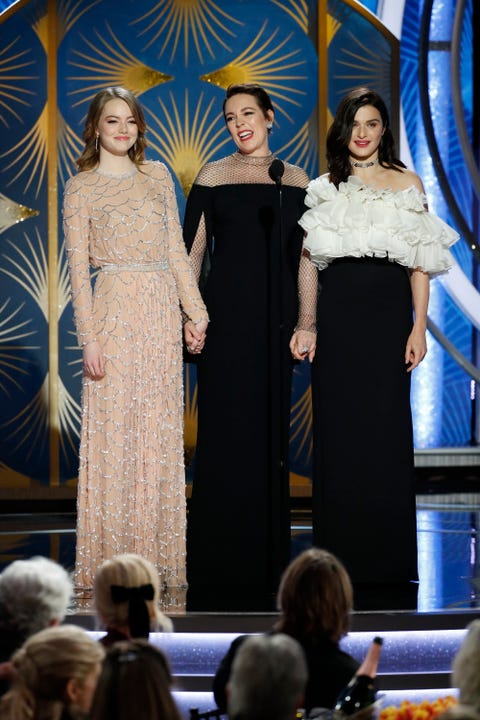 Olivia Colman rightfully took home a Best Actress award for her role as Queen Anne in The Favourite, and in her upbeat acceptance speech she made a special shoutout to her costars Emma Stone and Rachel Weisz, whom she called "my bitches." That got some laughs, but it was really refreshing to hear her talk about the experience of working with the two actresses—she even sad she was genuinely sad when the movie wrapped filming. It shows in the finished product, but it's nice to see really good chemistry onscreen and off. Also, she thanked someone "for the sandwiches," and it may or may not have been Melissa McCarthy who was reportedly handing out ham sandwiches in secret all evening. Bless.
9
Glenn Close Gave a Moving Acceptance Speech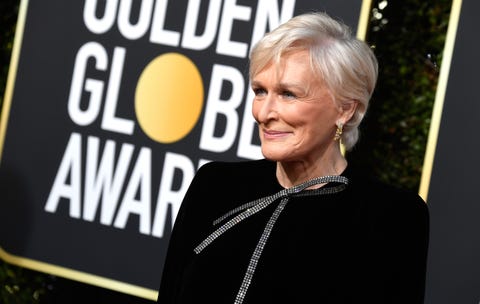 Frazer Harrison
Getty Images
Receiving an award for her role in The Wife through tears, Glenn Close gave a beautiful, feminist acceptance speech about how proud she was of the role—"It's called The Wife, I think that's why it took 14 years to get made!"—and how she was thinking of her mother "who really sublimated herself to my father her whole life" as she played it. She talked about women and how they should be allowed to fulfill their dreams—a line that received a standing ovation, with many of her fellow actresses in the crowd also in tears. And then she summed it all up beautifully: "It'll be 45 years in September that I will be a working actress, and I cannot imagine a more wonderful life."
This content is created and maintained by a third party, and imported onto this page to help users provide their email addresses. You may be able to find more information about this and similar content at piano.io