The Best Rom-Coms Netflix Has to Offer
Disclaimer: There's a lot of Noah Centineo.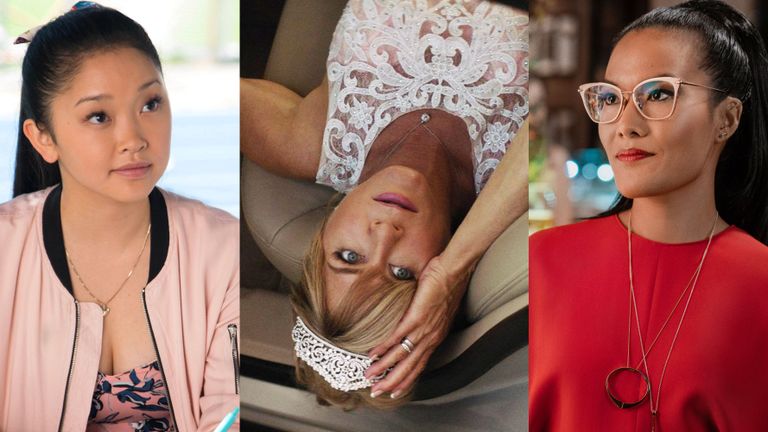 (Image credit: Marie Claire)
Rom-coms can get a bad rep. There's nothing wrong with a light-hearted film with a strong female lead and an emotional arc—we all need a good rom-com (opens in new tab) for self-care purposes sometimes!—but it's true that a poorly made rom-com can veer into gimmicky territory. So it's a good thing that we're here to pick out the best ones that also happen to be on Netflix right now. Even the biggest rom-com critics can't argue with these picks; they're a shot of pure joy and will leave you feeling that maybe, just maybe, everything will work out in the end. All you need is a Netflix subscription. And probably a small country's worth of junk food.
1. 'To All The Boys I Loved Before'
Starring: Lana Condor, Noah Centineo, Israel Broussard, Janel Parrish
It's every girl's worst nightmare: When Lara Jean's (Lana Condor) love letters are accidentally mailed to all of her current and past crushes, she pretends to date the most popular boy in school in an effort to hide her crush on her sister's ex-boyfriend. It's a sweet story about family and romance, and will fill you with all the high-school nostalgia you didn't know you had.
2. 'Sierra Burgess is a Loser'
Starring: Shannon Purser, Noah Centineo, Kristine Froseth
If you're tired of seeing conventionally beautiful girls "struggling" to find love on your TV screen, Sierra Burgess is a Loser will feel a bit more refreshing. Sierra is different from your average rom-com protagonist—for one, she's larger than a size two, and she's genuinely awkward (not the fake-cute awkward) when it comes to love. When she strikes up a text conversation with an intellectual jock who believes she's someone else, she ends up falling for him and gets entangled in a passionate (and deceptive) relationship. Overall, it's a charming tale that shows how a relationship can spark when not founded in looks. Oh, and Noah Centineo definitely doesn't hurt.
3. '27 Dresses'
Starring: Katherine Heigel, James Marsden, Malin Akerman, Edward Burns
If you've been a bridesmaid, even once, you can imagine just how dramatic it would be to do it 27 times. So it's a good thing Jane (Katherine Heigel) loves weddings. When the nuptial-loving Jane tries to sort out her own romantic adventure, a lot of hijinks, misunderstandings, and a mad dash across Manhattan to declare true love ensue.
4. 'Dumplin''
Starring: Danielle Macdonald, Jennifer Aniston, Odeya Rush, Luke Benward, Dove Cameron
This coming-of-age film revolves around the plus-size teenage daughter (Danielle MacDonald) of a former beauty queen (Jennifer Aniston), who signs up for her mom's pageant in protest of pageants and unrealistic beauty expectations. Her act starts a revolution in their small Texan town, and the movement that follows is a heart-warming ode to the power of female camaraderie. Surprisingly, the romance in this coming-of-age story almost feels like a subplot, but it works.
5. 'Set It Up'
Starring: Zoey Deutch, Glen Powell, Lucy Liu, Taye Diggs
This movie is almost two rom-coms in one. When two overworked assistants try to trick their bosses into falling in love so they can have a moment's peace, they end up spending so much time together that they become close friends (and maybe more) in the process. The fun jumble of characters and their sassy on-screen chemistry makes for a good ol' feel-good movie experience.
6. 'A Cinderella Story'
Starring: Hilary Duff, Chad Michael Murray, Regina King
A major throwback for '90s and early '00 babies, A Cinderella Story is your modern take on the traditional fairy tale. It all starts after a cell phone mixup, when Sam (Hilary Duff) begins anonymously texting Austin Ames (Chad Michael Murray), the most popular boy in school. The tale has everything you need—damsel in distress, hot guy, a beautiful dress—to satisfy all your inner fairy tale dreams.
7. 'Julie and Julia'
Starring: Meryl Streep, Amy Adams, Stanley Tucci, Jane Lynch
Based on two true stories, the film toggles back and forth between two empowering narratives: The story of Julia Child's rise to the top of the cooking food chain, and the similar story of Julie Powell's writing project in which she attempts to cook every recipe in Julia Child's Mastering the Art of French Cooking in one year. The film doubles as an homage to Julia Child as well as a testament to the immense strength and grit of passionate women.
8. 'Always Be My Maybe'
Starring: Ali Wong, Randall Park, Keanu Reeves
If you want to see Keanu Reeves make one of the most legendary cameos of all time, catch this flick. The plotline is a classic one—childhood besties, Sasha (Ali Wong) and Marcus (Randall Park) live very different lives and reconnect after 15 years—but the cheeky and vibrant character personalities are so well-developed that it comes across as something completely new.
9. 'The Perfect Date'
Starring: Noah Centineo, Laura Marano, Camila Mendes
We warned you that Noah is in a lot of these. Determined to make enough money to attend the college of his dreams, high school student Brooks (Noah Centineo) creates an app that allows people to hire him to be their perfect date. But when Brooks finally gets the girl of his dreams, he starts to question the life he thought he wanted.
10. 'Love, Rosie'
Starring: Lily Collins, Sam Claflin, Suki Waterhouse
Anyone who's been in a long-distance relationship will understand the struggle behind this movie adaptation of the 2004 novel Where Rainbows End. Rosie (Lily Collins) and her best friend, Alex, planned on making the move from the UK to Boston, Massachusetts to attend college. But the pair are separated when Rosie chooses to stay in the UK, and the platonic nature of their friendship is questioned as they attempt to stay a part of each other's lives.
...
For more stories like this, including celebrity news, beauty and fashion advice, savvy political commentary, and fascinating features, sign up for the Marie Claire newsletter (subscribe here (opens in new tab)).
Hana Hong is the beauty assistant at Marie Claire, where she covers skincare, makeup, and haircare, and is identifiable by her signature cateye.