60 Gifts for Mom She'll Truly Love
From creature comforts to luxe indulgences.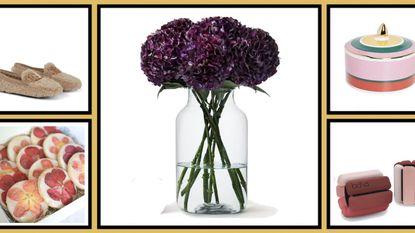 (Image credit: Courtesy of The Brands)
Whether you're right around the corner or live oceans apart, nobody deserves a really good gift more than your mom. You want to get her something thoughtful, something that shows her just how much she means to you—whether it's her birthday, a special anniversary, or just a regular Sunday. We've searched long and hard to find a perfect gift for just about every kind of mom, from precious trinkets and luxe indulgences to more practical finds. Surprise her with flowers, a shiny new kitchen gadget she'll actually use, or a subscription to a class or workout she'll enjoy. Ahead, our favorite gift ideas for mom that she'll really and truly love.
1/60
Longchamp Le Pliage Original Coin Purse
This cute coin purse will ensure there's no more loose change at the bottom of mom's bag.
2/60
Tory Burch Lettuce Ware Salt Cellar, Set Of 2
Each cellar is delicately molded, detailed, and painted by hand, perfect for the mom who loves a great tablescape.
3/60
DOZYANT Bamboo Bathtub Tray Caddy
This is the no-brainer gift for bubble bath loving mamas.
4/60
Feather and Down Pillow
Give mom the gift of a great night's rest with these one-of-a kind feather and down pillows from Mandarin Oriental's stylish bedroom collection.
5/60
FlowerBx Fresh Blooms
Flowerbx sources the freshest flowers and delivers them straight to mom.
6/60
La Double J Goodie Jar
Handmade in Italy, this candy colored porcelain dish is the perfect vessel for candy or jewels. Plus, it's dishwasher safe.
7/60
OffHours Homecoat
Help mom unwind after a long day with this ultra cozy robe coat made from French terrycloth fabric.
8/60
Jewels For Hope Blue Monochromatic Earrings
Mom will love these handcrafted earrings. The best part? They're made by a mother-and-daughter-run small business, Jewels for Hope, that gives a percentage of their profits to charity.
9/60
The Class The Class
With a monthly subscription to The Class, mom can join in on this cathartic workout in the comfort of her own home.
10/60
Westman Atelier Baby Cheeks
This industry-favorite blush can be used on the eyes, lips, or cheeks. Ideal for any mom who's also a beauty buff.
11/60
Tod's Shearling Loafers
These cozy loafers will keep her feet warm on chilly mornings. Made with a pebbled sole and ergonomic design, these shearling shoes can also be taken to the street.
12/60
Michael Aram Black Iris Frame
Put a picture of you and your mom on show in this brass and black Iris adorned frame.
13/60
Sprout Basil Indoor Garden Kit
This indoor garden kit comes with a self-watering pot, making it a full-proof way to incorporate fresh basil into any meal.
14/60
Nette Spring 1998
Using only natural ingredients, mom can feel good about lighting this magnolia, freesia, and neroli-scented candle in every room of the house.
15/60
Objecto Objecto H4 Hybrid Humidifier
She'll be impressed. A humidifier that's also attractive is hard to come by,
16/60
Silver Oak Cheers with Cabernet
Give your vino-loving mom a bottle of Silver Oak's 2017 cabernet, wrapped especially for the holidays.
17/60
Kenwood Kenwood Bistro Apron
With 15 years of experience in NYC's fashion industry focusing on tailoring and fit, Rendall Co. founder Deirdra Jones developed the perfect cook's apron. Deep patch pockets will help mom keep her phone and cooking gadgets close by.
18/60
Janessa Leone Blanket Scarf
Crafted from Alpaca wool, this two-in-one blanket scarf is lightweight, making it the perfect layering piece for spring weather.
19/60
Rapha RCC Women's Pro Team Long Sleeve Jersey
Get your Peleton-loving mom a pro sweat-wicking jersey to climb and sprint in.
20/60
Rothy's The Bucket Bag
Help mom stay on trend with this spacious bucket bag. The hands-free strap option will help a busy mom carry everything she needs.
21/60
Helen Ficalora "M" Alphabet Charm With Diamond
Tell mom you heart her with this "M" charm with diamonds.
22/60
FUJIFILM INSTAX Link Wide Smartphone Printer (Ash White)
Picture loving mamas will get instant gratification with this pocket size printer that attached to her smartphone.
23/60