The 25 Jennifer Lopez Films That Cemented Her As a National Treasure
Is there anything Jenny from the block can't do?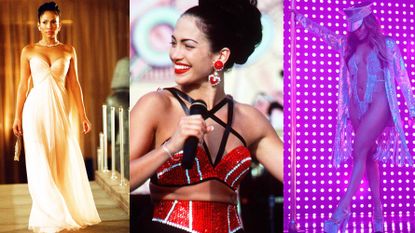 (Image credit: shutterstock/getty/annapurna)
Since her breakout role as Selena Quintanilla in Selena, Jennifer Lopez has made Hollywood her oyster. She's starred in some incredible films, dropped a few albums, casually broke the internet with *that* Versace dress, and has continued to be a fashion icon through and through. Also, the fact that she looks basically the same as she did when she first started turning heads in Tinseltown is very inspiring to me and my skincare routine. It's also safe to say that we are very, emphasis on very, into her relationship with Alex Rodriguez.
So when you're as captivated by the pop culture icon as we are, making sure you've seen her collection of films is a must. No, scratch that, a need. There are questionable ones like Gigli, swoon-worthy films like The Wedding Planner, and blockbusters like Hustlers to choose from. But the breadth of her filmography begs the question: Which ones are the must-see? The kind of films every Lopez stan should know? We got you! Ahead, I compiled a list of 25 must-see Jennifer Lopez films to consider for your next movie marathon. Time to get comfortable, grab a snack, and let a day (or two) on the couch commence.
'Maid in Manhattan'
Release date: December 13, 2002
Starring: Jennifer Lopez, Ralph Fiennes, Natasha Richardson, Stanley Tucci, and Tyler Posey
Lopez's part: Mistaken for a socialite while on a routine cleaning shift at a uber-fancy New York hotel by a handsome politician (Fiennes), the pair begin to have a whirlwind romance. Once revealing her real identity, things get complicated.
'Selena'
Release date: March 21, 1997
Starring: Jennifer Lopez, Edward James Olmos, Jon Seda, and Constance Marie
Lopez's part: Her breakout role as the famous Mexican "Tejano" style singer Selena Quintanilla is *chef's kiss.* To fully channel the icon, Lopez lived with Quintanilla's family. The performance earned her her first Golden Globe nomination.
'The Wedding Planner'
Release date: January 26, 2001
Starring: Jennifer Lopez, Matthew McConaughey, Bridgette Wilson-Sampras, Justin Chambers, and Judy Greer
Lopez's part: She's Mary Fiore in this delightful rom-com about a workaholic wedding planner who is unlucky in love but great at helping people get hitched! Well, that is until she realizes that the perfect guy she met by chance happens to be the groom of her next client.
'Hustlers'
Release date: September 13, 2019
Starring: Constance Wu, Jennifer Lopez, Julia Stiles, Cardi B, Keke Palmer, and Lili Reinhart
Lopez's part: Gravity is no match to Ramona (Lopez), the leader of the wolf pack of smart strippers who take matters into their own hands after the 2008 financial crisis leaves them strapped for cash.
'Anaconda'
Release date: April 11, 1997
Starring: Jon Voight, Jennifer Lopez, Eric Stolt, Ice Cube, and Owen Wilson
Lopez's part: Ophidiophobia folks beware, because there's a lot of snake action in this flick. Lopez plays Terri Flores, the director of a National Geographic documentary crew, who, along with her team, get taken hostage by a crazy hunter out for the world's largest anaconda.
'Monster-in-Law'
Release date: May 13, 2005
Starring: Jennifer Lopez, Michael Vartan, Jane Fonda, Wanda Sykes, and Will Arnett
Lopez's part: She plays freshly engaged Charlotte, who slowly starts to realize her mother-in-law (Fonda) sees her more as competition for her son's affection than family.
'The Boy Next Door'
Release date: January 23, 2015
Starring: Jennifer Lopez, Ryan Guzman, Kristin Chenoweth, John Corbett, and Ian Nelson
Lopez's part: She plays newly divorced high-school teacher Claire Peterson who may or may not participate in a little flirtation with the teenage boy that moved in next door. It'll have some major consequences, naturally.
'The Back-up Plan'
Release date: April 23, 2010
Starring: Jennifer Lopez, Alex O'Loughlin, Michaela Watkins, and Melissa McCarthy
Lopez's part: Tired of waiting for Mr. Right, Zoe (Lopez) decides to use a sperm donor to start a family, but just after she finds out she's pregnant, Zoe meets the one she's been searching for all her life.
'Enough'
Release date: May 24, 2002
Starring: Jennifer Lopez, Billy Campbell, Tessa Allen, Juliette Lewis, and Dan Futterman
Lopez's partner: Lopez is Slim Hiller, a woman who thinks her new husband, Mitch, is borderline perfect—but then she finds out he has a violent side. Not wanting to subject her or her daughter to abuse, they set off on the run, but he isn't too far behind.
'Second Act'
Release date: December 21, 2018
Starring: Jennifer Lopez, Vanessa Hudgens, Leah Remini, Milo Ventimiglia, and Treat Williams
Lopez's part: The actress is a 40-something who, thanks to luck and a little bit of mistaken identity, lands a job at a top corporation. From Value Shop assistant manager to Madison Ave girl boss she goes!
'An Unfinished Life'
Release date: September 16, 2005
Starring: Jennifer Lopez, Robert Redford, Morgan Freeman, Josh Lucas, and Damian Lewis
Lopez's part: Running from a bad relationship, Lopez's character, Jean Gilkyson, moves in with her estranged father-in-law (Redford). Over time, the two work out the kinks in their relationship, leaving behind a feel-good movie in the process.
'Parker'
Release date: January 25, 2013
Starring: Jason Statham, Jennifer Lopez, Michael Chiklis, Bobby Cannavale, and Wendell Pierce
Lopez's part: She helps a guy (Statham) get revenge on an infamous crime gang that left him for dead by providing him with intel only an insider would know.
'El Cantante'
Release date: August 3, 2007
Starring: Marc Anthony, Jennifer Lopez, John Ortiz, Manny Perez, and Vincent Laresca
Lopez's part: Starring alongside then-husband Marc Anthony, Lopez plays wife to famous singer Héctor Lavo, Nilda Georgina "Puchi" Román, in the biopic about his life.
'The Cell'
Release date: August 18, 2000
Starring: Jennifer Lopez, Vince Vaughn, Vincent D'Onofrio, Dylan Baker, and Marianne Jean-Baptiste
Lopez's part: In this seriously creepy flick, Lopez is a psychotherapist tasked by the FBI to go inside the mind of a serial killer to find out where his latest victim is hidden.
'Out of Sight'
Release date: June 26, 1998
Starring: George Clooney, Jennifer Lopez, Ving Rhames, and Don Cheadle
Lopez's part: If loving J.Lo as a U.S. Marshal named Karen Sisco is wrong, I don't want to be right! Especially when it comes to her having some major-heart-eyes for a particular bank robber (Clooney.)
'Shall We Dance'
Release date: October 15, 2004
Starring: Richard Gere, Jennifer Lopez, Susan Sarandon, Stanley Tucci, and Bobby Cannavale
Lopez's part: Jen helps overworked John Clark get his groove back, quite literally, as a fiery dance instructor named Paulina. Come for the romance. Stay for Tucci's hilarious antics as Link.
'Angel Eyes'
Release date: May 18, 2001
Starring: Jennifer Lopez, Jim Caviezel, Jeremy Sisto, and Terrence Howard
Lopez's part: Chicago police officer Sharon Pogue (Lopez) starts to fall in love with a handsome stranger after meeting in a life or death situation. As they get closer, secrets begin to unravel about one of them too dark to ignore.
'Jack'
Release date: August 9, 1996
Starring: Robin Williams, Diane Lane, Brian Kerwin, Fran Drescher, and Jennifer Lopez
Lopez's part: Always wanted to know what it would be like to have Lopez as your teacher? Now you can! Here she plays Robin Williams' 5th-grade teacher, Miss Marquez. One of her students is Jack (Williams), a boy with an unusual disorder that makes him age four times faster than normal.
'Blood and Wine'
Release date: February 21, 1997
Starring: Jack Nicholson, Judy Davis, Michael Caine, Stephen Dorff, and Jennifer Lopez
Lopez's part: This edge-of-your-seat crime thriller stars Lopez as Gabriella, who finds herself on the run from her ex-lover in an attempt to make sure he doesn't get away with a priceless diamond necklace.
'Money Train'
Release date: November 22, 1995
Starring: Wesley Snipes, Woody Harrelson, Jennifer Lopez, and Robert Blake
Lopez's part: Suddenly the idea of riding the subway seems a lot more exciting. Lopez is Grace Santiago, a New York City transit officer. She helps two co-workers make sure the "money train," a.k.a. the train carrying the subway system's weekly revenue, doesn't get hijacked.
'What to Expect When You're Expecting'
Release date: May 18, 2012
Starring: Cameron Diaz, Matthew Morrison, Chris Rock, Elizabeth Banks, Chace Crawford, and Jennifer Lopez
Lopez's part: Celebrity crossover films filled the 2010s movie scene, so of course our queen Jen had to take a stab at one. Here she plays Holly, a photographer who wants to adopt a child, but her husband isn't exactly on the same page.
'Bordertown'
Release date: February 22, 2007
Starring: Martin Sheen, Jennifer Lopez, Antonio Banderas, and Maya Zapata
Lopez's part: Based on real events, Lopez is Chicago Sentinel reporter Lauren Adrian on an assignment down in Juarez, Mexico, to find out who is behind the murders and disappearances of hundreds of female factory workers.
'U Turn'
Release date: October 3, 1997
Starring: Sean Penn, Jennifer Lopez, Nick Nolte, Billy Bob Thornton, and Jon Voight
Lopez's part: In this action-packed film, Lopez plays small-town girl Grace McKenna who gets involved with Bobby, who's just passing through. Unlucky for her, Bobby has been hired by her husband to kill her.
'Antz'
Release date: October 2, 1998
Starring: Sharon Stone, Gene Hackman, Dan Aykroyd, Christopher Walken, and Jennifer Lopez

Lopez's part: In the first film from DreamWorks Animation, Lopez lends her voice to a worker ant named Azteca, in a movie about ants who experience the world outside their colony for the first time.
'Lila & Eve'
Release date: July 17, 2015
Starring: Viola Davis, Aml Ameen, Michole Briana White, Ron Caldwell, Yolonda Ross, and Jennifer Lopez
Lopez's part: She's Eve Rafael, a badass mother who teams up with Lila (Davis) to find the people who shot and killed their children in a drive-by shooting to justice.
Celebrity news, beauty, fashion advice, and fascinating features, delivered straight to your inbox!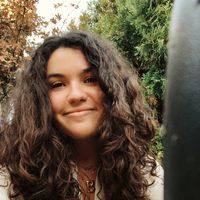 Bianca Rodriguez is the Fashion & Luxury Commerce Manager at Hearst Magazines, covering fashion, beauty, and more for Cosmopolitan, Elle, Esquire, Harper's BAZAAR, and Town & Country. She likes lounging about with a good book and thinks a closet without platform sneakers is a travesty.