The 18 Cutest Things on the Internet in 2014
Little boy models, little girl designers, and Olivia Benson.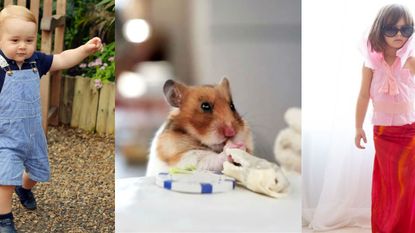 (Image credit: Getty/Youtube/Instagram)
The Internet is an absolute abyss of adorableness—from Twitter accounts like Cute Emergency to viral videos of puppies sleeping/playing on iPads/existing, there is an endless supply of cute out there for our viewing pleasure.
Here, a roundup of 2014s cutest content to tug at your heartstrings. Because how can you resist little girl pop stars, baby celebrity pets, and (of course) cute guys? (Hi, Sean OPry!)
The Best of Cute Children
This Little Girl Telling Off Gaston: Both Disney and feminism had major moments this year, so naturally, when a little girl embodies both, the combo breaks the Internet, as it did last weekend.
This Little Girl Letting a Cow Into the House: This video was originally posted in April, only to resurface in early December. This child proves cuteness is a very valid Get Out of Jail Free card.
This Four-Year-Old Girl and Her Celebrity Dresses: Mayhems perfect paper versions of red-carpet outfits grabbed the Internet's attention back in February. Now the child is designing for J.Crew, because NBD.
This Five-Year-Old's Katy Perry Music Video: Back in May, the Make-A-Wish Foundation turned Addy, diagnosed with stage IV cancer, into a pop star in a very sweet video.
Creative Celebrity Baby Announcements: 2014 has been full of celebrity pregnancy announcements and births (Keira Knightley just added her name to the list!). But the creative and adorable ways some have spread the news are exemplary.
Babies in Halloween Costumes: Infants killed it with creative costumes this year, starting with Ruth Baby Ginsburg and ending with Blue Ivy as Michael Jackson.
Hudson Kroenig: While Hudson Kroenig has been modeling for Chanel for quite some time, the six-year-olds fame quotient spiked this year when he starred in a Chanel campaign with Joan Smalls, establishing himself as the worlds coolest kindergartner.
Romeo Beckham: Proving he's inherited some rather strong cute genes, little heartthrob Romeo Beckham continued his fashion streak, starring in the Burberry holiday campaign. And from the video, it's clear he nailed it.
Prince George: K.Midd and Wills' little boy has proved he can make hearts melt with those chubby cheeks. See below for supplemental proof.
The Best in Cute Animals
Tiny Hamsters Eating Tiny Burritos: In April, a series of tiny hamsters eating tiny food emerged, starting with burritos. Now theres a birthday party with a hedgehog, hot dog-eating contests, and Thanksgiving meals. All are equally exquisite.
Baby Pigs in Designer Handbags: Combining infant animals with high fashion items is an obvious feast for the eyesand we aim to please.
The New York City Halloween Dog Parade: Perhaps rivaling babies for dressed-up adorableness, dogs also brought it this Halloween, particularly in New York, where an annual event attracts the best dressed.
Olivia Benson: Taylor Swift introduced her new white cat in June. Since then its become an Instagram, fashion campaign, TV, and music video star in addition to being perhaps the most famous pet of the year.
The Best of Cute Guys
Jon Hamm Getting Emotional on Sesame Street: Back in April, Jon Hamm got sensitive with some Muppets. The resulting video was, as expected, brilliant.
Olympic Guys Bringing Home Stray Pets: During the Olympics in February, hot athletes displayed their warm hearts, adopting stray pets during their stay. The photographic proof is remarkable.
Fell asleep last night with Rosa :) Thanks for the pic @robindmacdonald! pic.twitter.com/4s6kDRJXxTFebruary 19, 2014
See more
One Direction's Cutest Selfie: When One Direction attempted to out-cute all selfies with puppies, children, and Jimmy Kimmel, their effort got arguably close.
BEHOLD - the #CutestSelfieEver - watch #Kimmel tonight. @OneDirection pic.twitter.com/C8fC8j34ycNovember 21, 2014
See more
Sean OPry: In addition to Olivia Benson, Taylor Swifts introduction of Sean OPry to the world in Blank Space continued her eye-candy charity. And one word: swoon.
Alyssa Bailey is the news and strategy editor at ELLE.com, where she oversees coverage of celebrities and royals (particularly Meghan Markle and Kate Middleton). She previously held positions at InStyle and Cosmopolitan. When she's not working, she loves running around Central Park, making people take #ootd pics of her, and exploring New York City.