Raynette Turner Is the Fifth Black Woman to Die in Jail This Month
A terrifying trend.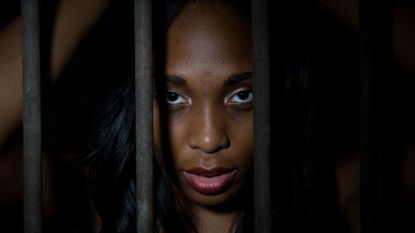 (Image credit: Archives)
This is incredibly sad, frustrating, and alarming: Yet another African-American woman has passed away behind bars in a matter of weeks.
Officials are investigating the death of Raynette Turner, a 42-year-old mother of eight, who was found on Monday in her jail cell in Mount Vernon, N.Y., a town on the outskirts of the Bronx. Think Progress reports that Turner is at least the fifth black woman to die in jail this month.
Turner was arrested Saturday afternoon on shoplifting charges and placed in a holding cell to await arraignment. After telling authorities on Sunday that she wasn't feeling well, Turner was taken by ambulance to a nearby hospital and brought back to her cell a few hours later, according to the New York Times. She was found dead on Monday afternoon.
Turner's husband said he waited all day at the courthouse for her arraignment before he was told his wife has passed away.
No official cause of death has been determined yet, but Mount Vernon Mayor Earnest Davis reportedly said Turner's medical history included hypertension and bariatric surgery, which is a procedure for weight loss and can create complications.
Turner's death comes roughly two weeks after Chicago civil rights advocate Sandra Bland, 28, was found dead in a Texas jail cell after being taken into custody for not using a turn signal when she changed lanes on the highway. Officials said the death was a suicide, but many have called that ruling into question, sparking heated public debate about the over-policing of black Americans. Video of Bland's arrest—which was made public last week—reveals an aggressive arresting officer and Bland saying "You're about to break my wrists!"
On July 14, one day after Bland's death, Kindra Chapman, an 18-year-old arrested on robbery charges, reportedly committed suicide in an Alabama jail cell.
In Charleston County, South Carolina, 50-year-old Joyce Curnell was found dead in her jail cell on July 22 following an arrest on shoplifting charges. An autopsy is pending. Authorities said Curnell was taken to a medical facility before police brought her to jail.
And Ralkina Jones, 37, died July 26 while in custody at Cleveland Heights Police Department. She was arrested two days earlier following an argument with her husband at work. Officials have not released the results of an autopsy, but Jones had suffered from health issues including a brain aneurysm and heart murmurs, her sisters said.
This is sobering, scary stuff worthy of serious conversation. Do you have experiences or opinions to share? We're listening in the comments.