Where Do You Read Your Marie Claire?
Send us a pic!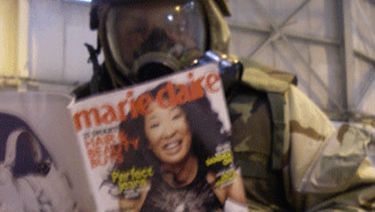 (Image credit: Unknown)
You're on the go, which means that your magazine is too. So while some of us get to cozy up to Marie Claire on our sofas, others have to improvise.
Case in point: Nick Battistoni, U.S.A.F. Pararescue, reading Marie Claire in his chemical warfare gear in Iraq!
Whether it's a trek to the top of the Eiffel Tower, a sunny day on the shores of Malibu, or simply in the confines of your own cubicle, Marie Claire has done it all.
Now we want to see this magazine in action! E-MAIL US (opens in new tab) photos of the crazy places you read Marie Claire. Then look out for your pic on MarieClaire.com. (opens in new tab) Now, get to it!