Through the Eyes of Female Photographers
Once thought of as too frail for the job, five award-winning women photojournalists share their most vivid memories from the field and the images they will never forget.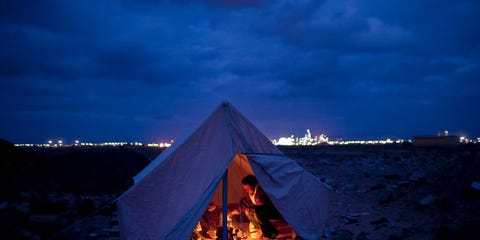 Once thought of as too frail for the job, five award-winning women photojournalists share their most vivid memories from the field — and the images they will never forget.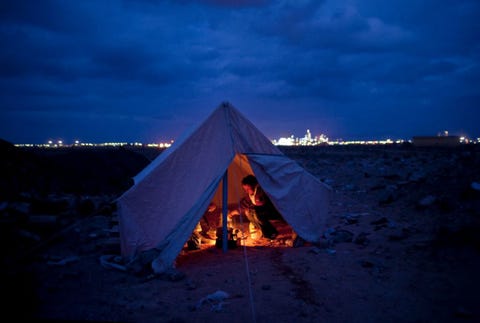 From the Female Lens
Women photographers now work on the front lines of the news, where fear and violence are standard occupational hazards. But beyond the chaos and carnage, there are also extraordinary moments of humanity and heroism.
March 8, 2011 Libyan rebels prepare tea at the main checkpoint outside the oil port town of Ras Lanuf, which saw major fighting during the recent conflict.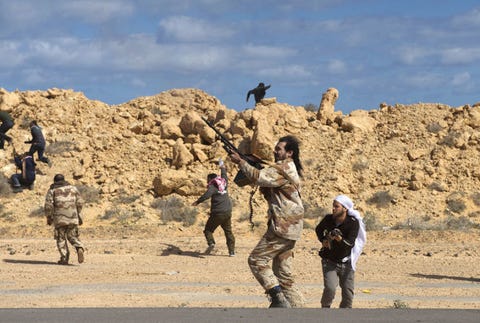 Libya, Lynsey Addario
Captured by hostile forces: Just a few days after this photo was shot, three photographers and I were caught by pro-Gaddafi forces. It is hard to describe those moments of terror — we thought we were going to die. We were detained for six days, during which time I was groped by a dozen men. It was awful, but was it any more horrible than what happened to my male colleagues who were beaten and smashed on the head? When I think back on it now, the hardest times came later, when I heard about the deaths of two photojournalist friends in Libya: Chris Hondros and Tim Hetherington. That really made me realize the precariousness of life. Yes, it was a miserable experience, but I was lucky to survive.
There was no place to retreat: If you wanted to get an image, you had to be up there on the front lines. This was a really hard war to navigate.
At night, it was relatively comfortable. Some Libyans had lent us their houses, and neighbors brought us food. The Libyan hospitality was fantastic — in general, people in the Muslim world are incredibly generous.
On being a female photographer: On the whole, I find it to be a great advantage. I can enter into family houses, talk with women, photograph them — that is something male journalists cannot do. This is important because nowadays most wars take place in the Muslim world.
Lynsey Addario, 38, is based in New Delhi. Her photos have appeared in The New York Times and The New Yorker.
Photo: March 6, 2011 In Eastern Libya, rebel troops fire at a Gaddafi government helicopter as it sprays the area with machine-gun fire.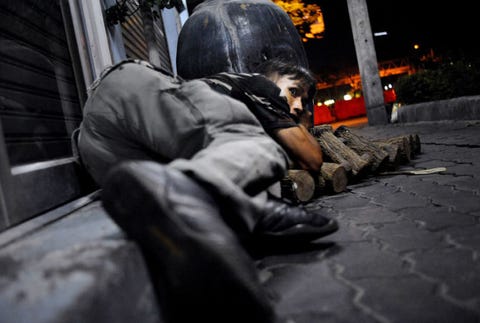 Bangkok, Agnès Dherbeys
Shooting at close range: This photo was taken at night, right at the beginning of the Battle of Bangkok. One of the main leaders of the antigovernment Red Shirts had gotten shot by a sniper, which led to an uprising. Barricades were being built, stones thrown. The guy lying down in front of me was throwing stones at the soldiers (stones were the rebels' only weapons) and hiding from the bullets. Lying down behind him, I felt the same way he did: very scared. I tend to work this way, and use my feelings to photograph. I need to empathize with my subjects. So when I take pictures, being physically close to them seems like the normal thing to do. What is the point of just being a spectator, hiding far away behind a zoom lens?
My next assignment: I'd like to work on a more personal topic. I want to travel to Korea, where I am from originally. I was adopted from there but have never been back. I would like to follow the lives of women who chose to give away their babies.
French photographer Agnès Dherbeys, 34, is based in Thailand. She recently won the Robert Capa Gold Medal Award from the Overseas Press Club.
Photo: May 13, 2010 A Red Shirt protester takes cover after throwing stones at government troops in Bangkok.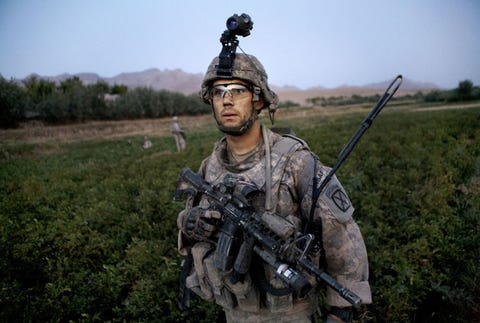 Afghanistan/USA, Erin Trieb
In the trenches: I spent three months embedded with U.S. troops from the 10th Mountain Division in Afghanistan in the fall of 2009. I got to know many of the soldiers I photographed. Among them was Staff Sergeant Cody Anderson. Cody was a natural-born leader: charismatic, charming, and funny. When the 10th Mountain Division returned home, I traveled to Fort Drum, New York, to document the homecoming. But shortly after Cody's unit returned, I received a phone call in which I learned that he had died. The police told me the cause was pneumonia. I was completely shocked and saddened by the news. He was just 25 years old.
Before Cody's death, I'd seen him at the welcome-home ceremony at Fort Drum. He told me that he'd been diagnosed with post-traumatic stress disorder and had assaulted someone the day after he returned from Afghanistan. At Cody's memorial service, I met his fiancée, Stefanie Strausser, who revealed to me that she was the one Cody had assaulted. Stefanie was heartbroken over Cody's sudden death, but even more so since he'd wanted to get better and was receiving help from Fort Drum's mental-health department.
Empathy and action: Cody's story helped change the way I relate to the people I photograph. I've come to realize that the opportunity to act compassionately is as important as the pictures I take. I recently launched The Homecoming Project, an organization that addresses the struggles soldiers face when they come home from war.
Erin Trieb, 29, is based in Austin, Texas. Her work has appeared in Newsweek, Time, and Smithsonian Magazine.
Photo: Staff Sergeant Cody Anderson in Afghanistan in 2009.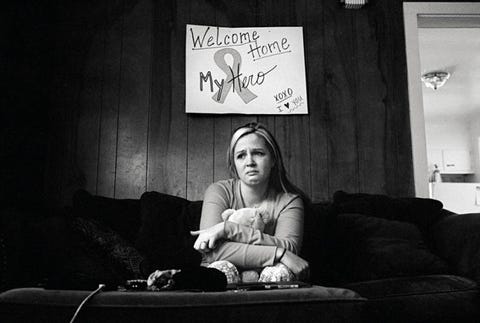 Erin Trieb
Photo: January 29, 2010 Stefanie Strausser mourns the death of her fiancé, Anderson, who'd been plagued by post-traumatic stress disorder.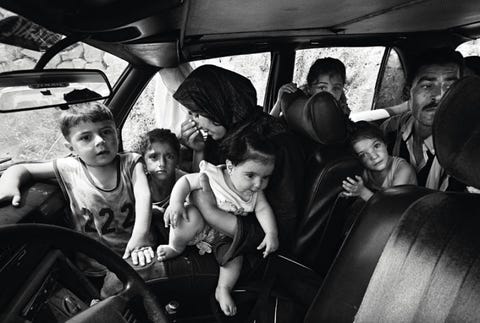 Lebanon, Stephanie Sinclair
What drives me: Families were obliged to flee their homes in South Lebanon because of the 2006 bombings by the Israeli army. This picture best represents why I cover conflict. Of course seeing history unfold firsthand is exciting, but that's never worth risking my life for. The only thing that's worth that kind of risk is protecting children, making sure the world sees that little lives are at stake, that we are having an impact on the way these young souls see the world.
I have always been interested in civilians caught in the middle of conflicts and the myriad important social issues that happen in these areas. I've worked extensively in Afghanistan and Pakistan, though I never photographed actual fighting. My focus has always been on the human-rights issues, such as child marriages and acid burning.
Sexual harassment: Most women in the field experience some sort of intense sexual harassment. Mob mentalities are the most dangerous for any journalist — mobs can turn on you quickly, and there are many risks, including death.
Stephanie Sinclair, 37, is based in Brooklyn, New York. Last year, her photographs from Afghanistan were included in an exhibit at the Whitney Museum of American Art.
Photo: July 27, 2006 A young family traverses a dangerous coastal road between Tyre and Sidon during the Second Lebanon War.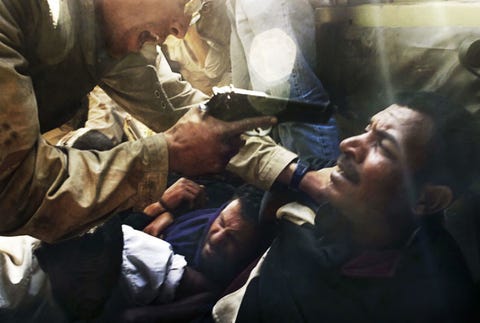 Iraq, Andrea Bruce
Witnessing a crisis unfold: This photo was taken as we followed a group of Marines who, like cowboys, were rounding up Iraqi looters. The Marines had no translators with them, so nobody could understand what was going on. I was there when this soldier kind of lost it and started pointing his gun at this civilian, who was crying for his life. He was in shock, hoping the soldier wouldn't pull the trigger. I didn't interfere — it was getting out of hand, and I didn't want to make the situation worse. Being physically close to your subject gives the photo greater impact — it's not as intrusive as you might think. When you're in the midst of the action, your subjects don't even notice your presence. It's as if you become part of the background scenery.
Keeping the fear at bay: When you're in the field, you forget about fear — there are too many logistics to think about. The only moment when fear creeps in is when you've put down your camera, for instance, or when you have a long road trip ahead of you. Then you just have to accept it. I listen to music to help keep my fear in check in these situations. Soldiers are not used to seeing women on the front lines. So when they see female photographers, they're very surprised. They try to protect us, which is very annoying. The male photographers, on the other hand, are great. They're like our brothers. Over there, we're one big family.
Andrea Bruce, 38, is a staff photographer at The Washington Post.
Photo: April 2003 U.S. Marines detain an Iraqi looter at gunpoint.
This content is created and maintained by a third party, and imported onto this page to help users provide their email addresses. You may be able to find more information about this and similar content at piano.io