Christy's Personal Journey
Christy Turlington Burns shares her diary of a recent trip to Peru.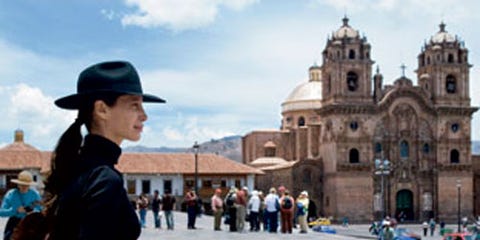 In a Marie Claire exclusive, Christy Turlington Burns shares her diary of a recent trip to Peru, focused on a topic close to her heart: motherhood.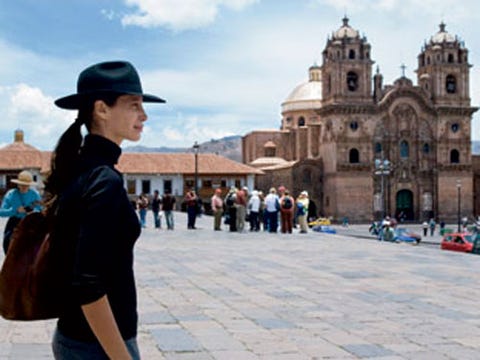 christy-turlington-1
Learn How You Can Save a Life for $25
In late October I took a trip to the highlands of Peru, and I never would have imagined how profound and lasting the impact of the journey would be. As a mother of two, I'm drawn to issues relating to women and their children, and that's why I wanted to visit this country, which struggles -- like so many impoverished nations -- with maternal and infant mortality. In fact, more than half a million women around the world die during pregnancy and childbirth every year, and 99 percent of them are in developing countries. As an ambassador for the humanitarian group CARE, I wanted to help.
I had already traveled to El Salvador -- where my mom was born -- two years ago to visit some of the communities where CARE works to connect mothers with the services and health care they need. I'd spent some time in El Salvador as a child, but it was on that trip, my first as a mother, that I sat among pregnant women and saw how they had to walk miles just to access a clean water source -- and I recognized how fundamental and yet how easy it could be to help them. With that in mind, I planned my journey to Peru with CARE. My mom came along with me. Here's how it went.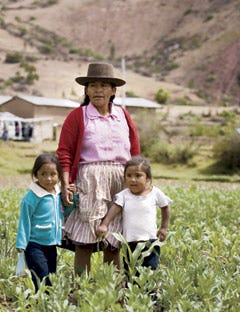 Christy Turlington
DAY ONE, A SCENE I'LL NEVER FORGET:
We met this mom, Asunta Mucha, this afternoon; she's alive due to doctors at the clinic, who guided her through a high-risk birth. It's today that I begin to see how vulnerable women here are. Driving back to our hotel, as the sun was fading into darkness, we passed a lone woman on the edge of the road with a herd of sheep, miles from any civilization. This vision has stayed with me, as a reminder of the women so easily forgotten here.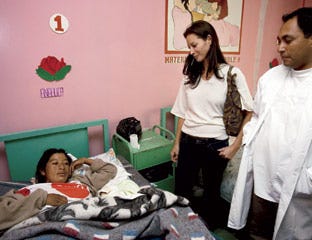 christy-turlington-3
DAY ONE, JET-LAGGED BUT EXCITED:
This morning we traveled by truck on partially paved roads from the town of Ayacucho to the tiny village of Tambo, where this health clinic serves as the only medical center for miles around, and where CARE workers help train the staff. (We were operating on practically no sleep, since we'd flown over the Andes in a small prop plane the night before, watching the sun rise over the snow-covered mountains.) This particular region of Peru has long suffered conflict -- and lost much of its population to the guerrilla tactics of the terrorist group known as the Shining Path; our driver explained that there's still heavy drug trafficking here, too.
christy-turlington-5
DAY TWO, MEMORIES OF MY OWN PREGNANCY:
This morning we visited a regional hospital that has cut maternal deaths here by 49 percent in recent years, thanks to staffers who convince women -- who are reluctant to go to hospitals -- to get the quality care they need. I met a woman who had lost her baby and lots of blood at her home six hours away; she was waiting for her family to donate blood. Later, I mentioned to the midwives that I had used a squatting stool similar to one here to give birth, and they had a chuckle.
Christy Turlington
DAY TWO, I MAKE SOME NEW FRIENDS:
This afternoon I hung out with these kids in a rural community where CARE helps mothers start their own businesses, such as guinea pig farms, to help support their families. (Guinea pigs are a delicacy here.)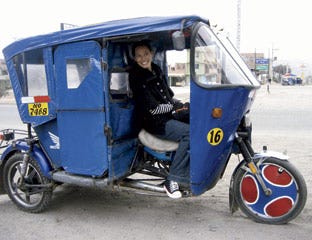 Christy Turlington
DAY THREE, HOPE FOR THE FUTURE:
We flew to Lima today to talk with members of Congress about Peru's goal of slashing maternal mortality 75 percent by the year 2015. (Peru has the second-highest mortality rate in South America, behind Bolivia.) Afterward, in the city suburbs, we got to try out "moto-taxis" like this one.
christy-turlington-4
Learn How You Can Save a Life for $25
DAY FOUR, TIME FOR MY CONVERSE HIGH-TOPS:
Before we left Peru, Mom and I took a train to Machu Picchu and hiked along the Inca Trail. Of course, I forgot to bring hiking boots and wore my Converse high-tops. The next day, as we prepared to fly home, I felt sad to leave such a uniquely layered experience behind, but excited to be going home -- and grateful that my family is healthy. For too many women, giving birth remains a life-or-death situation.
This content is created and maintained by a third party, and imported onto this page to help users provide their email addresses. You may be able to find more information about this and similar content at piano.io