Here's What Happened When I Recreated Rachel Green's Greatest 'Friends' Fashion Moments
So much '90s realness.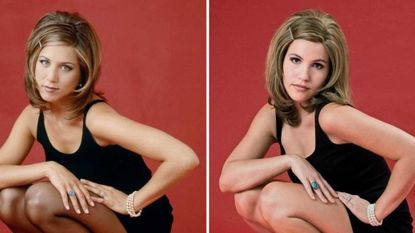 (Image credit: Ruben Chamorro)
I did not watch Friends growing up.
Before a couple weeks ago, I'd only watched reruns when nothing else was on, and out of sequential order for that very reason. Of the show's 236 episodes, I'd probably seen 14 1/2 in my life (I'm 26), but I knew the SparkNotes version: six friends in New York, some of whom live in a giant purple apartment with a gold frame on the front door, just trying to get by. Each character has his or her own quirks, and sometimes they're romantically involved. They also love to drink coffee at a café called Central Perk. I know this because everyone knows this. The show defined an entire decade of American pop culture.
So when an editor suggested I recreate some of Rachel Green's best looks, I knew exactly who and what she was talking about. How could you not?! Rachel had her own eponymous haircut that everyone and their mom copied; she was a style icon of the '90s and early '00s.
But I also knew it would be hard. I knew those were going to be very big platform flip-flops to fill. For starters, I look nothing like Jennifer Aniston even on her worst day. Secondly, Friends fans are no joke. The show has now been off air longer than it was on (the finale aired in 2004), but it still has its own Facebook page with almost 20 million likes. I knew I wouldn't be able to pull off this assignment without properly watching the show and doing ample Rachel research first. So I did just that. Thank you, Netflix.
I chose mostly outfits from the earlier seasons because those clothes inspire peak nostalgia. (I also consulted Friends fans and they agreed.) After the outfits were picked, I went shopping, which apparently is a favorite pastime of Rachel's, so I was just method acting, really. Many of her styles are still sold today because the '90s are back in fashion, but I found a lot of items at thrift stores too. I also bought a wig and some extensions because Rachel's hair was an integral part of her look.
The first look I wanted to recreate was the one from the credits intro. Everyone knows the outfit: White turtleneck shirt, black skirt, and semi-sheer pantyhose. We found a fountain in NYC and instead of dancing around with my five closest friends, I danced by myself with about 100 bystanders watching. The weather that day was a billion degrees with a chance of rain, so my wool turtleneck was completely soaked in sweat. Rachel somehow made her turtleneck look sexy, but I looked like a stuffed-animal tortoise in mine. That is the difference between Jennifer Aniston and a civilian.
White Turtleneck, Thrift Store; Pearl Strand, CHARMING CHARLIE'S, $15; Skirt, AMERICAN APPAREL; Black Pantyhose, HANES, $11
The next look wasn't actually from the show, but from the classic '90s promo shoot. This is what I picture in my head when I think of Rachel Green. I wore the wig and tried to do my makeup as '90s as possible. I was, like, 5 when the photo on the left was taken, so I don't know for sure how people used to do their makeup then, but it looked like Rachel preferred a frosty rosy brown lip color (sometimes outlined with a darker lip liner) and a smoky eye. Her makeup gets simpler as the show progresses, thankfully.
Black Dress, MISSGUIDED, $40; Heels, BCBGENERATION; Turquoise Ring, Thrift Store; Silver Ring, CHARMING CHARLIE'S, $10; Pearl Bracelets, CHARMING CHARLIE'S $10
"The One Where Monica Gets a Roommate"(Pilot)
Wedding Dress, Thrift Store; Pearl Strand, CHARMING CHARLIE'S, $15; White Headband, EMI JAY, $4
We first meet Rachel when she's drenched and wearing a wedding dress after leaving her fiancé at the altar, so I felt it was important to include this very memorable moment. Also, that dress is so good. I found my bad boy at a thrift store for $20 and made the veil with a headband and some tulle. I also wet my hair in the bathroom sink at the coffee shop, which was an interesting experience. We filmed a bit outside in the street because we were hoping it would start raining on me (it was expected to but never did), and a very kind old man who thought I was getting bridal portraits stopped to tell me congrats and how happy he was for me. Bless his soul. I said thank you.
"The One With the Sonogram at the End" (Season 1, Episode 2)
Denim Vest, COTTON ON, $15; Black Dress, Thrift Store; Watch, ARMANI EXCHANGE; Heels, AEROSOLES (Available at T.J. Maxx), $30
Before Rachel was a businesswoman, she was a waitress at Central Perk who made horrible coffee. She wore a lot of denim and aprons during these scenes, and my favorite looks were when she wore denim vests (there was more than one occasion, let me tell ya). I decided to replicate the time she wore one with mule shoes and whipped out the wig for this hairstyle because no amount of teasing my own hair could achieve this kind of '90s pouf. It was very hard and painful to sit like this (I still don't understand why), so my expression in the above photo is sincere.
Rach also loved a good denim overall:
Overalls, Thrift Store; Bralette, VICTORIA'S SECRET, $20; Bag, OLD NAVY, $26; Jacket, H&M, $20
I sorted through about 10 of her overall outfits before selecting this one, where she wore some kind of a bra/ bralette as a shirt, which is ironic if you know Rachel at all. You see, during my extensive research, I was able to conclude that Rachel does not like bras; by the end of the series, she'd gone from moderately conservative to full-on free the nip. Anyway, between the slouchy overalls and sweater tied around my waist, this look made me feel so nostalgic I could've cried. I got the overalls at a thrift store, but I didn't have to. Overalls are sold (for real, not ironically) at almost every trendy outlet right now. I bought a pair of my own just a couple months ago.
"The One With the East German Laundry Detergent" (Season 1, Episode 5)
Button Down, Thrift Store; Sweatpants, Thrift Store; Sneakers, H&M, $13; Jumbo Claw Clip, H&M
SPOILER ALERT: Ross and Rachel end up together, baby and all, so I decided a scene from the episode where they technically share their first on-screen kiss was a pivotal moment to include, even if it wasn't exactly romantic (Rachel kisses Ross because she's happy to have stood up for herself against a laundromat bully). Also, I wanted to sit in a laundry cart; it looked like fun.
I had to make the tied-up shirt (I cut off the sleeves and bottom half) and take a scissors to a pair of sweatpants myself, but I'm certain Rachel would've gotten all this at the Gap back in the day. Hair-wise, I was able to use my own for this look (Rachel's hair was brown hair with only a few highlights then). I twisted it into one of those updos that resembles a water fountain and secured it with a jumbo claw clip #TBT.
"The One With the Fake Monica" (Season 1, Episode 21)
T-Shirt, Thrift Store; Plaid Pants, LOLLICOUTURE, $15; Jacket, H&M, $20; Sneakers, H&M, $13; Jumbo Claw Clip, H&M
Plaid skirts, plaid pants, plaid shirts — like all great '90s icons, Rachel Green loved all of the plaid. I went with this plaid pants look because TBH, plaid skirts are impossible to find until back-to-school shopping starts. Also, this baby tee with the heart flower on the front is money. I had to paint the design because, believe it or not, this style is not for sale anymore. The claw clip made another appearance here.
"The One Where They're Going to a Party" (Season 4, Episode 9)
Rachel's goal since the beginning of the show was to one day work in fashion. Ms. Green is pretty spoiled in her early days, but I empathize with her here because I know the hustle of trying to make it in the very competitive industry. She eventually breaks in and even gets a promotion to assistant buyer (kind of, sort of, because her boss then gets hit by a car #sitcoms), and she delivers this classic line while wearing an uber conservative business suit, an office look she favored.
Suit Blazer, ZARA, $119; Suit Pants, ZARA, $60; Button-Down Shirt, ZARA, $30
"The One With Monica's Thunder" (Season 7, Episode 1)
Yellow Tank, Thrift Store; Green Capri Pants, Thrift Store; Platform Flip-Flops, HAVAIANAS, $38
Don't lie: You had this exact outfit in 2000–2001. Surprisingly enough, the most difficult piece of clothing to find for this entire experiment was that yellow tank top. Apparently, yellow tank tops are ancient artifacts because I searched so many places before finding this at Goodwill, and it was the only one they had. For the hair, I wore light brown extensions with chunky blonde highlights — this episode was shot during the time when Rachel loved both of those things.
"The Last One" (Finale)
T-Shirt, Thrift Store; Black Crop Tank, MISSGUIDED, $36; Black Miniskirt, BCBG; Boots, Thrift Store
I began this project with Rachel's first-ever outfit on the show, so I thought it was very fitting to end it with one of Rachel's outfits from the series finale. During the episode, Rachel heads to the airport in this very Parisian black and white ensemble (because she's going to Paris, duh). It was on-trend at the time, but I got almost everything from the thrift store.
The finale was actually the only Friends episode I ever watched in live time (I was one of the 52.5 million people who tuned in), and I bawled. I was a mess, and I didn't even know who Gunther was. I didn't have to see the other 235 episodes to know how influential this show was for a solid decade — everything about Friends was perfectly '90s/early '00s, yet also somehow timeless — but I'm glad I binge-watched for this project, because now I understand what all the fuss was — and is — really about.
I started off the experiment thinking Rachel was a spoiled brat and her only redeeming quality was her hair. But as her character developed over the course of 10 seasons, I came to find that I could actually relate to her on so many levels. Through her storyline, the show perfectly encapsulates what it's like to move to New York without a plan, chase after a career in fashion, fall in love with one of your friends, and make some questionable yet totally unforgettable style choices along the way.
Follow Marie Claire on Facebook for the latest celeb news, beauty tips, fascinating reads, livestream video, and more.
Brooke Shunatona is a contributing writer for Cosmopolitan.com.