'60s Fashion Trends to Integrate Into Your Wardrobe
Free-spirited pieces to buy now.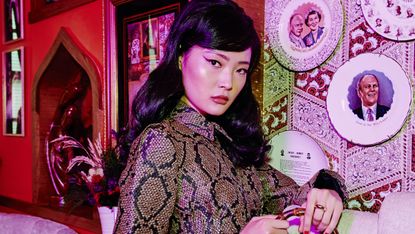 (Image credit: Tyler Joe)
The fashion of the 1960s embodied a new, laid-back sense of freedom. Longer skirts (opens in new tab) were swapped for minis (opens in new tab), while groovy flared jeans (opens in new tab) took the place of starch-pressed capris (opens in new tab). Fashion icons like Brigitte Bardot and Jacqueline Kennedy Onassis were admired and often emulated, encouraging onlookers to experiment with their own personal styles. Get inspired by these '60s fashion trends—and learn how to channel them in the present day.
The Mini Skirt
Once controversial, the above-the-knee hemline is back in a big way. Peppered with checkered prints and cold weather textures like tweed, the leggy skirt silhouette is best worn for fall with opaque tights and classic ballet flats (opens in new tab) or with socks and a loafer. (opens in new tab)
Shop Them Here
The Striped T-Shirt
The '60s wasn't all psychedelic tie-dyes and paisley prints. The simple Breton striped top (opens in new tab) was made famous by French cinema star, Jane Seberg in the 1960 film Breathless. Style the effortless tee with jeans and a low-top sneaker (opens in new tab) or tucked into a flowing maxi skirt with a mule.
Shop Them Here
The Silk Scarf
A must-have '60s accessory, printed silk scarves (opens in new tab) can be tied around the neck or worn as a glamorous hair piece. Alternatively, use them to accessorize the handles of your favorite purse.
Shop Them Here
The Flare Pant
A symbol of rebellion, the '60s gave way to flared denim styles and bold printed pants (opens in new tab) that were hard to miss. You can still wear a pair of the party pants today, but try something minimal up top like a simple navy blazer (opens in new tab) or a cozy cable knit. (opens in new tab)
Shop Them Here
The Signature Handbag
With their structured silhouettes and top handle design, the It bags of the '60s have re-emerged as some of 2021's most coveted bag styles. Invest in one of these today.
Shop Them Here
Sara Holzman is the Style Director at Marie Claire, covering runway trends and tracking down the latest finds to buy and wear. When she's not writing about fashion, she pens about the best places to jet-off to. Over her six years with Marie Claire, Sara has reported on the ever-evolving world of fashion— covering both established and emerging designers within the industry. Sara has held fashion positions at Lucky and SELF Magazine and was a regular contributor to Equinox's Furthermore website, where she wrote across their style, wellness, and travel verticals. She holds a degree in Journalism from the University of Missouri, Columbia, and currently resides in Manhattan. Follow her along at @sarajonewyork.