The 16 Best Linen Shirts to Wear On Repeat
The wardrobe staple that never goes out of style.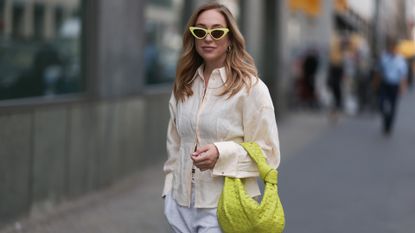 (Image credit: Jeremy Moeller/Getty Images)
Given the recent preoccupation with quiet luxury coupled with the rising (and alarming, climate change-induced) temperatures around the world, one fabric has dominated summer fashion this season: Linen. The material is known for both its ability to keep wearers cool and for its prominence among the wardrobes of the moneyed (think Martha's Vineyard and Montauk), but it's also become a staple in contemporary street style, lauded for its ability to transcend passing fads.
"Linen isn't anything new, but it has grown in popularity recently with the rise of a capsule wardrobe and the laid-back luxury trend we're seeing this summer," agrees stylist Karen Blanchard. "People love when they can have a staple in their closet that they can wear over and over again with versatility."
Indeed, she points out that linen "has been around for centuries" and remains an enduring go-to fabric for sunbathers summer after summer because it "is is strong and will get more comfortable the more you wear it." Plus, she says, "it dries super quickly for when those summer days get very hot," and is known for being "breathable and temperature regulating, so you can still get coverage without overheating."
But for the uninitiated, shopping for and pulling off this fabric for the first time can feel daunting, which is why I asked Blanchard to break down all things linen shirt—what to look for, how to style it, how to care for your linen, and which linen shirts are worth the investment.
What to Look for in a Linen Shirt
When looking for a premium linen shirt that feels elevated and has the strength to last for summers to come, Blanchard says it's best to focus first and foremost on the makeup of the fabric.
"There's a difference between linen and linen-blend material," she explains. "Both can be great options, but can vary in how they need to be cared for, so pay attention to what's on the label. I personally prefer 100 percent linen as it gives a luxe appeal and it is very suitable for the summer."
And in terms of fit, she says, it "is totally up to everyone's unique style," though she says she usually opts for a loose silhouette, especially since linen is "made from a flax plant" that's woven into a texture that allows wearers "to feel the breeze through the material." More specifically, Blanchard says, "I personally like to buy mine a size or two larger than what I normally purchase so it can have an oversized feel," adding that loose fits have been trending recently, anyway.
How to Style a Linen Shirt
Blanchard says, "Mixing-and-matching is so in right now, so mixing clothing textures can be a fun way to play up an outfit too." Therefore, she recommends trying a linen shirt with denim, cotton, and other summer fabrics. For a more casual look, she recommends tossing an oversized linen shirt over a bathing suit as a chic coverup or pairing it with a pair of comfortable, loose-fitting pants "for an evening outdoors when you want a layer but still want to feel the breeze through the material."
Caring for a Linen Shirt
When trying a fabric for the first time, one of your primary concerns might be the question of how to take care of it. After all, shrinkage, pilling, fading, and other washday woes can ruin anyone's initial joy over investing in a new favorite, statement piece.
"I recommend washing linen in lukewarm or even cold water (with like colors, of course) and if you are machine washing it, make sure not to overcrowd the load and use a gentle cycle if you can," Blanchard advises. "I also suggest air drying your linen (it dries faster than you'd think)." Because the flax thread that makes up linen is often woven or knit, machine drying can cause it to shrink or otherwise change shape.
As far as storing your linen shirts, Blanchard continues, "Linen does wrinkle easily, so it's best to hang it in your closet rather than folding. And if you're ironing, use a medium setting—some irons even have a linen setting! Steaming is also a good way to combat wrinkles, especially while traveling or on-the-go."
The Best Linen Shirts
Meet the Expert