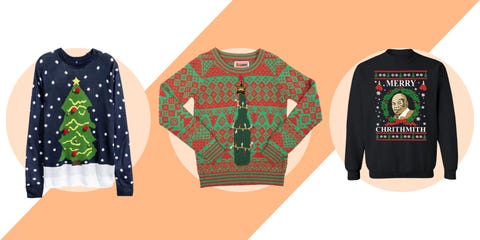 For all that we rag on them, we won't...not...participate in a good ugly Christmas sweater party if we're invited. Maybe because we're competitive, even to the point of wanting to have the *ugliest* ugly Christmas sweater. Maybe because SNOWTORIOUS (see below). Whatever the reasoning, shop 10 hideous/hilarious examples ahead.
Yes, that is a keg and Velcro backing so you could potentially make baby Jesus drink from it. Pre-book your place in hell now.
Tipsy Elves, $69
BUY IT: tipsyelves.com.
See you in the Upside Down!
RWE, $30
BUY IT: etsy.com.
HEAVY BREATHING.
Snowtorious, $35
BUY IT: etsy.com.
The Jonas brothers reimagined as a T-rex band, I guess.
SaurHeads, $20
BUY IT: saurheads.com.
I gasped.
Best Custom Apparel, $22
BUY IT: etsy.com.
If you like a touch of "too soon" with your sweater. RIP, big guy.
First Choice Apparel, $30
BUY IT: etsy.com.
It's got a tree on it. And it's $6.
H&M, $6
BUY IT: hm.com.
Pink mohair and sequins for those of us who would never stoop so low as to put on an actually ugly sweater, even though the ones I have presented thus far are more than satisfactory and ought to be appreciated.
Coach, $485
BUY IT: farfetch.com.
The star functions as a bottle opener, which is a Christmas miracle if we've ever seen one.
Tipsy Elves, $69
BUY IT: tipsyelves.com.