Editors handpick every product that we feature. We may earn commission from the links on this page.
The Tackier the Better: 9 Ugly but Great Christmas Sweaters
They're tragic in a LOL way.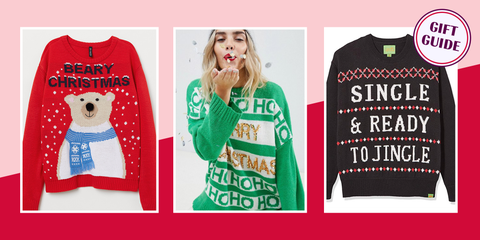 For all that we rag on them, we won't not participate in a good ugly Christmas sweater party if we're invited. Maybe we're competitive, to the point of wanting to have the ugliest ugly Christmas sweater, or maybe we all secretly just love to buy things. Regardless, this holiday theme is probably the funniest, if not the wackiest, to dress up for. So once you receive that invite, start shopping the nine hideous/hilarious sweaters ahead.
For more celebrity news, beauty and fashion advice, savvy political commentary, and fascinating features, sign up for the Marie Claire newsletter (subscribe here).
Vintage Fly Clothing Co. Ugly Christmas Sweater
etsy.com
$31.95
Whether or not you know how to twerk, you definitely know what it is. And, this navy sweater is the best way to show off your wild side without actually dancing. It's partly hysterical and partly risqué (did you see the elves in thongs?), which makes it the perfect conversation starter at parties.

Custom Party Nativity Scene Sweater
tipsyelves.com
$39.95
This build-your-own sweater comes with tear-off embroidered patches so you can customize the nativity scene however you want. (There's even a keg patch because why not?) Just one tip: don't wear this to church with your family.
Partysaur Sweater
saurheads.com
$19.95
Raise your hands if you can see Ross from Friends wearing this. There's nothing like a "Partysaur sweater," to show off your nerdy side at a holiday party. But maybe keep the dino talk to a minimum? If your friends or coworkers seem uninterested, say they're the Jonas brothers reincarnated into dinosaurs.

Merry Christmas Ugly Sweater
c21stores.com
$169.99
This sweater is basically a Christmas tree. Snowflakes, check. Silver tinsel, check. Lights, check check. The only thing that's missing is the star, though, to be fair, you might be the star of the party in this number. Don't be surprised if you win first place in the ugly sweater contest. You deserve it.
Amazon Ugly Fair Isle Sweater
amazon.com
Cuffing season is upon us, but if you haven't found the one to binge-watch The Haunting of Hill House with, it's okay. This funny sweater is like a giant billboard to all the other single people in the room that you're ready to jingle mingle. Grab yourself a beer or wine and then wait for the dates (or at least fun conversations) to roll in.
Boohoo Mr & Mrs Elf Twin Christmas Jumper
us.boohoo.com
£28.00
Turn the ugly sweater Christmas party on its head by showing up in this connected top. Choose your partner wisely as you'll spend the entire night stuck together. I have a feeling this will be the crowd pleaser at every party, so buy it before I personally order all of them for my friends.
Asos Christmas Slogan Sweater
us.asos.com
$45.00
Okay, this sweater isn't that ugly. But, would you normally wear a bright green top with glittery gold sequins that say "Merry Christmas" and ho-ho-ho in block letters. I rest my case. If you want a sweater that's a little less flashy than the others on this list, get this one.
OnCoast1 The Rock Jingle Bell Sweater
etsy.com
$19.98
Fans of The Rock a.k.a. Dwayne Johnson will obsess over this holiday sweater. Make sure the DJ at the party plays "Jingle Bell Rock," then get yourself front and center on the dance floor. Afterwards, when your feet are tired, collapse on a chair and take this hilarious "which rock would you rather climb?" poll.

H&M Knit Sweater
www2.hm.com
$24.99
This H&M Christmas sweater will have the wearer torn. Is it ugly or is it cute? The dashing polar bear totally throws you off, I know. Personally, I would happily wear this to the office with jeans and boots around December and not be embarrassed. On the other hand, it is very bright...and there's a lot happening. See what I mean about feeling torn?
This content is created and maintained by a third party, and imported onto this page to help users provide their email addresses. You may be able to find more information about this and similar content at piano.io