Mad (Wo)Men's Office Style Decoded
These ladies know how to dress the part.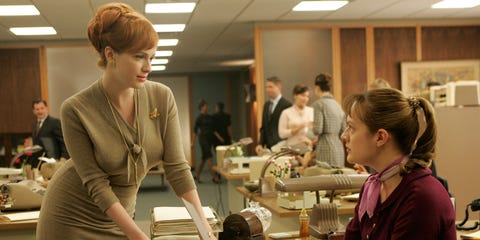 These ladies know how to dress the part.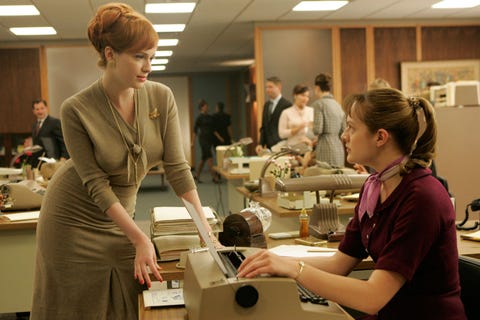 The Working Women of Mad Men
Janie Bryant's critically-acclaimed costumes for Mad Men need little introduction. Over the past 6 seasons, characters' wardrobes became so iconic that viewers developed a certain kind of relationship with the employees from Sterling Cooper to SC&P. Who hasn't shopped for a high-waisted pencil skirt and thought of Joan, or wondered if Peggy would approve of a particular blazer? We look back at some of our favorite outfits the working women of Mad Men have worn on Madison Avenue.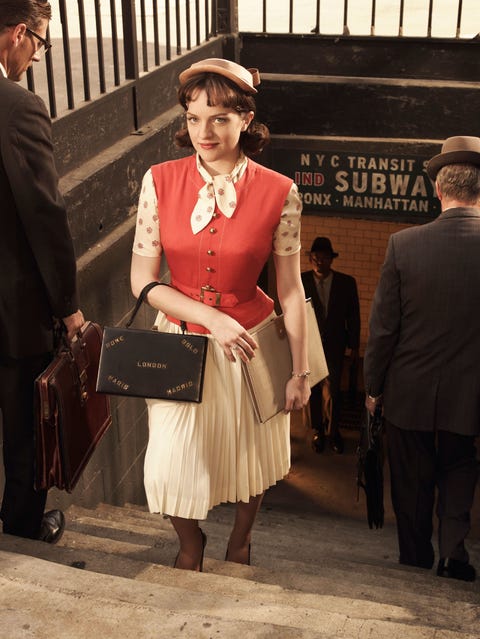 Peggy Olson
Don Draper's one-time secretary upped her fashion game as often as she received promotions. Once wearing ponytails with classic sheath dresses, Peggy became more on-trend as the seasons continued. Here, she shows us her spin on the classic pleated skirt.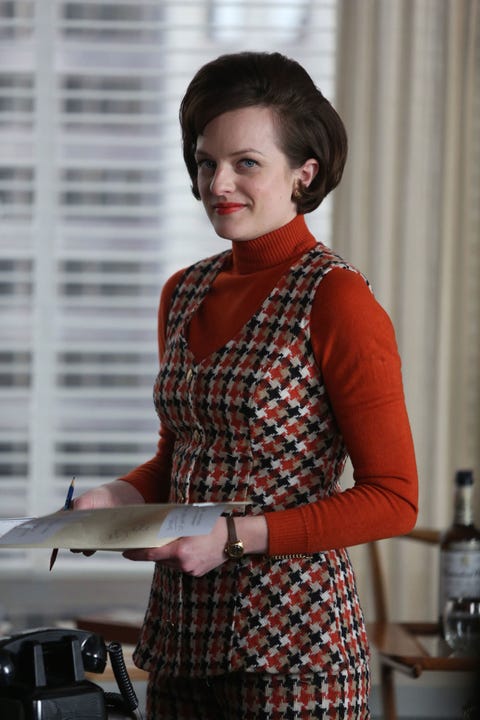 Peggy Olson
Peggy complemented her new title with a new 'do, debuting a bob once she was promoted to copy chief. Peggy combines sophistication and style with this turtleneck and dress.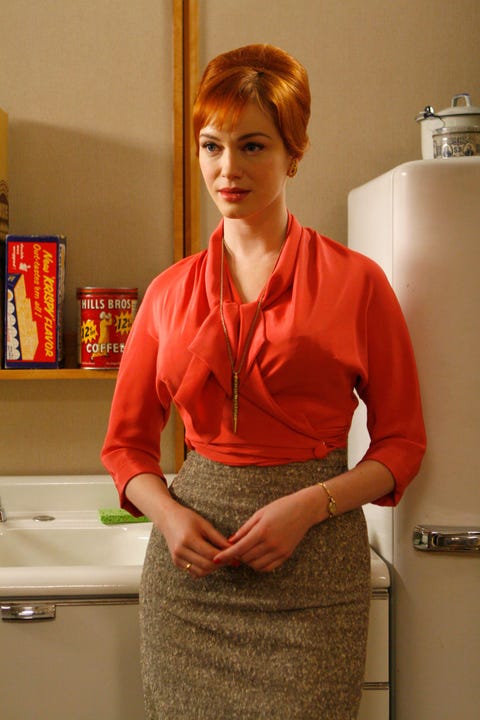 Joan Harris
Starting as an office manager, Joan worked a style all her own. She always knew how to play up each curve with impeccable fit, bright colors, and chic textures—all the while maintaining an air of appropriateness.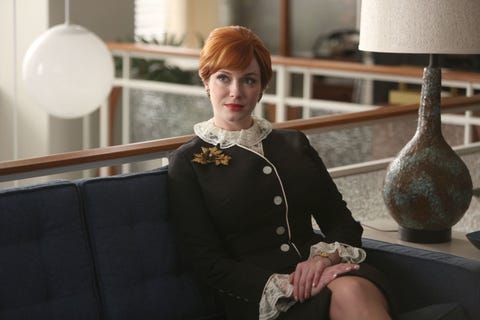 Joan Harris
Once named partner at SC&P, Joan replaced her bright, poppy dresses with a more powerful look, adding more luxury to her wardrobe. Here, in a meeting called to fire Don, she looks professional and buttoned up in black with a few feminine Victorian accents.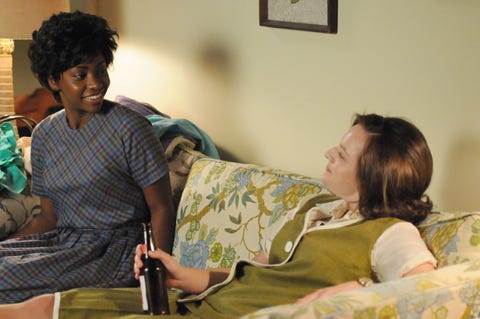 Dawn Chambers
When Dawn was first hired, she stuck to long hemlines and boxy silhouettes, like this plaid number she wore here.
Dawn Chambers
In the premiere episode of season 7, Dawn added some office staples to her wardrobe. Layer a blazer over a gingham shirtdress and you'll look just as fresh and trendy now and she did in 1969.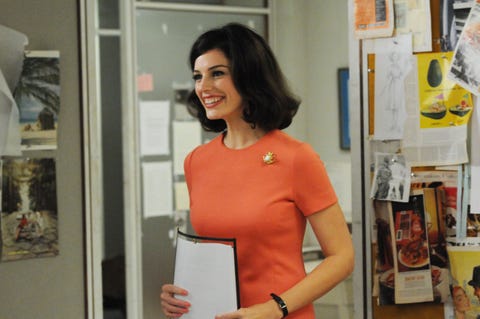 Megan Draper
As Don's secretary, we mostly saw Megan in creamsicle-colored shift dresses. She was smiley, sweet, and often dressed like retro cotton candy.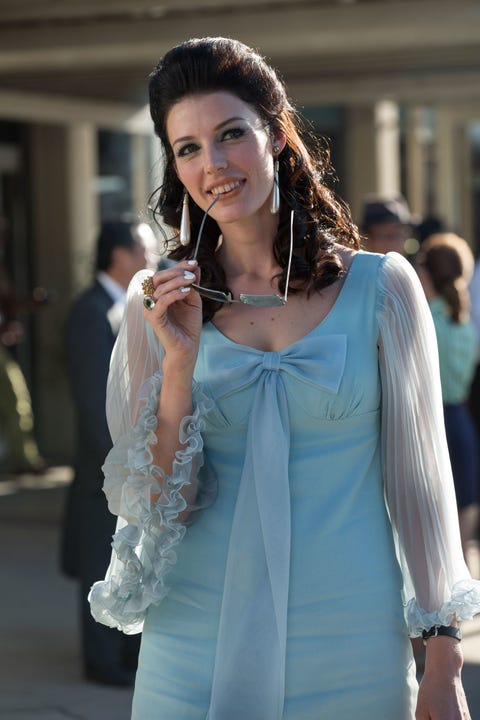 Megan Draper
However, after she quit her job at the agency, Megan's style went super short, super glam, a whole slew more mod. Her '60s eye makeup is that of legend, and who could forget how downright groovy she looked as she stepped out of her new convertible in the LA sunshine? Not to mention she was on her way to a business meeting.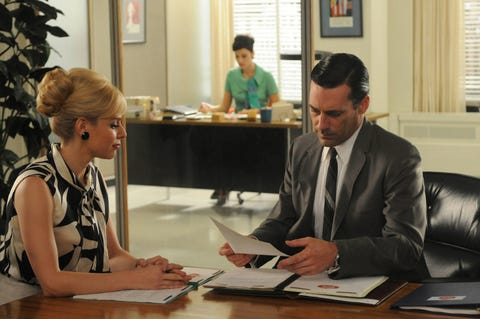 Faye Miller
Faye has always been one of our favorites. Though the relationship with her and Don didn't work out, her business chic outfits were always on point. As a strategist for a large firm, her silk printed blouses and side-swept bangs left her clients in the palm of her freshly manicured hands.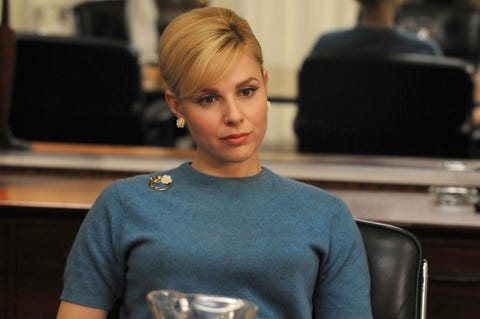 Faye Miller
Even when she went more casual, Faye's outfits were perfectly coordinated. Tip: A brooch makes everything look fancy.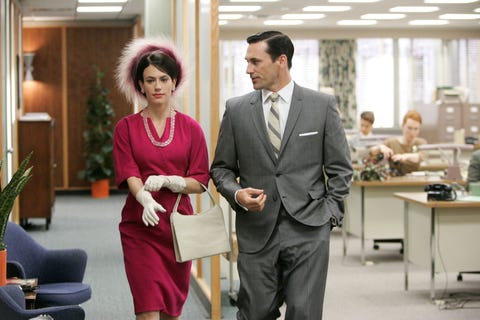 Rachel Menken
This department store heiress was far more than a girl riding on her father's coattails. She wore bright colors, fluffy hair pieces, and satin gloves but she certainly meant business. She wanted Menken's to feel like luxury, so she dressed the part.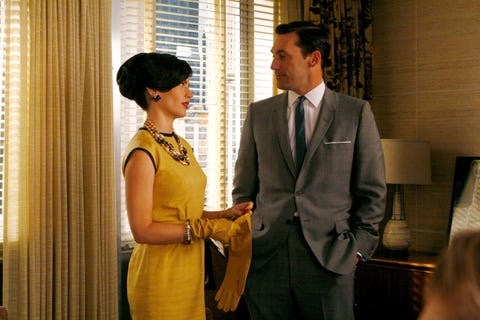 Rachel Menken: The Department Store Heiress
Matching your canary yellow gloves to your canary dress? A+ for this VP.
This content is created and maintained by a third party, and imported onto this page to help users provide their email addresses. You may be able to find more information about this and similar content at piano.io