11 Jumpsuits to Wear to Your Holiday Parties and Beyond
Keep them around for weddings, birthday parties, date night...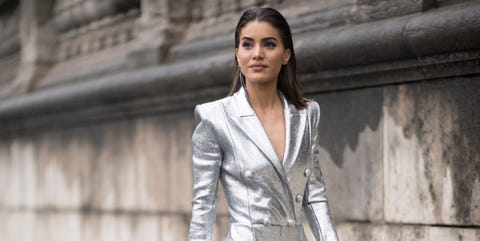 True story: Immediately upon receiving an official invite to Marie Claire's holiday party, my coworker and I slacked each other about what to wear. After some back and forth conversations (sweatpants were briefly considered), she settled on shopping for a new look.
Meanwhile, I decided I'd wear my trusty black lace jumpsuit. I've worn it to interviews, events, and past holiday parties. The ASOS one-piece is basically my own version of the LBD. I prefer a jumpsuit over the latter in the winter because it covers my legs. Pants, but make it fancy.
Instead of writing a novel about my jumpsuit, however, let me help you find one of your own to love. Ahead, I curated 11 one-pieces fancy and festive enough every holiday party you have on the calendar.

1
Asymmetric Sleeve Jumpsuit
prettylittlething.us
$23.00
When you want to be a tad dramatic, choose this one-shoulder black jumpsuit with a high-neck design and golden embroidery. It's a modest look that will also earn you stylish compliments from your coworkers. Wear with gold heels and small earrings, so as not to compete with the suit's flashy details.

Can't decide between sleeves or no sleeves? Compromise with sheer sleeves. They offer the illusion of coverage without completely hiding your arms. It's a unique detail that will help you stand out—in a good way.
3
Ali & Jay Love Child Velvet Jumpsuit
Show off your sweet side in this blush velvet jumpsuit. Skinny spaghetti straps, a waist-cinching belt, and a plunging neckline add subtle sexiness to an otherwise conservative one-piece. Wear alone to your BFF's party or with a black blazer for a work-appropriate look.
This velvet jumpsuit is similar to the one above, except for one thing: the neckline. I've found, as a small chested gal, that a square neckline is much more flattering than a plunging v-neck. Best part: you don't need a specially cut bra.
5
Alice & Olivia Sequin Jumpsuit
Sequin anything can come across as flamboyant, but not this jumpsuit. It has a tuxedo-style neckline and dark sequins, which means you can sort of blend in with the LBDs...if you want to. Once the spotlight is on you, however, don't be afraid to let your one piece sparkle as you show off those dance moves.
6
Roland Mouret Strapless Jumpsuit
You might recognize the name Roland Mouret because Meghan Markle wore this navy dress from the brand. You'll find that her dress and this jumpsuit both share the same elegant and polished qualities. This one, however, is definitely more daring around the shoulders. The Duchess of Sussex might pass on this style (because Queen E), but I'll take it.
7
Fame and Partners The Millie Jumpsuit
When in doubt, walk into the room in a black jumpsuit. To make it feel fresh and fun, pick one with cutout lace panels and a sweetheart neckline. This one piece features a bustier-style fit and tapered pant legs. Pair with a houndstooth jacket.

8
& Other Stories Jumpsuit
This & Other Stories jumpsuit gives off an old school vibe thanks to the '80s-inspired puff sleeves, buttons, and wide belt. It's for the gal who wants to stand out at the party, but not in the latest flashy sequin minidress kind of way. Pair with leather knee-high black boots.
9
Zara Floral Print Jumpsuit
Holiday parties are filled with satins, silks, and velvets, but who says flowers aren't festive? To make this dark floral print one-piece feel dressy, simply throw on a pair of heels and add a clutch. When summer comes, you can rework the wintery look with white sandals and straw hat.
10
Diane Von Furstenberg Velvet Jumpsuit
matchesfashion.com
$698.00
Diane von Furstenberg doesn't just do wrap dresses—she also designs jumpsuit masterpieces. Take this one, which comes in a midnight blue color. Pretty silk satin frames the neckline, sleeve cuffs, and sash, while the rest of the look is sumptuous velvet. Wear with these IRO red heels for a little more color or go with classic black pumps.
Your party has a casual dress code. Perfect. You can wear this green suede one-piece with white sneakers to the office. Then when it's time to party, swap your kicks for heels or black boots so the event feels a like a change from work. A pair of chandelier earrings like these will complete your holiday outfit.
This content is created and maintained by a third party, and imported onto this page to help users provide their email addresses. You may be able to find more information about this and similar content at piano.io