I Combed Through J.Crew's Spring Collection—These Are the 10 Pieces I'm Obsessed With
It's all about pops of color in classic silhouettes this season.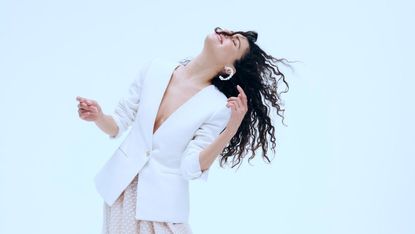 (Image credit: J.Crew)
It's rare to find a brand that carries you through all stages of your life, but J.Crew is that brand for me. My mother kept a well-stocked collection of cashmere sweaters, button-downs, and dresses from the brand in her closet when I was a child. Jeans from the brand's premium denim line, Point Sur, were the first denim that I ever felt confident in. And now, J.Crew's spring collection (opens in new tab) has fit into my life once again as an adult—as the only collection I want to wear as the weather warms.
What I love the most about the collection: The pieces bound by a common thread that spans the brand's decades-long history. While some pieces get updated over time by way of a new fabric, color, cut, or texture, you can always tell when something is made by J.Crew.
It's that feeling of timeless heritage that was one of the starting points for J.Crew's Head of Women's Design, Olympia Gayot (opens in new tab), as she began to work on the new spring collection. "It's actually our 40th anniversary this year," she tells me over email. "So being our birthday, I wanted to look back and remember what this iconic brand has been to so many people and also look forward to what it is today and can be for the future," she continues. "For Spring '23 I went deep into the old catalog archives across all decades, spanning from the coastal romance in the '80s and '90s, to the city-centric tailoring and maximalist fabrics we were known for in the 2010s."
While combining the clean essentiality of early J.Crew with the maximalism from later decades might seem like an impossible task, Gayot did so by taking pared-down, retro silhouettes and presenting them in a range of bright colors like seafoam green and red—a major color trend for spring 2023—and extravagant textures. "I've been saying the phrase 'casual drama' a lot lately to describe the sentiment of the collection," she says. "We've taken iconic, wearable, tried and true items like slip skirts, polos, and bias-cut dresses, and put them in fabrics such as gold sequin and high shine viscose. The effect is effortless but emotional."
Turning back to the history of the brand, Gayot pointed to perennial highlights to bring back for Spring 2023, like an iconic chino fabric and bold leopard print patterning. The collection's overall color palette incorporated trendier colors while also nodding to iconic J.Crew styling sensibilities, like wearing head-to-toe color.
The trick was to make take historic brand codes—the chino and the leopard among them—and make them seem fresh for the modern J.Crew shopper. Traditional trench coats, cashmere sweaters, and button-down shirts became cropped. A fitted blazer now comes with a slightly padded shoulder. "When I broke that all down, the team and I worked to rebuild those codes into modern, wearable items that could be worn as sets together, or separated into individual pieces that could be mixed with a woman's own clothes," she says.
When it comes to her favorite pieces from the collection, Gayot notes that she loves the variety of practical matching tailored sets alongside the more dramatic pieces. "I appreciate clothes that go a long way, that are easy to wear and mix but also have a strong point of view and sharp tailoring," she tells me.
Keep scrolling to shop highlights from the J.Crews spring collection, plus a few of my hand-picked favorites that I cannot stop thinking about.
(opens in new tab)
J.Crew Classic Icon Trench
"Our classic icon trench is so timeless," says Gayot. "If you're going for something that looks really modern and you want to layer (my favorite thing to do when the weather is questionable) I would suggest to size up a few sizes. Classic true to size is timeless." Shop it in two colors: this electric pink and a classic black.
(opens in new tab)
J.Crew Collection Cropped Lady Trench Coat
This trench is a personal favorite of Gayot's. "It has a sharp shoulder and is nice and short," she says. "It has a feeling that's a bit cool girl, a bit lady, a bit workwear. I wear it with jeans and cashmere sweater, with a skirt, or layered under a shearling depending on weather. Shop it in three colors, including a fun leopard print pattern.
(opens in new tab)
J.Crew Cropped Cashmere Crewneck Sweater
Gayot loves to wear this Copped Cashmere Sweater on an "almost daily" basis, wearing it "sometimes almost like an accessory around my waist, cross body or over my shoulders as a scarf. It can look really classic, so I like to give it an edge through styling and accessories, like really low-slung jeans with a twin set, trainers, even high heels with socks."
(opens in new tab)
J.Crew Bucket Hat With Ties
Gayot relies on this simple bucket hat—or the printed version— to give "a casual, cool vibe to an outfit," she says. A bucket hat is also a great way to add a splash of color—or simply some more color—to your wardrobe." Shop it in three colors.
(opens in new tab)
J.Crew Willa Blazer in Lightweight Chino
Gayot relies on this suit (including this blazer, the matching vest (opens in new tab), and the matching trousers (opens in new tab)) for an easy look that works just about anywhere. You can wear every single piece on their own for more versatility (Gayot says she recently wore the vest with a t-shirt underneath with jeans), too ."I've worn versions in New York to work, dinner, to the park with my kids, to Europe this week, and plan on wearing it to LA next week," she says, "Phew!"
(opens in new tab)
Collection Taffeta Ruched Strapless Top With Bow
I haven't stopped thinking about this baby blue taffeta strapless top since I saw it. I mean, the drama! I would personally wear i with low-slung jeans and a pair of sparkly slingback heels (which feels very J.Crew-inspired), or with a pair of leather pants and heels for going out at night.
(opens in new tab)
Collection Pleated Wide-Leg Pant in Leopard Trench Canvas
Wearing leopard print isn't necessarily on my to-do list this season, but this pair of wide-leg trousers is pretty convincing. There's something about J.Crew's version of the print that feels cool. I would keep the rest of the ensemble simple: a plain white T-shirt, white sneakers or black ballet flats, and pearl accessories for a touch of something special.
(opens in new tab)
Limited-Edition Point Sur Nipped Straight Jean in Rodeo Wash
I have long loved Point Sur denim. My first pair, which I saved up for in 2011, is still going strong. This deep blue pair of straight-leg jeans is next up on my to-try list. They have a comfortable high-rise, hit just below the ankle for a draped look, and are a much-needed addition to my denim collection, which mostly consists of black jeans at this point.
(opens in new tab)
J.Crew Emilie Patch-Pocket Sweater Lady Jacket
Anyone who knows me knows I own too many spring jackets. However, I might just have to make an exception for this bright red so-called Lady Jacket from J.Crew. The boxy, cropped shape will add a touch of feminine energy to m usually oversized, tomboy-inspired collection. You can shop it several other colors if red isn't for you, like a simple black or a striped version.
(opens in new tab)
J.Crew Faceted Stone Necklace
"There's been a real resurgence on the runways of maximalist jewelry," says Gayot. "There is a lot to choose from, and so much beauty out there! In terms of versatility and impact. I go for oversized bold pieces in mixed metals, crystals, and pearls. The necklaces are worn close to the neck (not as tight as a choker, but close)." This sea foam green option is the perfect way to make a basic outfit look elevated.
Meet The Expert
Olympia Gayot was born in Toronto and grew up drawing, painting, sewing, with her mother and grandmother from an early age. She was an avid painter from a young age, and her instinct for fashion merged with her art in painting portraits of her family and friends, with specific attention to details of their clothing. She attended the School of Visual Arts in New York and upon graduating in 2003, began her career painting commissions and simultaneously designing for small brands and assisting stylists in editorials. She originally joined the J.Crew team in 2010 as a Design Director and was with the brand for seven years, followed by three years spent at Victoria's Secret with their Design team. In September 2020, Gayot returned to J.Crew as the Head of Women's and Crewcuts Design. Olympia works with her team throughout the year to create and deliver seasonal collections and collaborations with exciting partners including, London-based Liberty, Cassi Namoda, and more. A big fan of the arts, Gayot seeks inspiration and creativity from all around her. She looks to furniture, interiors, fabric, and the New York architecture for inspiration, along with conducting research at her favorite galleries and bookstores in the city. Olympia is happily married to her husband Matt, and they have two sons, Aalto and Ulysses.
Julia Marzovilla is the E-Commerce Editor at Marie Claire, where she covers everything from the latest beauty and fashion launches and sales to celebrity outfits and news. She also creates shopping guides that span every vertical on the site. Prior to joining the Marie Claire team, she contributed similar shopping stories to sites such as Bustle, InStyle, The Zoe Report, Who What Wear, and STYLECASTER. In her spare time, Julia can be found creating shopping guides for all of her friends, spending too much money on yet another pair of black boots, and cooking in her far-too-small kitchen.