Jennifer Lawrence Looks Just Like Cinderella in Her Latest Red Carpet Gown
Who doesn't love a good Disney princess fashion moment?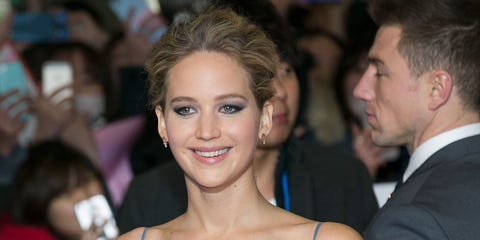 Jennifer Lawrence kills the fashion game—on the red carpet and off. Here, a look at some of her most memorable outfits.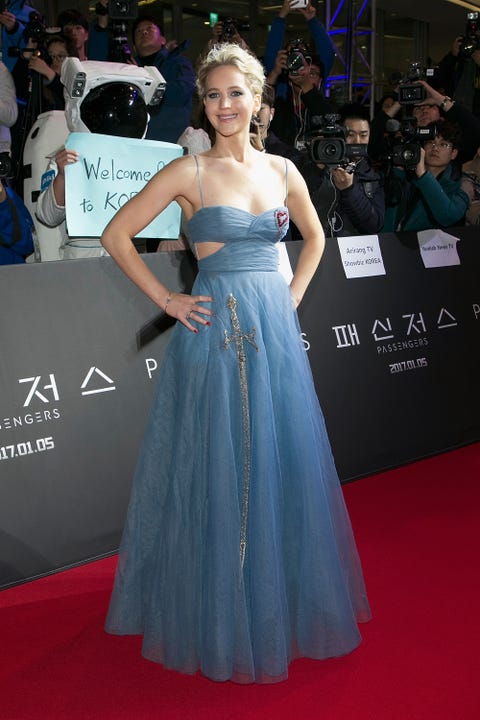 December 16, 2016
For the Seoul premiere of her new movie Passengers, Lawrence continued her Dior streak, this time in a feminine blue tulle dress with whimsical embellishments. The look was reminiscent of Cinderella's ballgown—except updated for 2016 with edgy side cut-outs.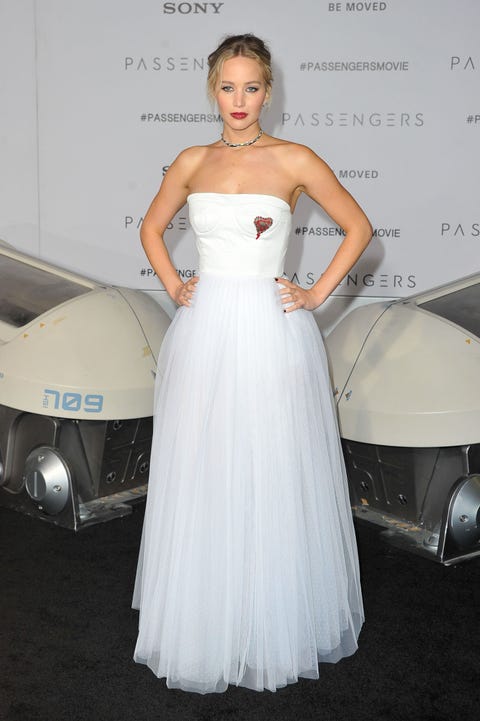 December 14, 2016
Jennifer Lawrence looked as stunning as ever last night in a floor-length white strapless gown at the L.A. premiere for her new film, Passengers. But, it just wasn't any old dress. Besides the fact that she had a studded heart on the left side of her chest, the back of the dress had three wide adjustment straps to keep it secured and in place.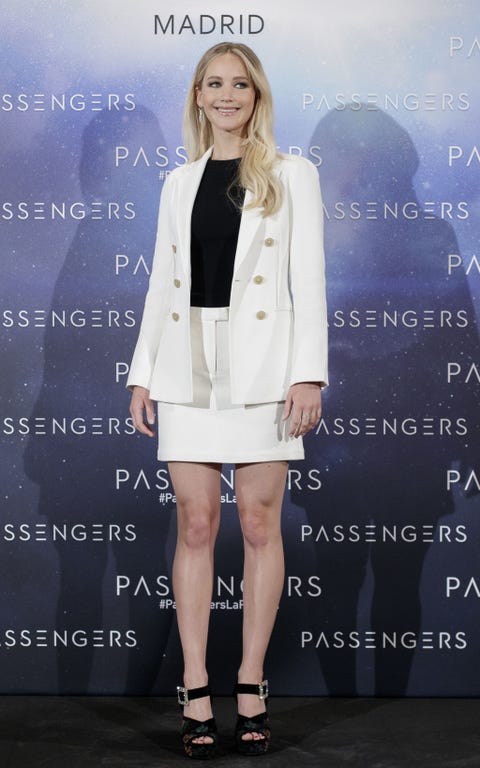 November 30, 2016
Lawrence wore a white suit blazer and a matching tailored skirt from the 3.1 Phillip Lim Spring/Summer 2017 collection. She paired it with a short sleeve black bodysuit, also by 3.1 Phillip Lim, and open-toed black heels.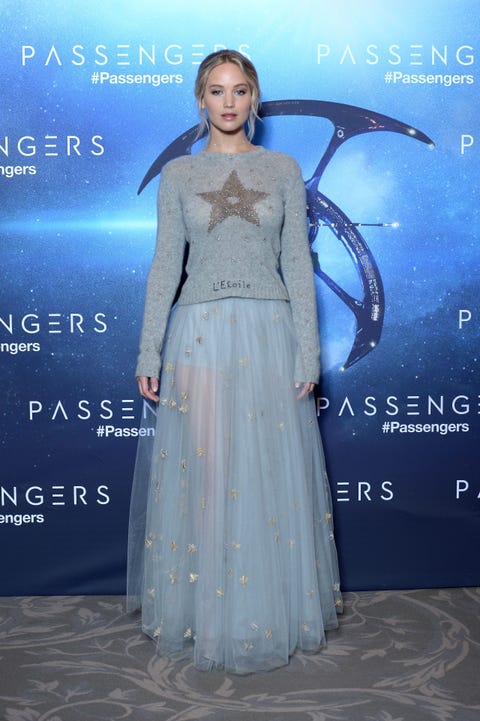 November 29, 2016
Because Jennifer Lawrence could make anything look effortlessly chic, she showed up to the Passengers photo call in Paris in our snuggly red carpet ideal: a Christian Dior sweater and sheer skirt combo. We're taking notes for our winter going-out getups.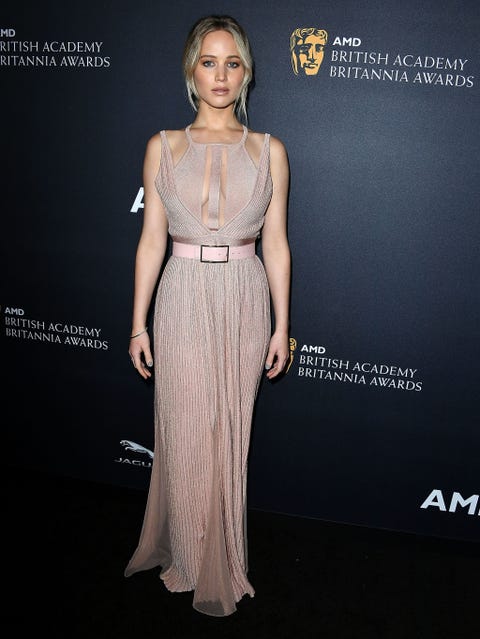 October 28, 2016
At the 2016 AMD British Academy Britannia Awards, Jennifer wore this stunning blush-pink gown from Elie Saab's Spring/Summer 2017 collection. The whole dress is gorgeous, but the neckline makes it impossible to look away.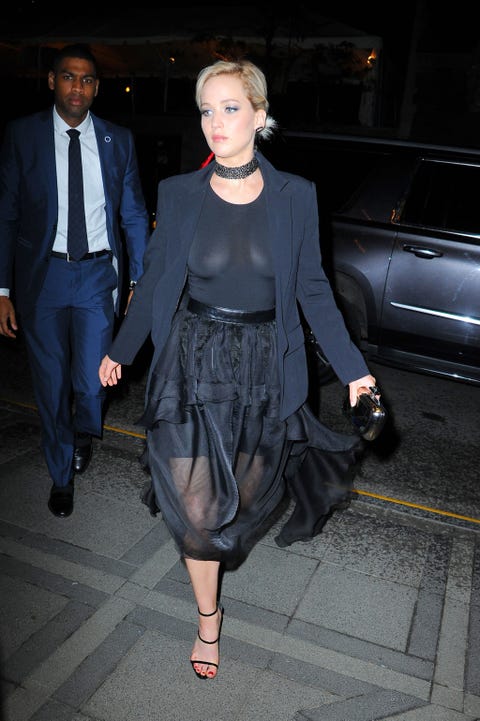 May 14, 2016
On her way to the 27th Annual GLAAD Awards in New York City, J-Law's sheer top got caught by some particularly bright lights. Unfazed, the actress attended the event to present an award to Robert Deniro for his commitment to LGBT advocacy in the entertainment industry.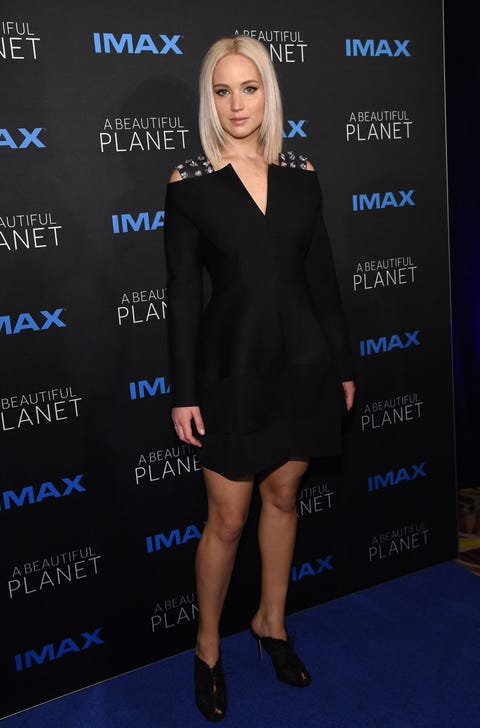 April 16, 2016
Lawrence looked striking in Dior Haute Couture at the premiere of A Blue Planet in New York.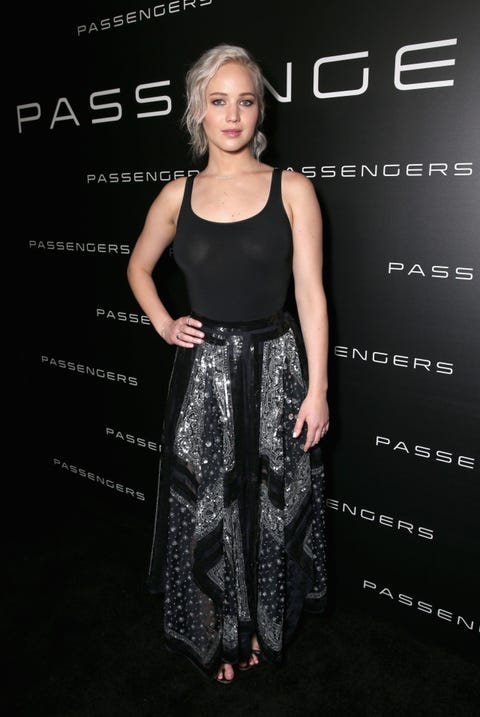 April 12, 2016
At CinemaCon in Las Vegas, J-Law went sans-bra (freedom!) in a black bodysuit tank paired with an embellished, midi-length asymmetrical skirt.
February 26, 2016
Giving us all girl power #goals at the Oscars pre-party for Women in Film, J. Law owned the room not just with her inspiring words but with her killer ensemble. The actress wore a longline ivory jacket and black crocheted dress by Christian Dior looking every bit the fashionable feminist.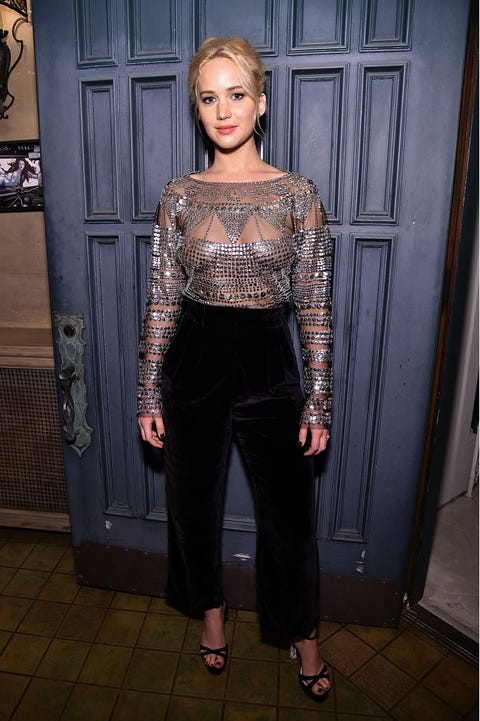 February 25, 2016
Always one to forgo a gown by wearing fancy pants instead, Lawrence attended the Dinner For Equality in L.A. wearing a super-sheer, embellished blouse and velvet culottes.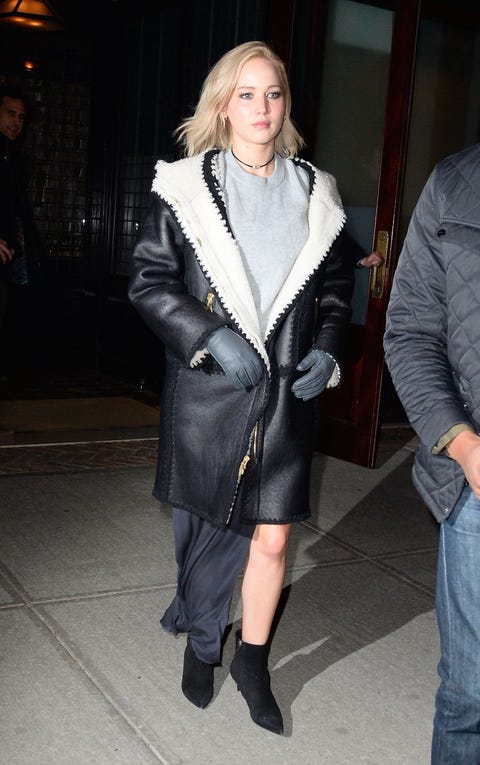 February 18, 2016
Forget that it's February in NYC! It hasn't stopped J-Law from running around town in a stems-baring asymmetrical skirt (sans tights!) paired with an oversized leather coat, gray sweater, and ankle boots.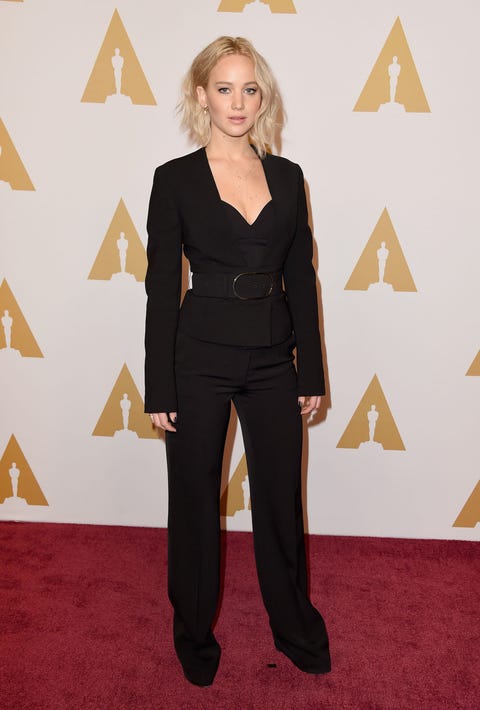 February 8, 2016
A dress?! No thanks... Putting her own twist on ladies-who-lunch style, J-Law hit the annual Academy Awards luncheon in Beverly Hills in a cool-girl black pant suit. Cinched at the waist and boasting a hint of cleavage, it's all business in the most feminine way.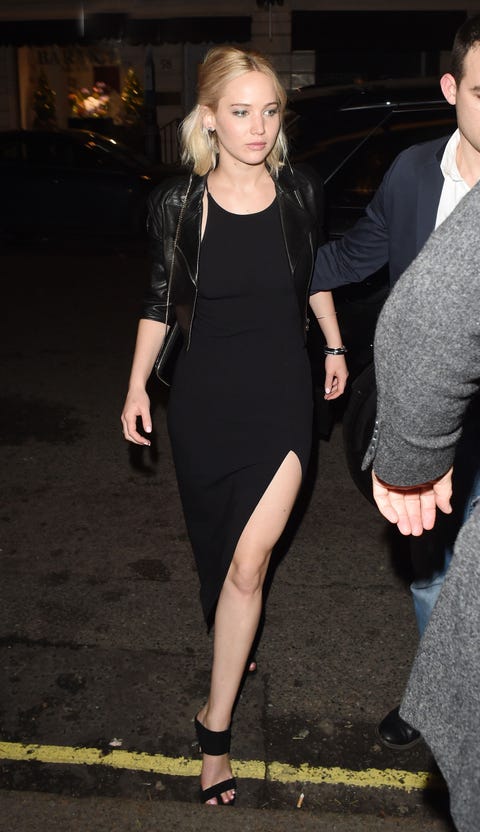 December 17, 2015
Channeling everything we loved about the '90s in one fell swoop, Lawrence stepped out in London last night wearing a black racer-back slip dress with Angelina-Leg detail, cropped leather blazer, and strappy sandals.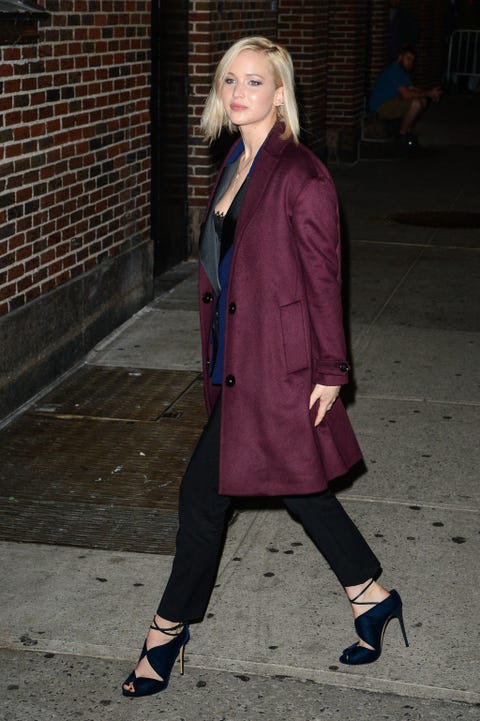 December 14, 2015
It's official: your chic winter coat is nothing without a sharp shawl collar to layer underneath it—or a bra top to peek through the cozy layers. Make like J-Law and take advantage of this hot-and-cold look while December weather remains bipolar.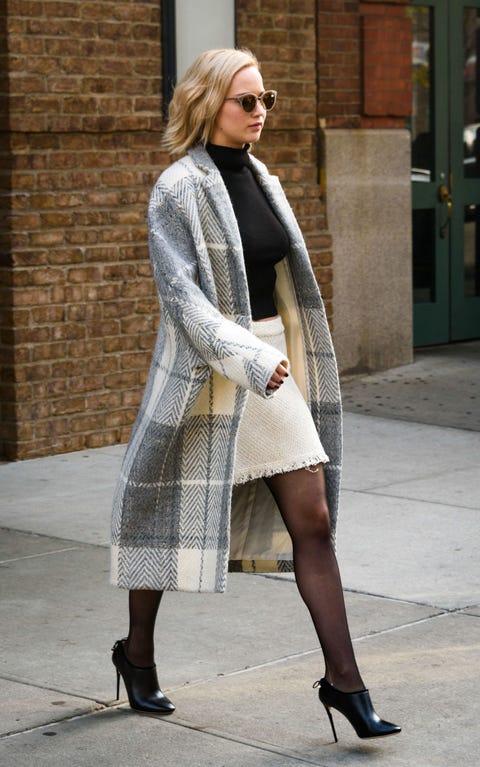 December 13, 2015
En route to a press event for her film Joy, Lawrence was all bundled up in a plaid shawl coat, black turtleneck, white tweed skirt, tights, and ankle boots. For a pop of color, she threw on mirrored round shades AKA our last-night-was-mad-real-go-to.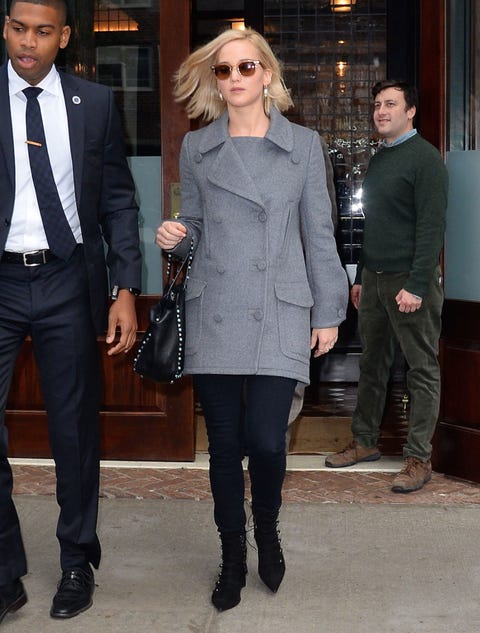 November 18, 2015
We're going to go out on a limb here and guess that you have at least two, if not all three, of the following: a pea coat, skinny jeans, and knee-length black boots. You can look exactly like J-Law no sooner than tomorrow morning. Think about it.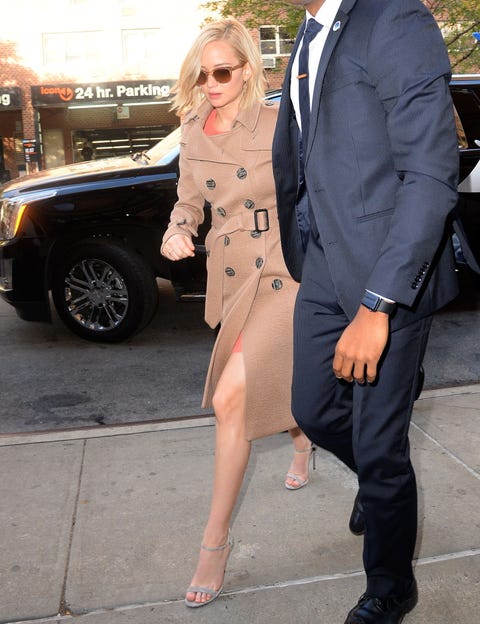 November 18, 2015
A trench coat is among the most wearable classics, so *naturally* Lawrence has one. Here, she pairs it with a pair of strappy gray sandals that give the look a decidedly modern feel.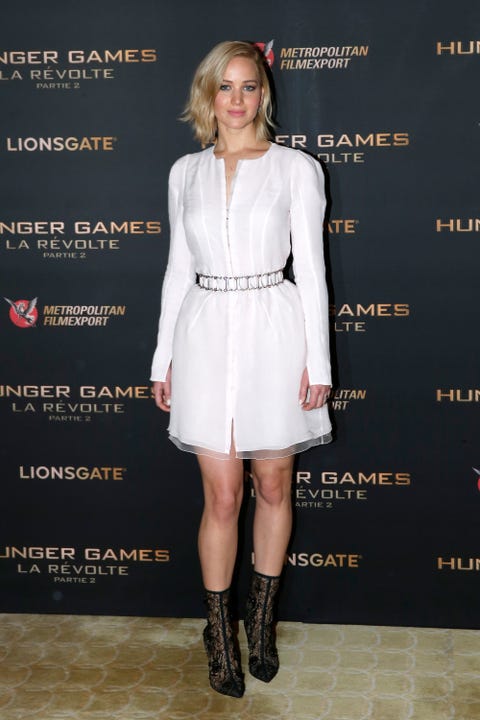 November 8, 2015
Full disclosure: this dress is Dior, which is not something we all have at our disposal. But instead of focusing on the exquisite beauty of Parisian RTW, we're reminded of just how cool it is to pair a dress with kicky boots. Whether it's a filmy white shift and lace ankle booties à la Lawrence or a cotton shirtdress with motorcycle boots, the pairing is never a bad idea.
This content is created and maintained by a third party, and imported onto this page to help users provide their email addresses. You may be able to find more information about this and similar content at piano.io