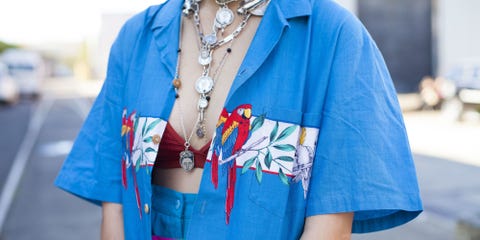 Jewels at the beach might not seem like the brightest idea, but I ain't the sharpest tool in the shed a few shiny bits and bobs look wicked winking against bronzed (but still sun-protected!) skin. Here, shop 10 long necklaces to wear, preferably backward, with nothing but a swimsuit and some broad-spectrum SPF.
"Shake it like a Polaroid picture" made even better with some happy crystals.
Catherine Weitzman, $210
BUY IT: catherineweitzman.com.
Style it so the tassel ends trail down your back.
Chloé, $655
BUY IT: net-a-porter.com.
Picturing this against a black bikini.
J.Crew, $118
BUY IT: jcrew.com.
You're crazy if you don't wear this with a plunge-front maillot. Crazy.
five and two Lane, $57
BUY IT: urbanoutfitters.com.
In my mind, already doubling it up for a headband and a double necklace and a bracelet...
Mignonne Gavigan, $165
BUY IT: mignonnegavigan.com.
Is that a chicken nugget? Let's pretend it is.
Mango, $26
BUY IT: shop.mango.com.
A handmade teardrop that hangs precisely between your boobs. (Wink, wink.)
Shaesby, $565
BUY IT: shop.shaesby.com.
It's called the "Fractured Memory" necklace, and it's from a brand inspired by Dante. Aesthetic.
Alighieri, $265
BUY IT: shop.alighieri.co.uk.
Two—coins and an arrow that rests in the divot between your collarbones—for the price of one.
Zara, $20
BUY IT: zara.com.