Editors handpick every product that we feature. We may earn commission from the links on this page.
Taylor Swift Flaunts a Violet Bomber and Dress in NYC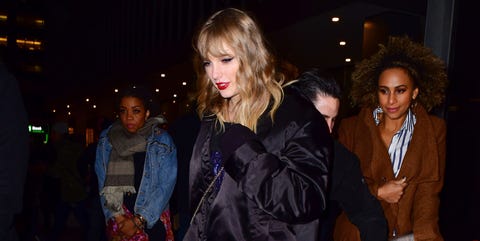 Nary a day goes by that Swift doesn't set foot outside her apartment in some cute, charming, wearable look we kick ourselves for not thinking of first. Here, a catalog of every single impressive outfit.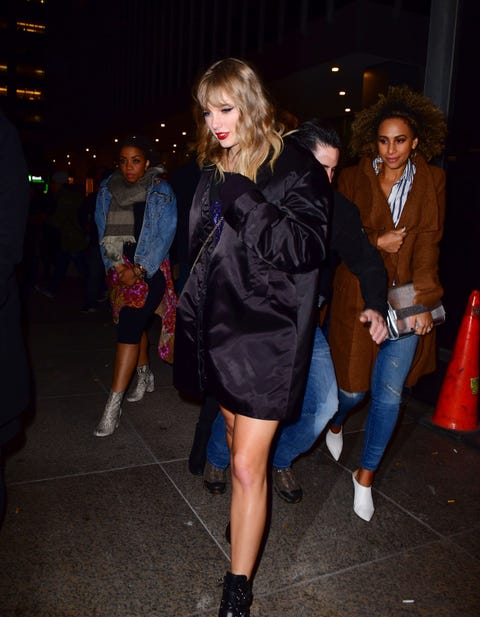 November 11, 2017
Taylor leaves SNL's afterparty in a bomber, dress, and boots in NYC.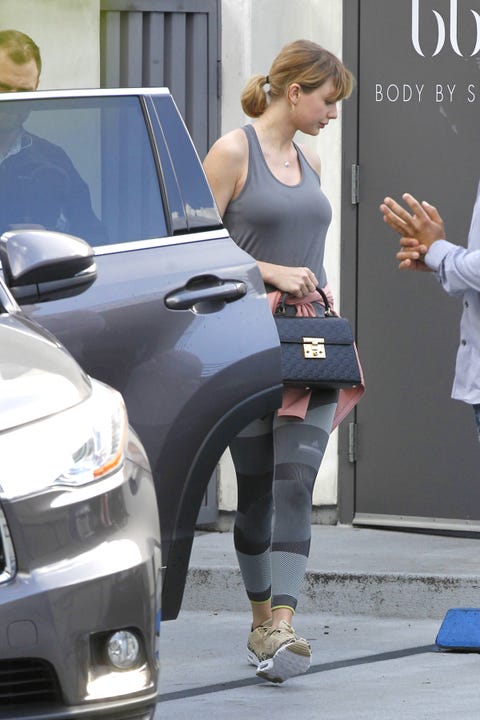 January 11, 2017
Taylor heads to a workout in Los Angeles wearing printed leggings and a gray workout top with a pink sweater around her waist. She accessorized like only T.Swift can for a workout—with a Gucci bag.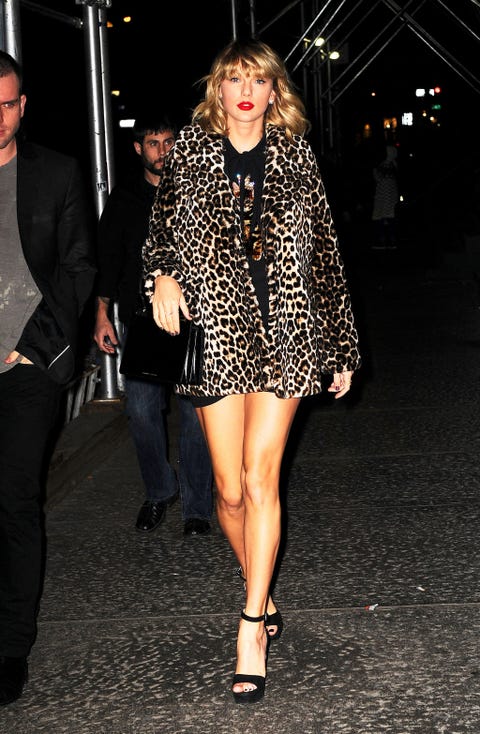 November 7, 2016
T. Swift on the prowl! Taylor wore a leopard print coat by A.L.C. with a cat-printed blouse by Dolce & Gabbana while out in New York. A short black skirt showed off her famous legs, and she completed her look with a bold red lip and strappy black heels.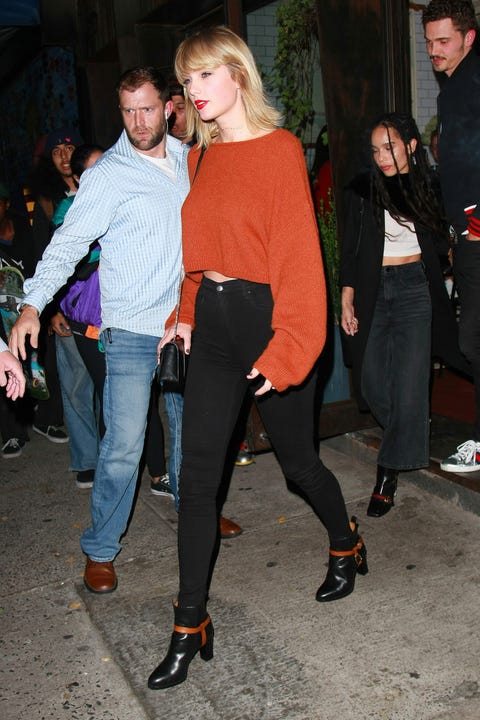 October 14, 2016
And with Taylor Swift's latest outfit, autumn has officially arrived. The singer stepped out in NYC, flanked by her full squad, dressed in a look that heralds the Halloween spirit: a chunky orange knit, black jeans and black-and-orange booties. (Details, people!)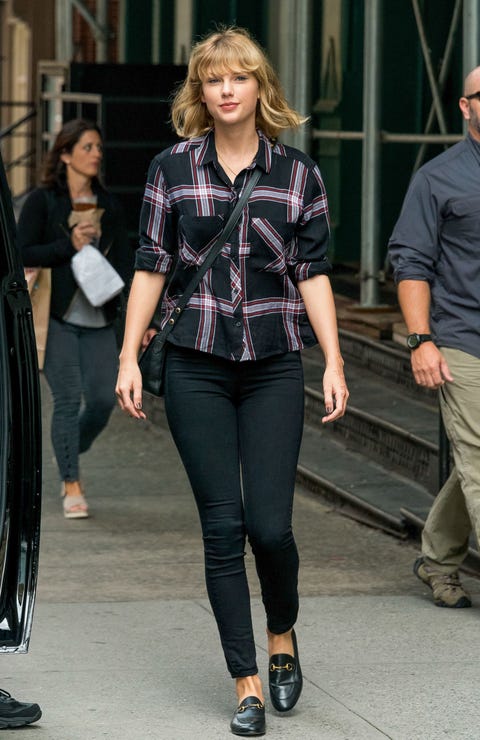 September 28, 2016
For a casual outing in NYC, Swift opted for a black and red plaid shirt, dark skinny jeans, and Gucci Horsebit loafers. In other words, it's *officially* fall.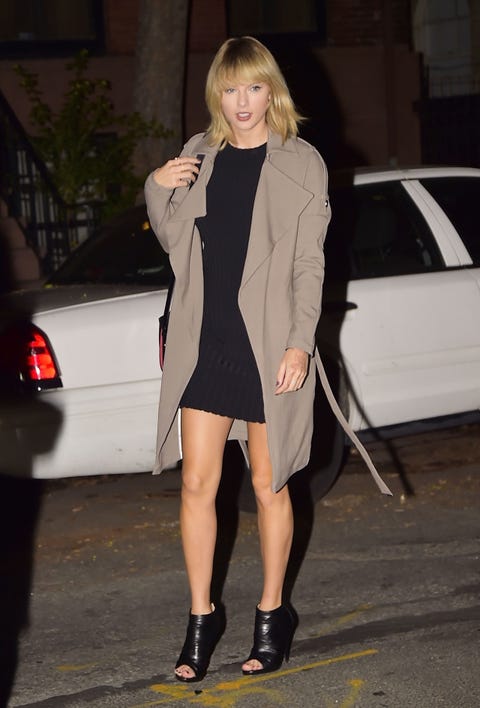 September 27, 2016
Taylor updates a trusty summer staple, a black ribbed dress, for fall with a long gray trench and black peep-toe booties as she heads to dinner with a few members of her trusty squad in New York.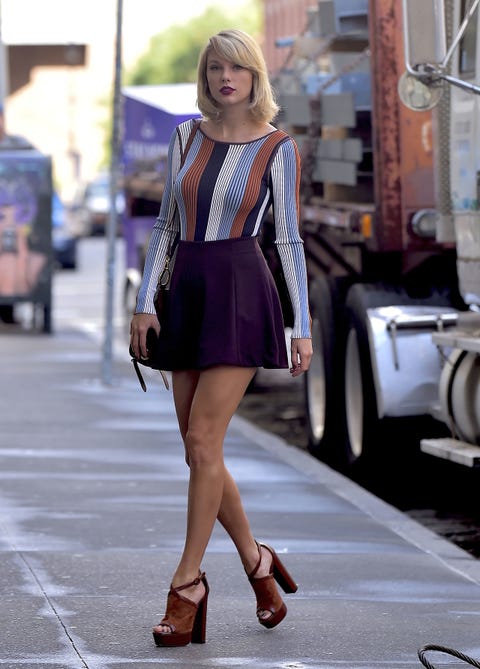 September 16, 2016
Swift wore a vertical striped shirt and high-waisted skirt for a stroll around NYC.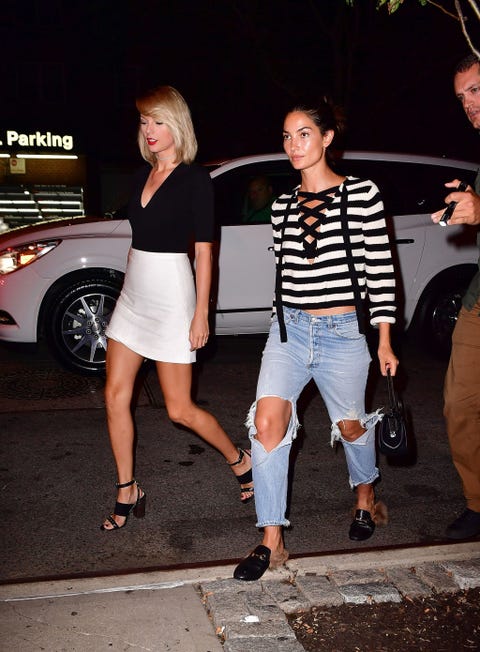 September 8, 2016
Following her breakup with T-Hiddleston, Swift hit the town with Lily Aldridge wearing a black blouse, white mini-skirt, and strappy black heels. Of course, the look wasn't complete without a bright red lip.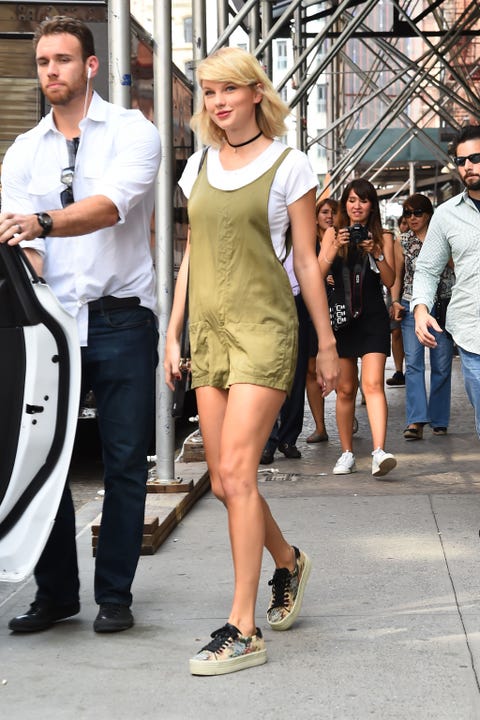 August 31, 2016
Layering her army green Bishop + Young romper over a white T-shirt and adding a choker, Swift shows she's a '90s kid at heart.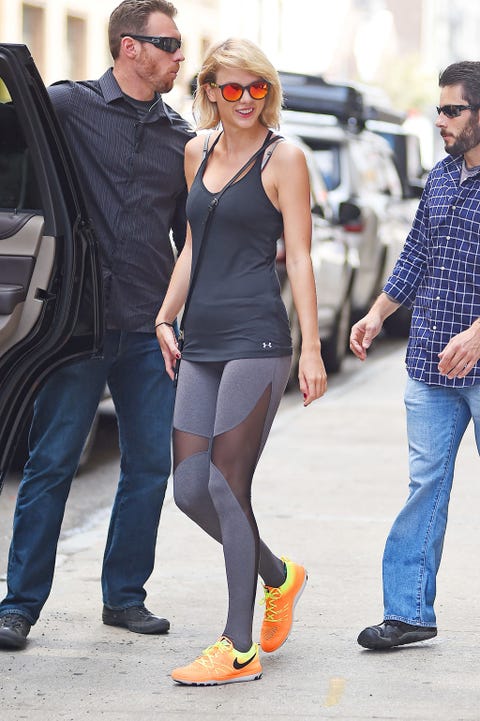 August 26, 2016
Taylor Swift continues her fashionable tour of working out in NYC wearing this tank top, two-toned leggings, and bright orange Nikes.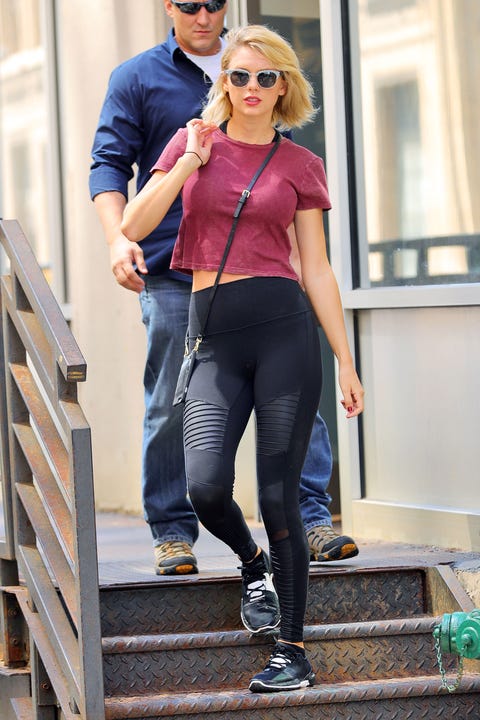 August 25, 2016
While working out in NYC, Swift kept it 100 in a cropped pink tee, high-waisted black leggings, and trainers. She topped it off with printed Ray Ban Clubmaster shades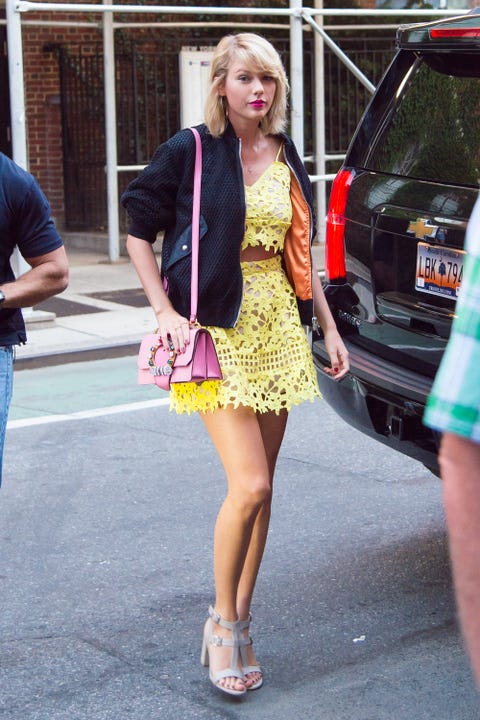 August 24, 2016
For an evening out to dinner in NYC, Swift wore a neon yellow two-piece, top-and-skirt look. She accessorized the sunny statement with a navy pullover, beige sandals, and a bright pink purse.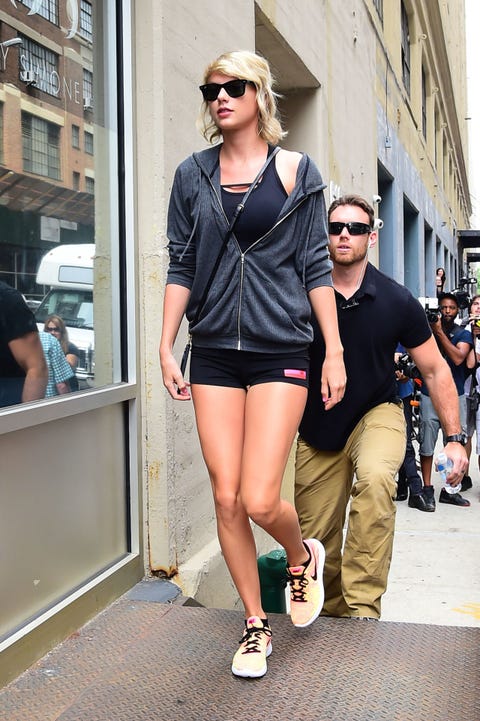 August 10, 2016
Damn, T-Swift is putting in work! For her latest gym outing in NYC, she went with a black strappy sports bra, matching shorts, and a gray hoodie.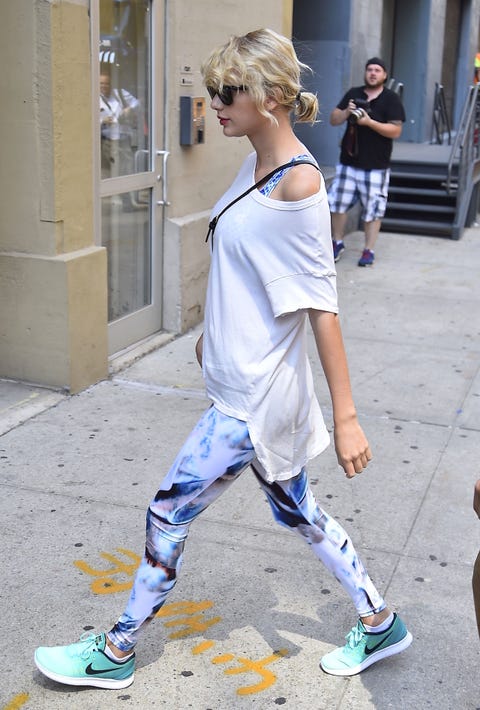 August 9, 2016
For a workout in NYC, Swift put her spin on athleisure in a oversized white shirt, print sports bra, tie-dye leggings, and bright blue trainers.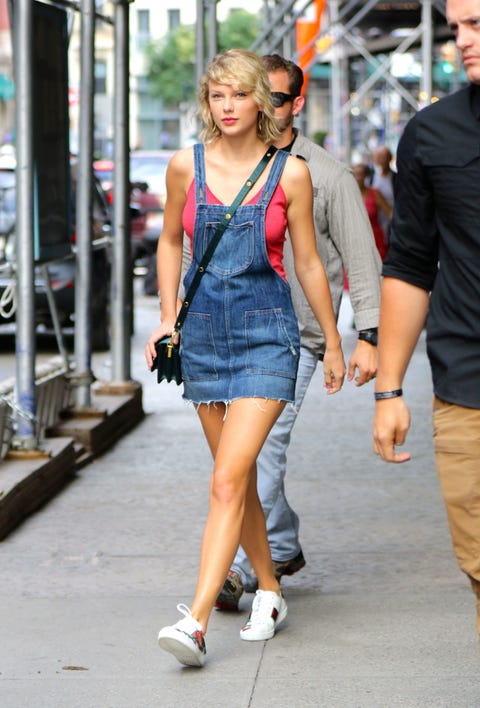 August 8, 2016
In NYC, Swift hit the streets looking like a total '90s kid in a denim overall dress, red tank top, and white lace-up sneakers.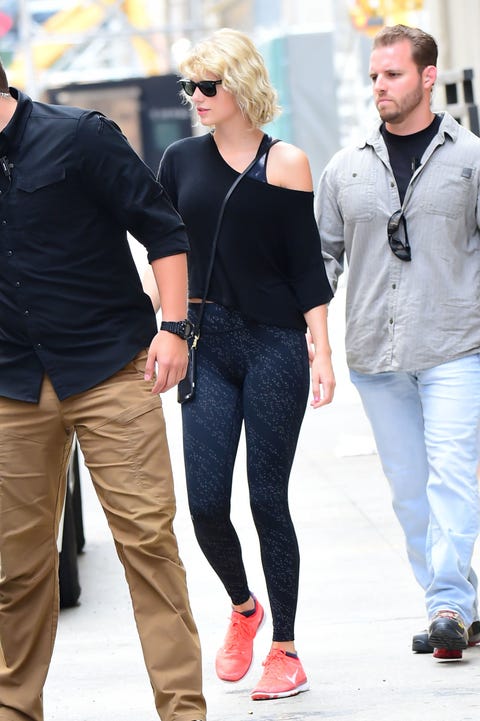 August 8, 2016
For a gym session in NYC, Swift donned a billowy black top, sports bra, leggings, and bright orange trainers.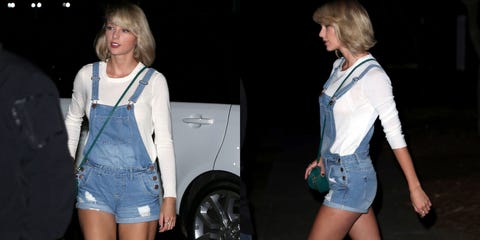 July 14, 2016
Following Calvin Harris' Twitter rant trying to tear her down, Swift emerged looking equal parts effortless and flawless in a denim overall jumper, white long-sleeved top, and her signature red lip. As they say, looking good is the best revenge.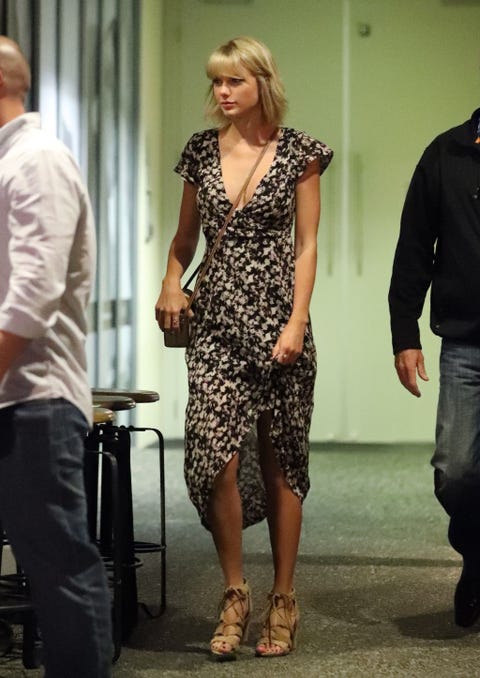 July 10, 2016
If there's one look T.Swift has on lock, it's the feminine, flirty date-night outfit. Case in point: this chic printed dress (with a low neckline for a subtle sexy touch) she wore while out to dinner with Tom Hiddleston on Australia's Gold Coast.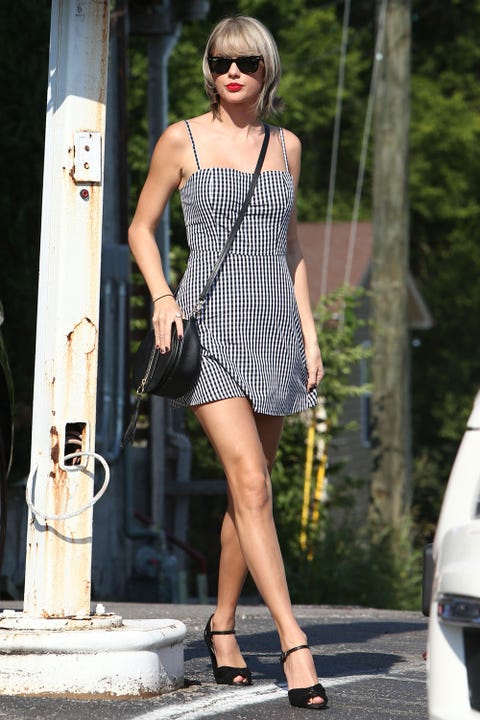 June 23, 2016
On a visit to the Country Music Hall of Fame to meet fans, T-Swift opted for a gingham-print mini dress totally reminiscent of her pre-bleached-hair style. Back to her old ways? We think so.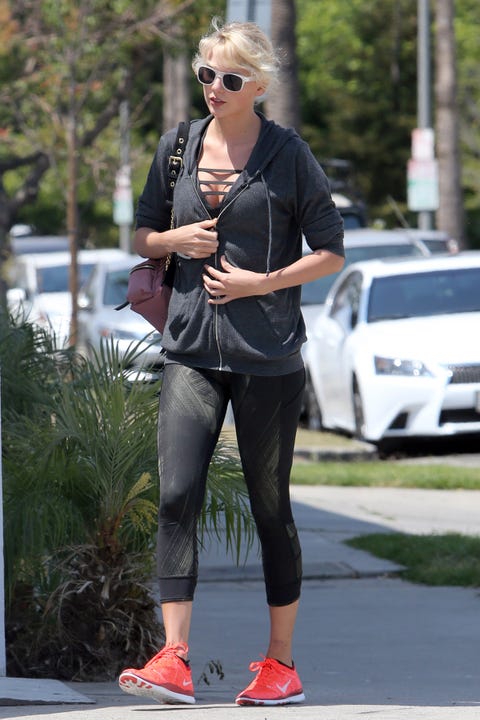 May 24, 2016
While working out in Beverly Hills, T-Swift sported our dream athleisure look: A gray knit hoodie, geometric sports bra, graphic leggings, and bright-orange trainers.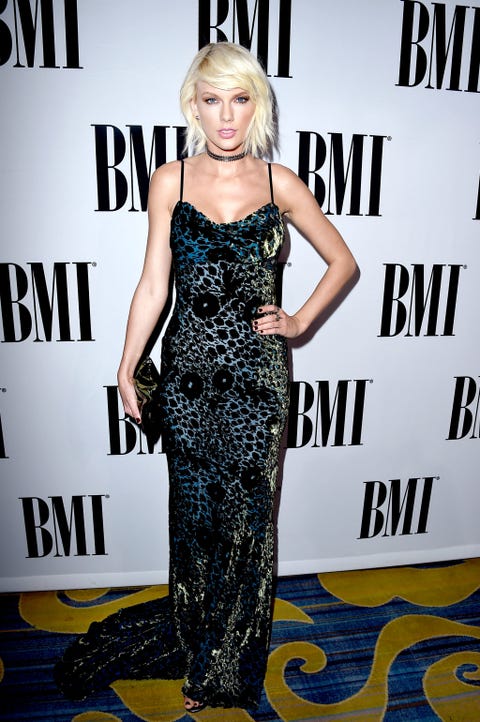 May 10, 2016
At the BMI Pop Awards where she won the first-ever Taylor Swift Award and Pop Songwriter of the Year, she kept up her '90s-inspired choker game in a green spaghetti-strap, velvet-print embroidered dress.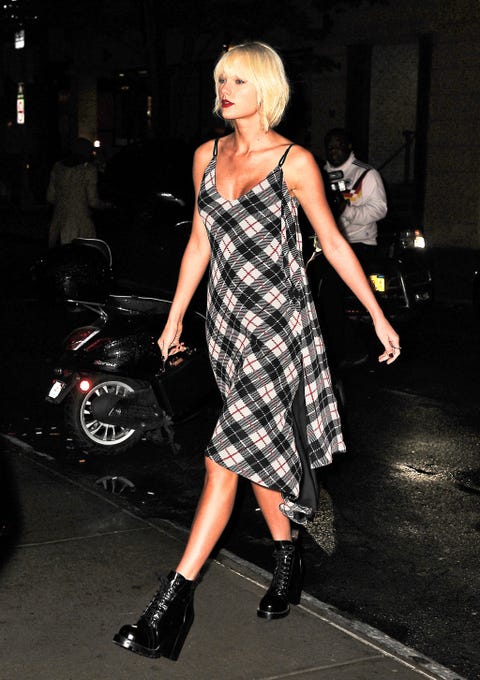 May 1, 2016
Continuing her edgy style streak, Swift stepped out in an asymmetrical, spaghetti-strap plaid dress and chunky leather moto boots. She took the look even further with a dark red lip.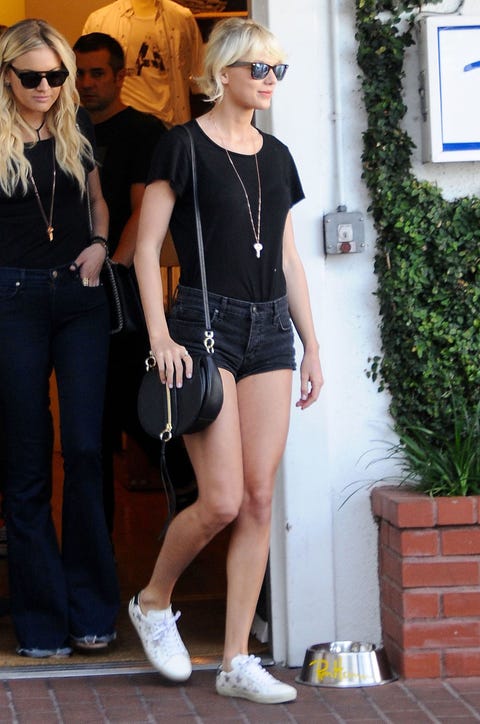 April 28, 2016
Taylor Swift is as eager as the rest of us for summer's arrival. The pop star is already showing off her legs-for-days in a pair of super-short black denim shorts with a key necklace by The Giving Keys to complete her ensemble while shopping in LA.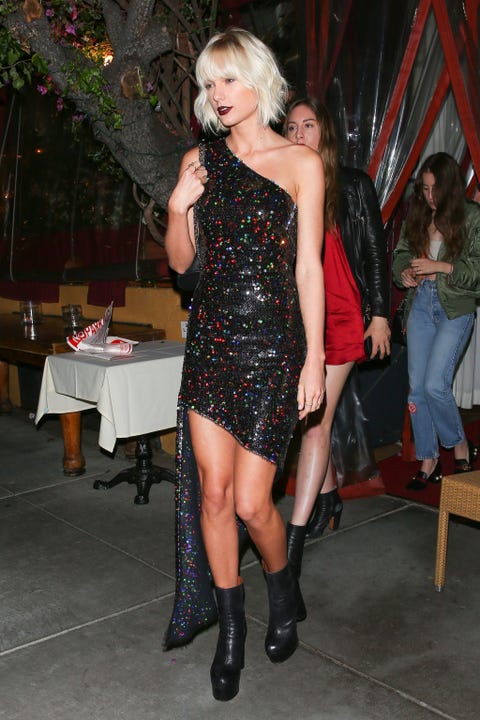 April 28, 2016
It wasn't just a Coachella thing—Taylor Swift's new style is still going strong. The pop star continued her goth-chic look on Thursday night for BFF Gigi Hadid's birthday dinner at The Nice Guy in Los Angeles. With her platinum locks and vampy lipstick, Swift wore an asymmetrical, sparkly black dress and super-chunky black ankle boots. Watch out world, the new Taylor Swift has arrived.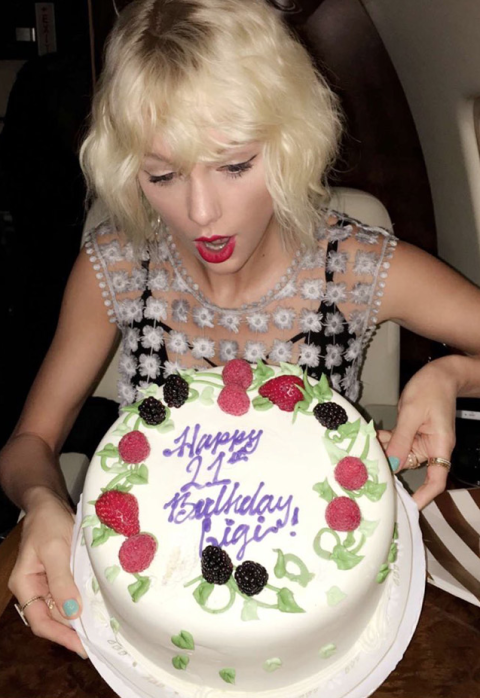 April 23, 2016
To celebrate her BFF Gigi Hadid's 21st birthday, Swift and the gang hit Coachella. From what we can see, she layered a floral-overlay blouse over a geometric bralette and it made for a decidedly badass combo paired with her messy bleach blonde lob.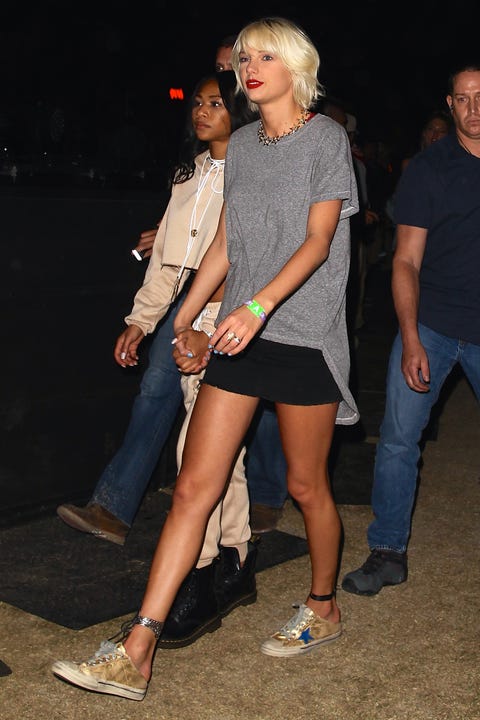 April 17, 2016
Debuting her bleach blonde dye job at Coachella, Swift opted for a cool-girl casual ensemble comprised of an oversized gray T-shirt, black frayed hem skirt, and gold sequin tennis shoes.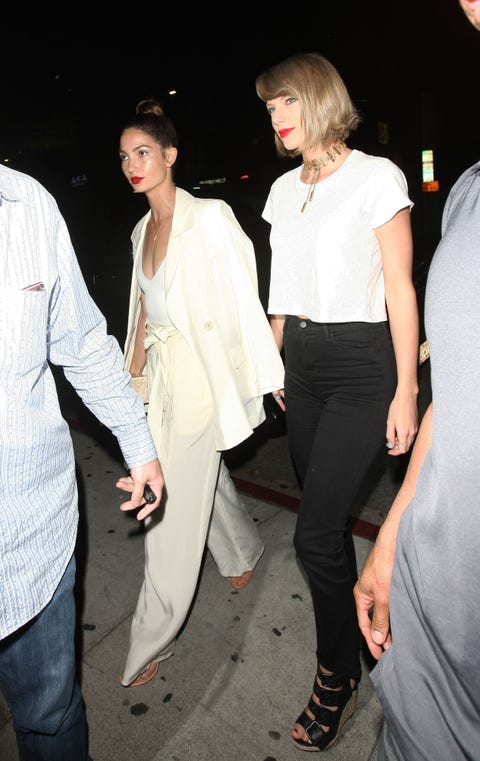 April 13, 2016
While hitting L.A. hotspot The Nice Guy with her friend Lily Aldridge, Swift donned a white cropped T-shirt, black skinny jeans, and buckle espadrilles. She accessorized with a gold choker and her signature red lip.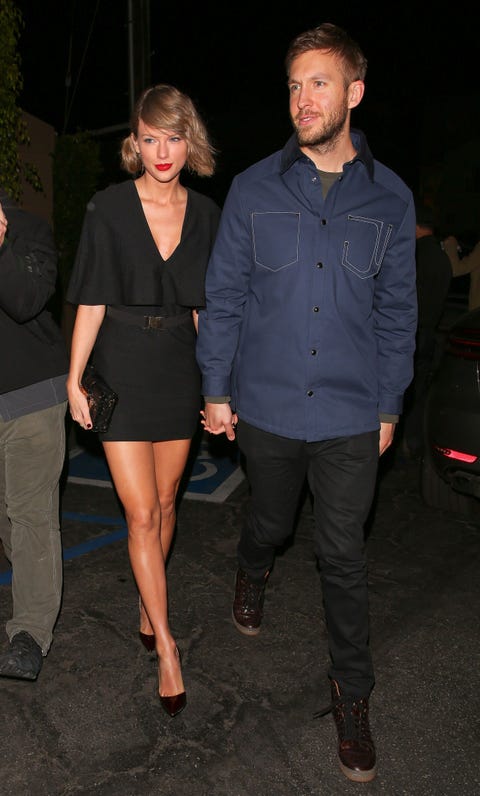 April 7, 2016
On a date night with her boyfriend Calvin Harris, Swift opts for a body-hugging LBD with elegant belt detail. She polishes off the look with her signature red lip.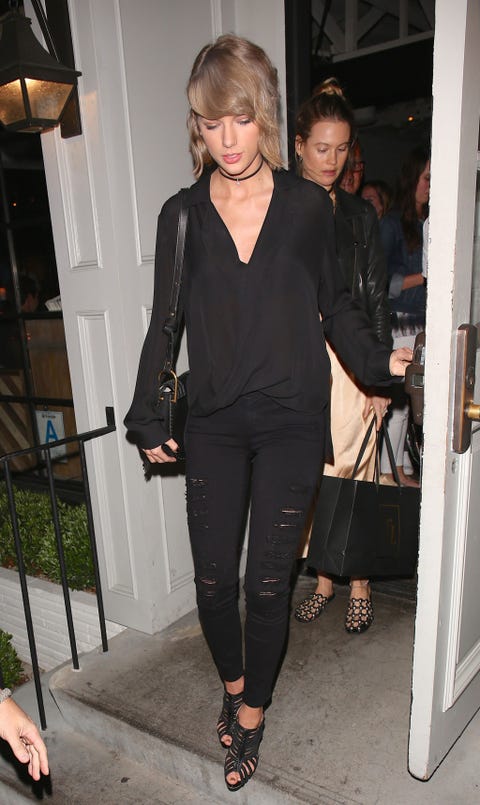 April 5, 2016
For a night out with the girls, Swift opted to take the all-black route with a demure charm choker, silk button down, distressed skinny jeans, and braided leather heels.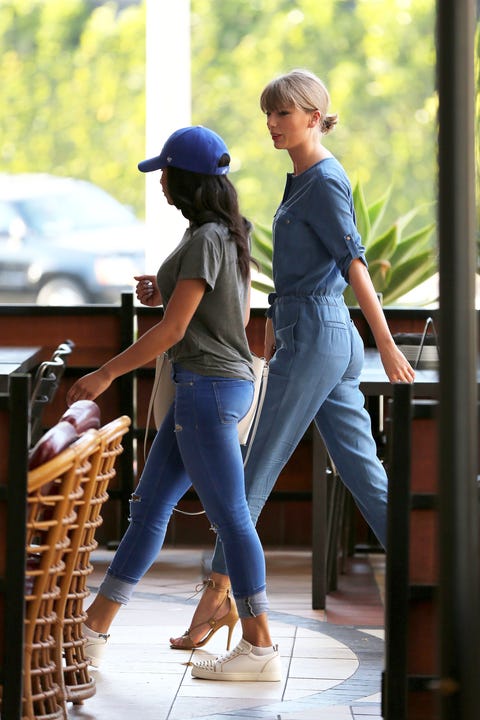 April 4, 2016
While on a sushi date with a friend, T-Swift kept things fresh in a cool denim jumpsuit and strappy, lace-up nude heels. An alternative to T-shirt and jeans that's just as comfy? Count us in.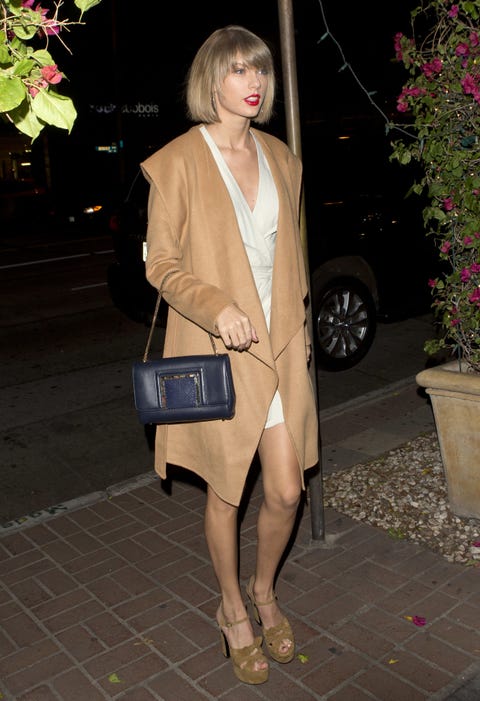 March 28, 2016
While dining out in L.A., Swift layered for spring in a light blue dress, camel shawl coat, and matching brown suede platforms. She punctuated the look with her signature red lip.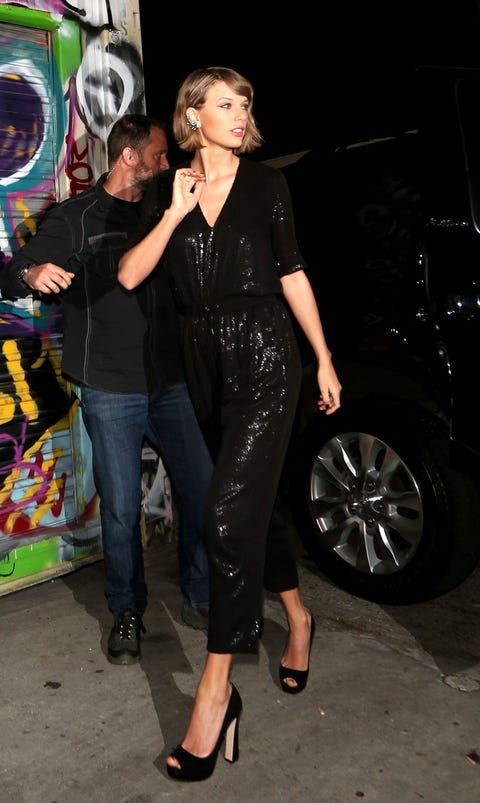 Photographer Group/Splash News
March 26, 2016
While attending Lady Gaga's 30th birthday, Swift took a bit of a style departure in a flashy black sequin jumpsuit paired with an edgy, oversized silver ear cuff. She turned it out for Gaga and we're *loving* the results.
This content is created and maintained by a third party, and imported onto this page to help users provide their email addresses. You may be able to find more information about this and similar content at piano.io