These New York Fashion Week Street Style Looks Are Stunning
There are Insta-worthy looks everywhere.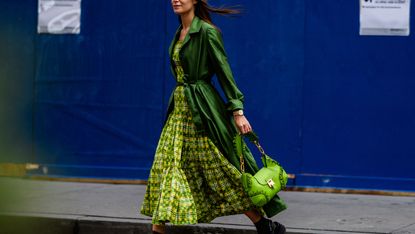 (Image credit: Tyler Joe)
The atmosphere of New York Fashion Week inspires just about everyone to test-drive new trends or switch up their look, even if it's just for a day. Maybe it's because everyone else is "dressing up," or you feel a duty to look cute at shows—whatever the reason, the street style crowd brought it. Already, we've spotted a host of Insta-worthy looks, from a blue tulle skirt paired with chunky yellow sneakers to an effortless all-beige ensemble. Luckily, the weather is on our side so far, allowing the fashion crowd to shed their heavy-duty winter parkas for skirts, dresses, or a lightweight suede trench. Don't just listen to me ramble on, though—check out some of our favorite street style looks, ahead.
1/488
Day 7
2/488
Day 7
3/488
Day 7
4/488
5/488
Day 7
6/488
7/488
8/488
9/488
Day 7
10/488
11/488
Day 7
12/488
Day 7
13/488
14/488
Day 7
15/488
Day 7
16/488
Day 7
17/488
Day 7
18/488
Day 7
19/488
Day 7
20/488
Day 7
21/488
Day 7
22/488
Day 7
23/488
Day 7
24/488
Day 7
25/488
Day 7
26/488
Day 7
27/488
Day 7
28/488
Day 7
29/488
Day 7
30/488
Day 7
31/488
Day 7
32/488
Day 7
33/488
Day 7
34/488
Day 6
35/488
Day 6
36/488
Day 6
37/488
Day 6
38/488
Day 6
39/488
Day 6
40/488
Day 6
41/488
Day 6
42/488
Day 6
43/488
Day 6
44/488
Day 6
45/488
Day 6
46/488
Day 6
47/488
Day 6
48/488
49/488
50/488
Day 6
51/488
Day 6
52/488
Day 6
53/488
Day 6
54/488
Day 6
55/488
Day 6
56/488
Day 6
57/488
Day 6
58/488
Day 6
59/488
Day 6
60/488
Day 6
61/488
Day 6
62/488
Day 6
63/488
Day 6
64/488
Day 6
65/488
Day 6
66/488
Day 6
67/488
Day 6
68/488
Day 6
69/488
Day 6
70/488
Day 6
71/488
Day 6
72/488
Day 6
73/488
Day 6
74/488
Day 6
75/488
Day 6
76/488
Day 6
77/488
Day 6
78/488
Day 6
79/488
Day 6
80/488
Day 6
81/488
Day 6
82/488
Day 6
83/488
Day 6
84/488
Day 6
85/488
Day 6
86/488
Day 6
87/488
Day 6
88/488
Day 6
89/488
Day 6
90/488
Day 6
91/488
Day 6
92/488
Day 6
93/488
Day 6
94/488
Day 6
95/488
Day 6
96/488
Day 6
97/488
Day 6
98/488
Day 6
99/488
Day 6
100/488
Day 6
101/488
Day 6