Chrissy Teigen Shows the World What It *Actually* Means to Travel in Style
Watch and learn, people 🙌.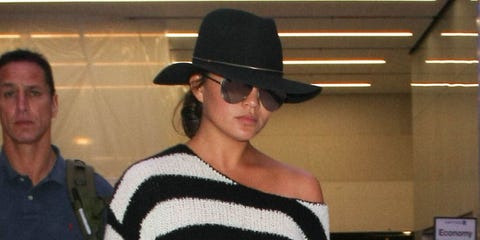 Ever since Chrissy Teigen and John Legend announced they were expecting their first baby, we've kept an eye on the model's best style moments. Now that Baby Luna and her heart melting cuteness have arrived, Teigen's major style moments have continued. Click through for all of Teigen's best looks on and off the red carpet.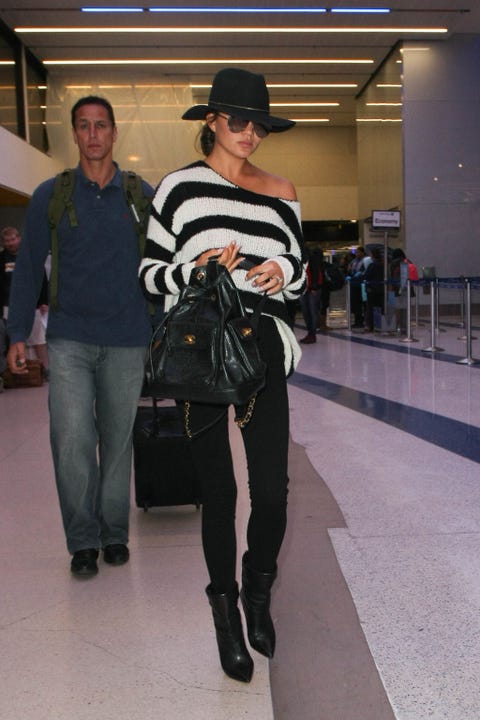 January 6, 2017
Teigen was spotted at LAX in Los Angeles in a striped, off-the-shoulder top and wide-brimmed hat.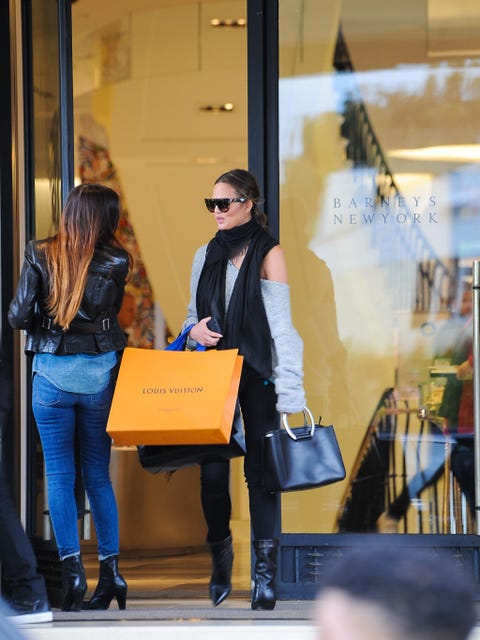 December 23, 2016
Teigen was spotted shopping in Los Angeles wearing a slouchy gray sweater, a long black scarf, and jeans with a pair of booties.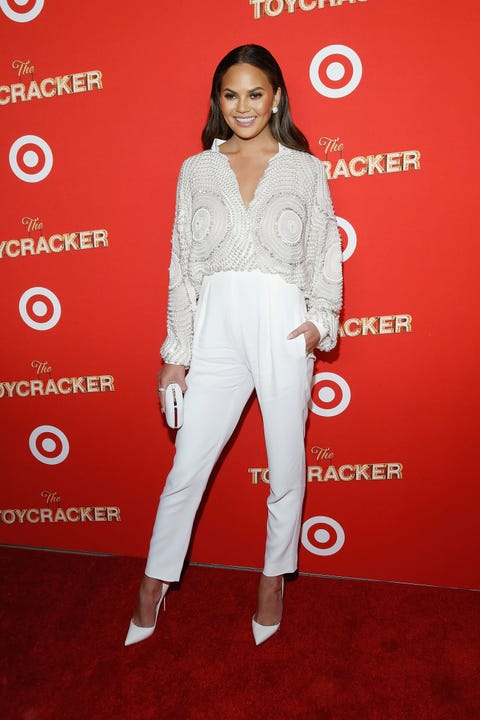 December 7, 2016
Chrissy wore all white *everything* while at a Target event in New York. She wore an eggshell jumpsuit by MARIO DICE with an embellished bodice and pointed heels by Louboutin.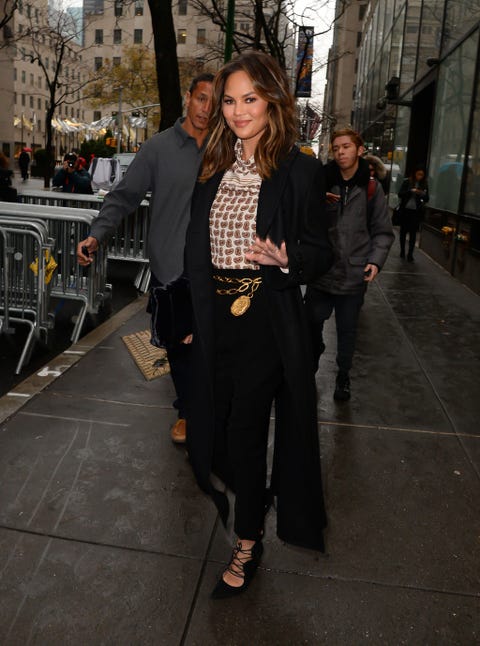 December 7, 2016
Teigen braved the chilly New York temperatures in a long black coat by Alexander McQueen. She also wore a printed blouse by Philosophy Official, and black jeans with a gold belt.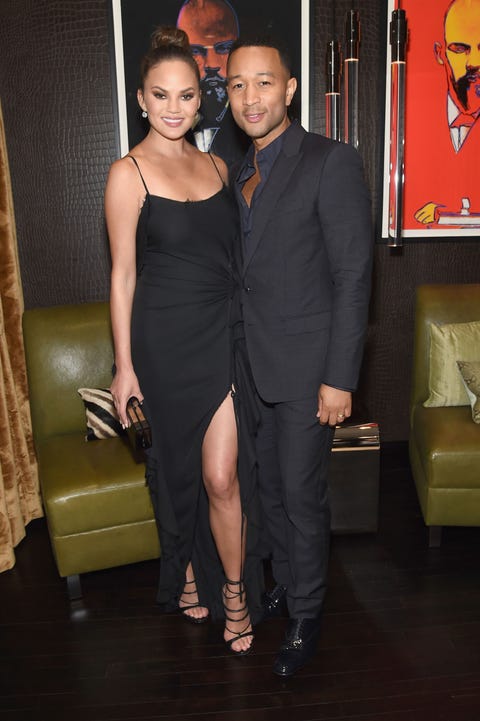 December 6, 2016
Chrissy posed with her hubby John Legend in a black dress with a high slit. The model accessorized with a clutch and strappy black heels.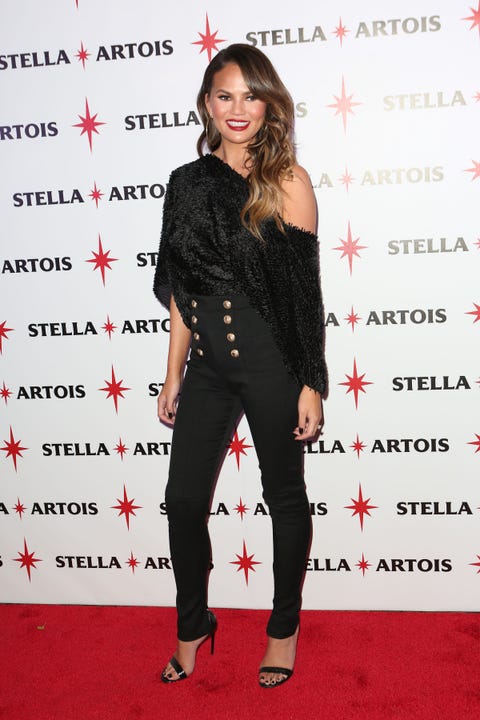 November 15, 2016
Teigen wore an off-the-shoulder top with high-waisted pants and black heels while at a Stella Artois event in New York.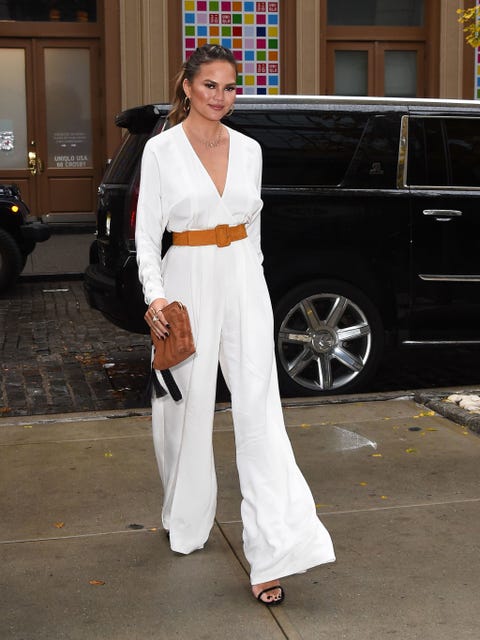 November 15, 2016
Only Chrissy could pull of winter white this flawlessly! The model wore a 70's-inspired ensemble while out in New York: a flared jumpsuit with a brown belt and matching bag.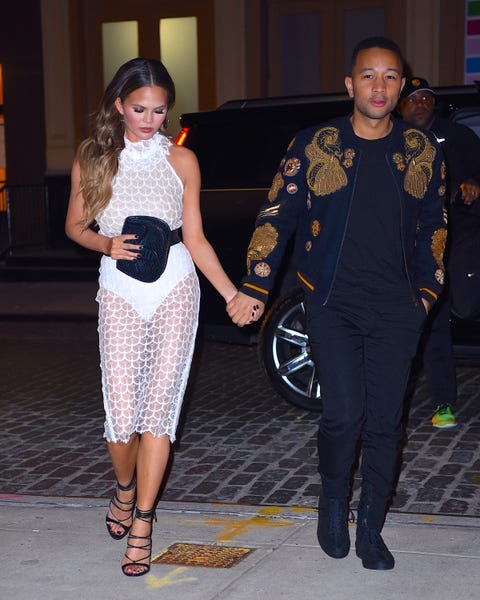 November 14, 2016
Date night! Chrissy wore a sheer printed dress with a black belt and matching clutch while out with John Legend in New York.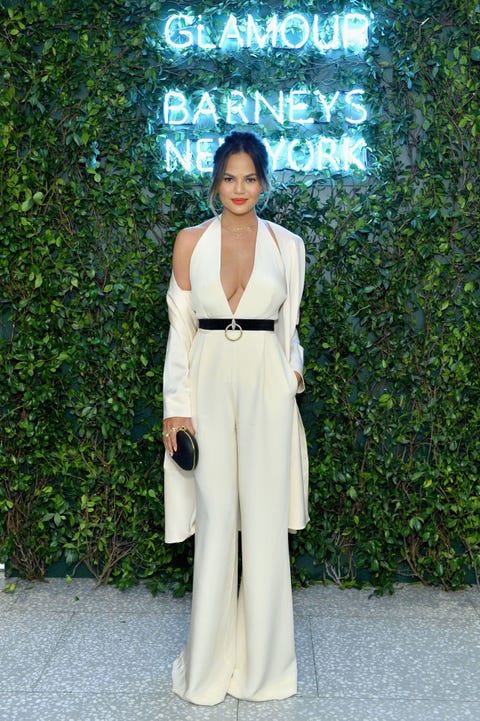 November 13, 2016
Chrissy looked flawless in this *major* white jumpsuit with a matching coat and a black belt in Los Angeles.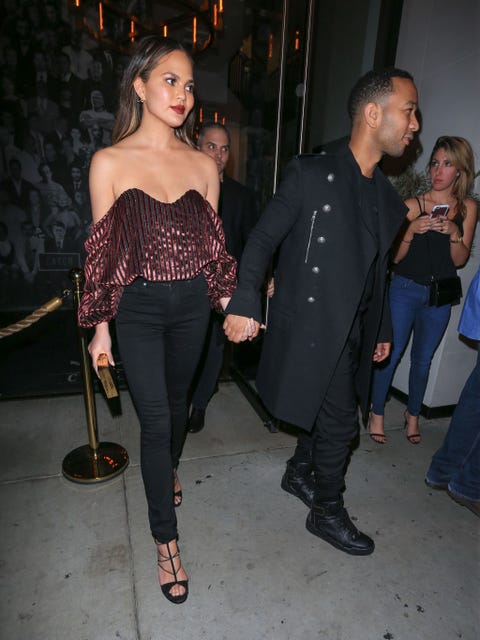 November 5, 2016
Chrissy looked so very chic for a night out with Legend. She wore a velvet striped top by Caroline Constas with high-waisted jeans and a bold red lip.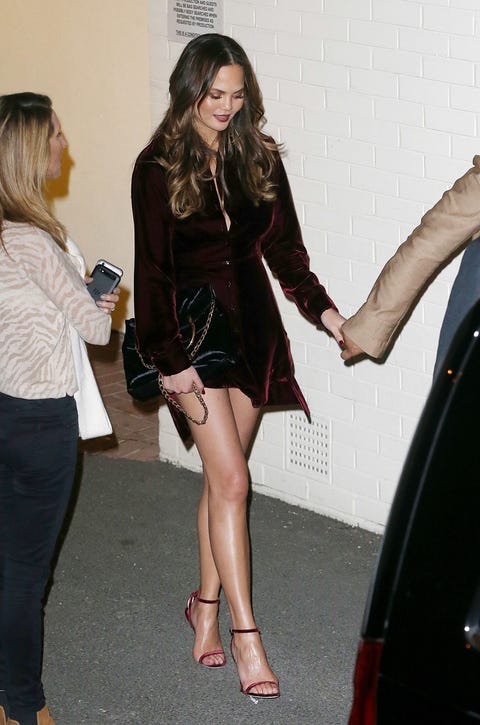 October 23, 2016
Chrissy is giving us serious #OutfitGoals as she showed off her famous legs in a velvet mini dress while in London.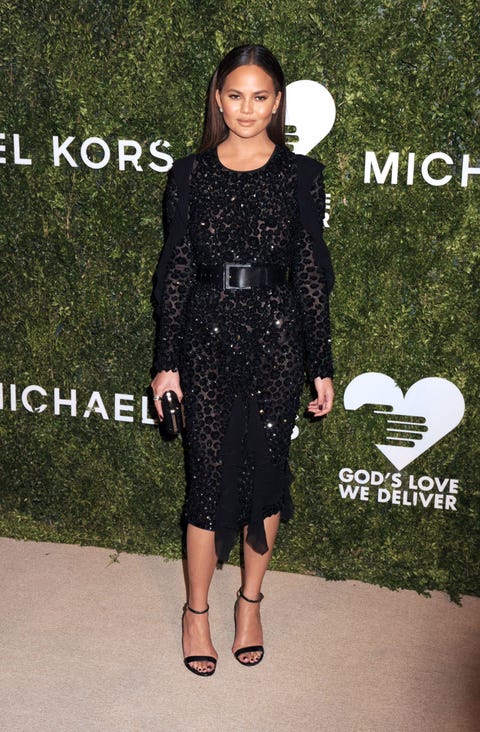 October 17, 2016
Teigen stepped out in an embellished dress by Michael Kors at the God's Love We Deliver event in New York.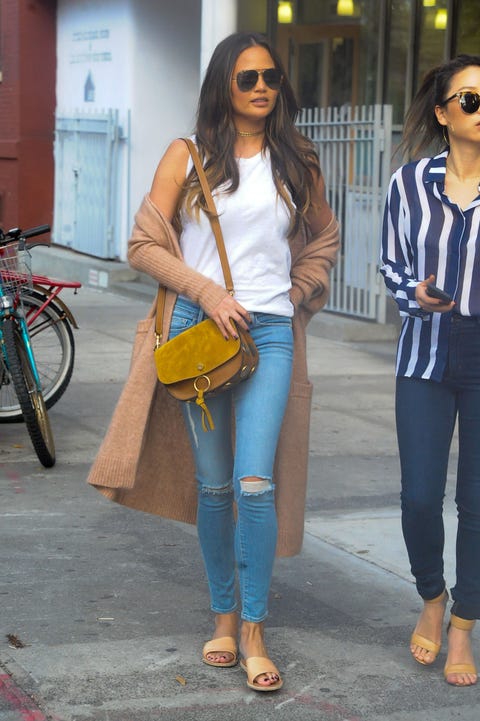 October 17, 2016
Chrissy was spotted in New York wearing a chic classic: a white shirt, ripped blue jeans, and a long camel-colored sweater.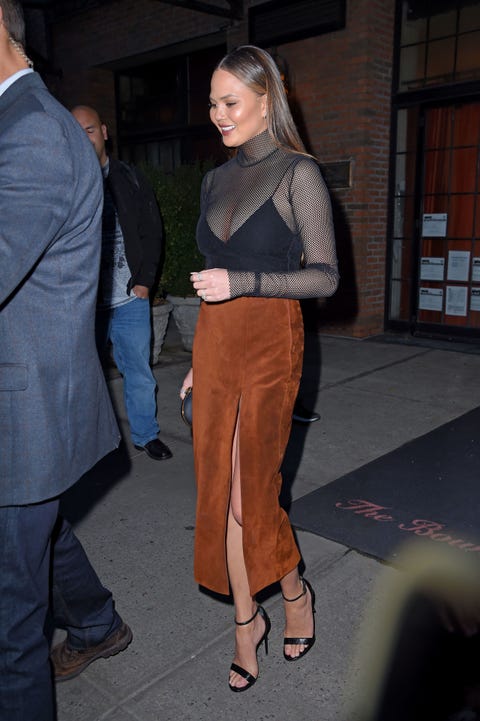 September 28, 2016
Chrissy wore the perfect combo of sheer and suede while out in NYC. The model was spotted in a sheer top by MM6 Maison Margiela and a suede skirt by Sally LaPointe. *So* good.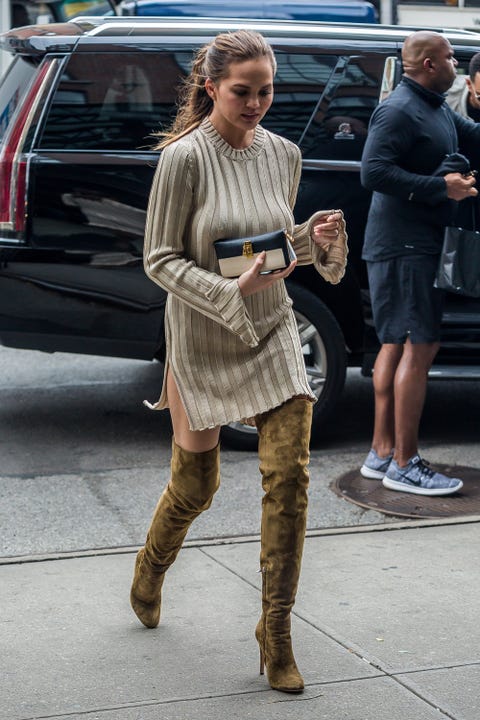 September 28, 2016
Chrissy wore the fall ensemble of our dreams! The model slays in a sweater dress with a pair of thigh-high boots and a low pony.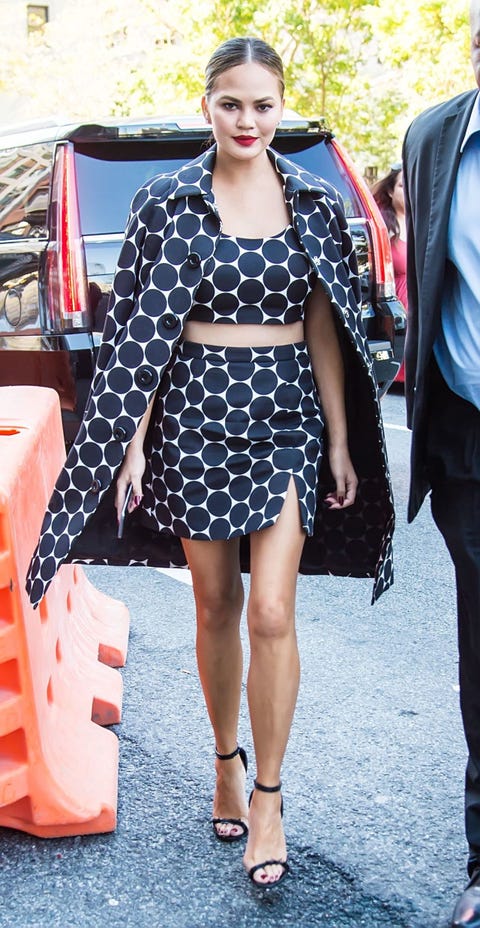 September 14, 2016
Teigen arrived at the Michael Kors show during Fashion Week looking runway ready. She wore a matching skirt, crop top, and coat ensemble all by Kors.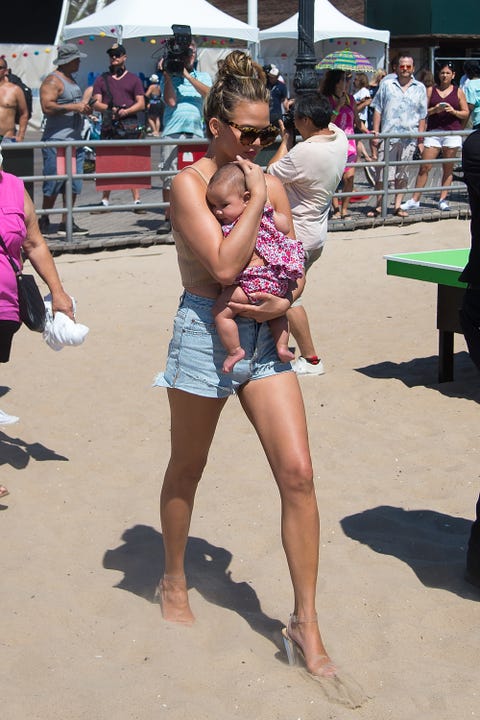 August 28, 2016
The cutest accessory of all time: baby Luna! Chrissy wore jean shorts and a nude tank while at the beach in New York. Like a true pro, the model is walking in sand while wearing clear heels. Legendary.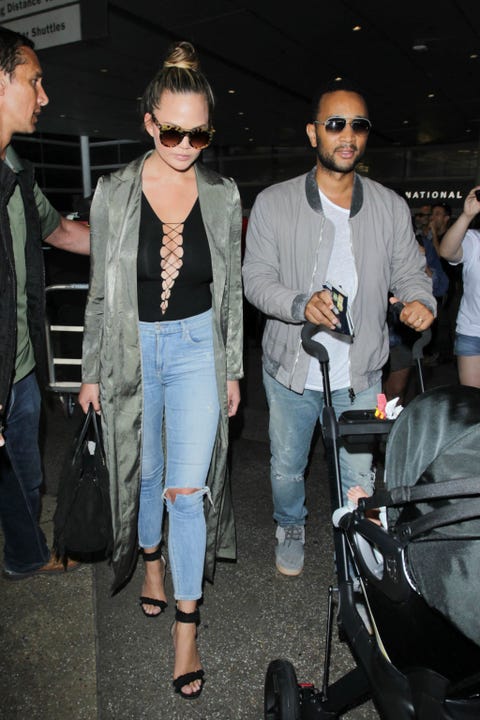 July 31, 2016
Chrissy wore ripped jeans, a black bodysuit, and a long green coat while at LAX with John and Luna. Her hair was in a sleek top knot and she accessorized with a pair of oversized sunnies.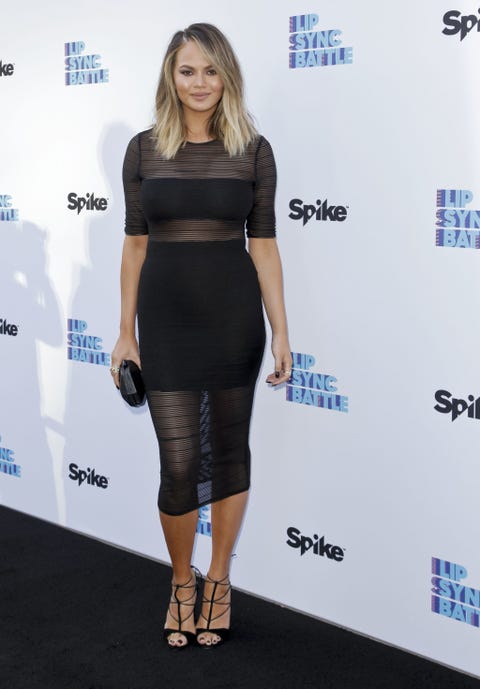 June 14, 2016
Teigen wore an elegant semi-sheer black dress and strappy heels while attending a screening of her show Lip Sync Battle in Los Angeles.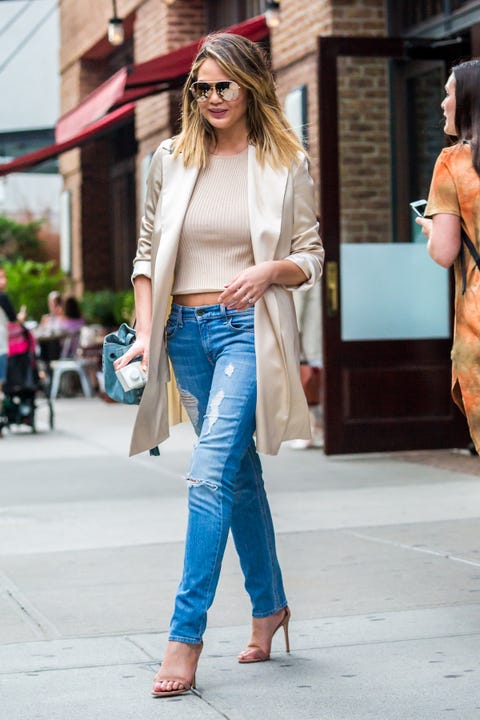 June 7, 2016
Chrissy = serious summer outfit goals. The model stepped out in New York wearing blue jeans and a cream top with a silk jacket. She wore a pair of mirrored sunglasses to match.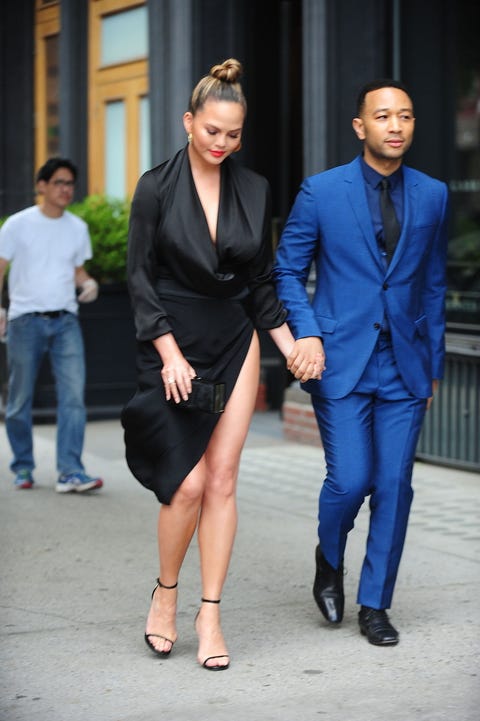 May 19, 2016
Luna's parents are a dapper duo! While out with John in New York, Chrissy wore a black dress with a *major* slit and her hair in a super high top knot.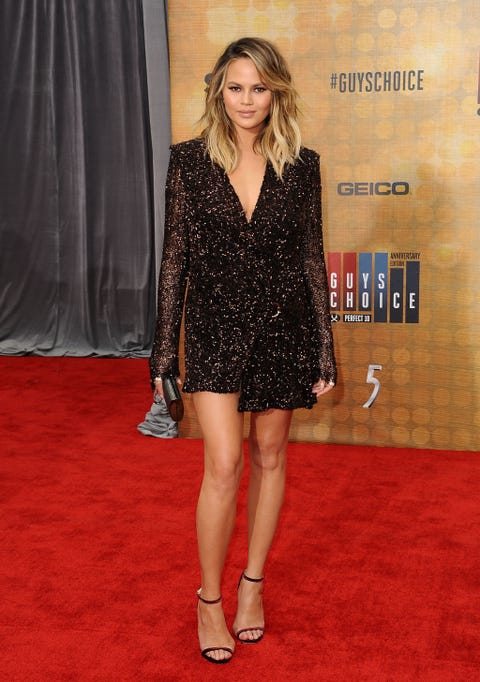 June 4, 2016
Chrissy arrived at the Guys Choice Awards in Los Angeles wearing a embellished DION LEE dress that showed off her amazing legs with shoes and a clutch by Jimmy Choo.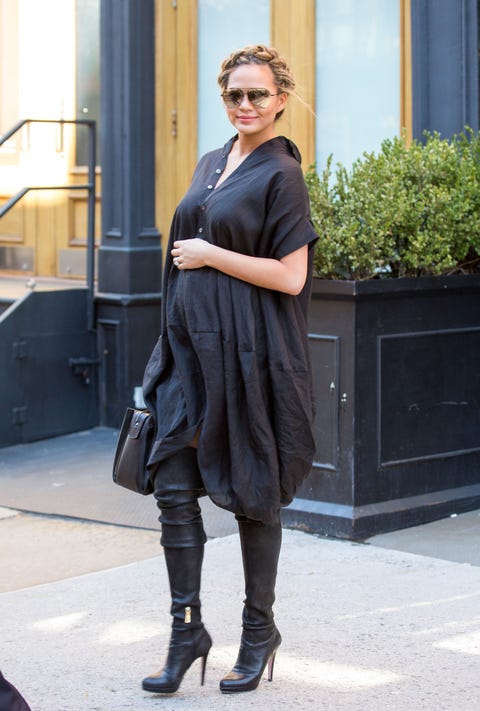 March 2, 2016
Once again proving that she can truly pull off any style, Chrissy Teigen wears milkmaid-inspired braids with an oversized t-shirt dress, black leggings, heeled black booties, and a classic pair of aviator sunnies while out in NYC.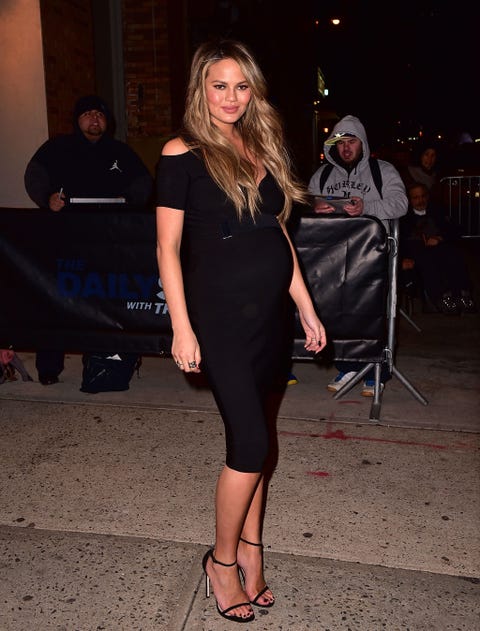 March 2, 2016
Another day, another bump-bearing outfit win for Chrissy Teigen. She was spotted leaving The Daily Show with Trevor Noah in New York in a black dress, showing a little bit of leg and whole a lot of that pregnancy glow.
This content is created and maintained by a third party, and imported onto this page to help users provide their email addresses. You may be able to find more information about this and similar content at piano.io