Marilyn Monroe's Glamorous New York Penthouse Is Now for Sale
If you love Old Hollywood, you're going to want to see this place.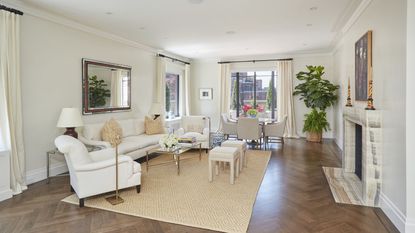 (Image credit: Courtesy of Brown Harris Stevens)
This is a space that comes with serious bragging rights.
A New York apartment that fashion designer Bill Blass, Marilyn Monroe (opens in new tab), Arthur Miller, Bobby Short, and, most recently, a Swedish princess have all called home recently hit the market – and the place, naturally, is stunning.
According to the listing (opens in new tab), Cary Grant (opens in new tab) and the Duke and Duchess of Windsor stopped by the 2,200-square-foot prewar condo to attend Bill Blass' fabulous terrace parties, too. Yes, your guests will be very impressed.
The two-bedroom, two-bath apartment also boasts heated floors, a modern kitchen with a breakfast bar, and a solarium in the guest bedroom, according to the listing. Oh, and of course, there's a pretty spectacular view of the East River and the 59th Street Bridge.
So, basically, if you dream of living like an Old Hollywood star (opens in new tab) – and have a spare $6.95 million lying around – this is the apartment for you.
Unsurprisingly, the notoriously glamorous Marilyn Monroe had excellent taste in real estate throughout her career. When she wasn't married, the starlet would stay with her photographer friend Milton Greene on the Upper East Side (opens in new tab), going so far as to call his townhouse her "sanctuary," The Daily Mail (opens in new tab) reports. With a marble staircase and European terrace, the apartment is decidedly flashier than this midtown space.
The New York Times (opens in new tab) reports that Marilyn Monroe and Arthur Miller moved to the 13th-floor apartment shortly after their wedding in 1956. Monroe had previously been renting an apartment just a few blocks away – in fact, it was pretty close to the apartment featured in "How To Marry A Millionaire." Miller wrote his final draft of "The Misfits" here, while Monroe was known to walk her Maltese terrier, Maf, in the nearby park on Sutton Place. The couple called the apartment home until they divorced in 1961.
Take a look at the space below.
h/t: Architectural Digest (opens in new tab)