A Silk Pillowcase Might Be the Secret to Your Best Hair Days Yet
Dermatologists and textile experts weigh in on the beauty benefits of silk pillowcases.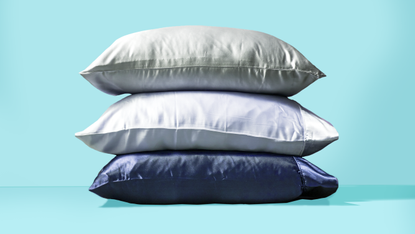 (Image credit: Hearst Owned)
Beauty sleep: When you can hardly fall asleep most nights, it sounds more like a fairytale than an attainable reality. Overnight beauty products claim to work double-duty while you sleep to help fake those eight hours, while silk pillowcases are touted for having serious beauty benefits, like reducing wrinkles, split ends, and frizz. But can silky bedding really be the path to smoother skin and better hair?
In short, yes—silk pillowcases really do make a difference. After testing the best silk pillowcases in the Good Housekeeping Institute Textile Lab, many Good Housekeeping editors began sleeping on the luxurious bedding and now swear by silk pillowcases, with one saying, "I realized my cheap pillowcase was the real culprit behind my bad hair days."
That said, silk pillowcases aren't a cure-all for all of your beauty woes. Good Housekeeping spoke with Dr. Neal Schultz, New York City-based dermatologist and author of It's Not Just About Wrinkles, to get the scoop on what beauty benefits you can actually expect from silk pillowcases, and what's just fiction.
Top Questions About Silk Pillowcases
1. Can silk pillowcases prevent wrinkles?
Believe it or not, they can! A "smooth surface with very little friction" means less tugging on skin than with a traditional cotton pillowcase, says Schultz. "We get 'crush wrinkles' from sleeping on our side/face, so we may get less of those when sleeping on silk." Studies show that friction from tossing and turning causes creases in the skin, but a silky smooth surface can reduce that effect in the long run.
2. Do silk pillowcases prevent frizzy hair?
Yes! Thanks to silk's super smooth texture, hair glides over it without any friction which means you'll be less likely to wake up with frizzy hair, tangles, or bedhead, whereas cotton can snag hair and muss it up into a nest of tangles overnight. Sleeping on silk is a secret that women with textured and curly hair have been using for years to keep styles like braids and blowouts preserved for longer without adding frizz.
3. Do silk pillowcases keep skin hydrated?
Thanks to that super-smooth texture, this is actually true. Silk's smoothness "means it's less apt to absorb moisture from skin," says Schultz, keeping skin nice and hydrated without zapping it of valuable moisture. That makes silk pillowcases great for anyone with dry skin (or for use in dry winter months).
4. Do silk pillowcases keep hair healthy?
In some ways, yes: They help keep hair hydrated, and Schultz says that silk can help with brittle hair. Cotton is more porous than silk, so traditional pillowcases absorb moisture from your hair, while silk leaves that hydration right where it belongs: in your hair. That means if you suffer from dry strands or a flaky scalp, a silk pillowcase will be a godsend.
5. Can silk pillowcases regulate temperature?
Silk may not be the most cooling bedding option, but it certainly does regulate temperature. According to Lexie Sachs, Associate Director of the Good Housekeeping Institute Textiles Lab, silk fibers are inherently temperature-regulating. Unlike cotton, which absorbs moisture, silk wicks moisture away to keep you dry and cool all night long.
6. Do silk pillowcases prevent acne?
Not necessarily. It's true that silk doesn't absorb as much moisture as cotton, but you shouldn't expect it to clear up acne or prevent breakouts. Instead, if you suffer from breakouts or adult acne, you're better off adopting an acne-clearing skincare regimen (and stop touching your face!).
7. Are silk pillowcases naturally hypoallergenic?
Unless your allergies are directly related to your bedding, don't bet on it. The claims that silk is naturally hypoallergenic are "not relevant to most people," says Schultz. If you do suffer from allergies, try adding a mattress protector to your bed to block allergens and environmental irritants, and be sure to regularly wash your bedding.
8. Do the amino acids in silk pillowcases improve your skin?
Nope. Schultz explains that while silk contains amino acids and natural protein (and that amino acids are great for skincare), they can't be transferred to the skin for any measurable benefit.
9. Can silk pillowcases prevent split ends?
The slippery smooth texture of silk will prevent tangles and frizz, but it can't prevent hair breakage and damage altogether. Instead, try using a deep conditioner and getting regular trims to prevent split ends.
10. Are silk pillowcases anti-aging?
Sort of. Silk pillowcases can decrease wrinkles and improve the appearance of skin's hydration, which can make you look more youthful. But if anti-aging is your goal, remember that fine lines and "wrinkles only account for 5 percent of your face." That means you'll also need to combat signs of dull skin and uneven skin tone with the right products and treatments, advises Schultz.
Do silk pillowcases really make a difference?
Bottom line, yes: Silk pillowcases can improve skin and hair hydration, prevent fine lines and wrinkles, and result in smoother, frizz-free hair every morning. Just don't expect magical results.
"Be wary of unrealistic claims," says Sachs. "While silk pillowcases are great for preventing facial creases and bedhead, they aren't going to pass nutrients into your skin or help with breakouts."
If you're ready to invest in a silk pillowcase, "for top quality silk, look for a high momme (or 'mm,' which is the fabric weight) of 22 or more. Also look for Mulberry silk, which is silk's equivalent of Egyptian cotton," says Sachs.
Not ready to splurge on a true silk pillowcase, but still want all of those great skin and hair perks? "A faux silk case (usually made of polyester) should still give you the smoothness benefits. It may not feel as luxurious as real silk, but it'll be easier to clean and more durable," she says.
Shop Top-Rated Silk Pillowcases
For more stories like this, including celebrity news, beauty and fashion advice, savvy political commentary, and fascinating features, sign up for the Marie Claire newsletter.
RELATED STORIES
Celebrity news, beauty, fashion advice, and fascinating features, delivered straight to your inbox!
Jessica is the deputy editor at the Good Housekeeping Institute and a longtime product tester, reviewer, writer, and editor of beauty, lifestyle, and home content. Previously, she worked as Beauty Editor and launched the Beauty vertical at USA TODAY's Reviewed, and has covered lifestyle and travel trends for publications like The Boston Globe and The New York Times. She's a graduate of Northeastern University's school of journalism. When she's not fawning over new beauty releases and researching the best products on the market, you can find her eating sushi and/or petting dogs (especially her rescue, Redford).