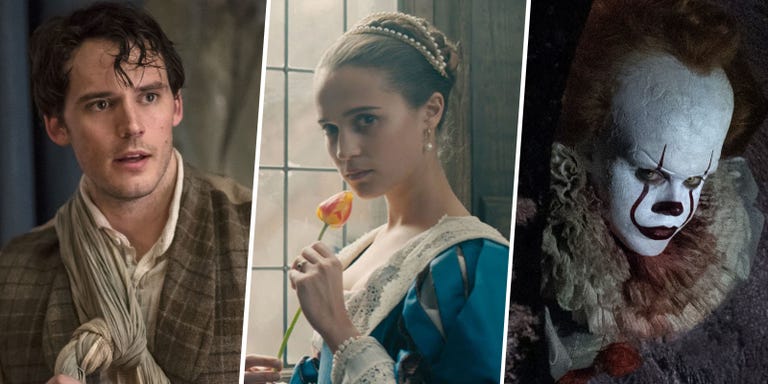 Warner Brothers/Weinstein Company
Summer is coming, and with it, a slew of new movies to enjoy while you eat mass amounts of popcorn. We're talking superhero films, period pieces about romantic affairs, thrillers that will surely be dubbed "high octane," and one horrifying movie about a clown who wants to kill everyone. Yay! Check out what's coming up below.
Truly, there are no words for how excited we are/you should be about Sofia Coppola's upcoming The Beguiled, a remake of Clint Eastwood's 1971 classic about an injured Union soldier who finds refuge at an all-girls boarding school. The result? A whole lot of sexual tension, drama, and gorgeously flow-y costumes.
Release date: June 23, 2017.
Wonder Woman is the feminist superhero film the world has been waiting for. The movie follows Diana Prince (AKA Wonder Woman), who leaves her home island after finding out that World War I is going on. Because naturally only she can put a stop to that mess. 
Note: Marie Claire got a chance to chat with Gal Gadot on the Wonder Woman set, and we have allll kinds of intel to spill. 
Release date: June 2, 2017.

Based on Daphne du Maurier's 1951 romance-mystery novel (best genre ever?), My Cousin Rachel follows a man named Phillip who falls in love with his cousin (just go with it), all the while fearful that she 1. Killed their other cousin, and 2. Might kill him. Sounds amazing, especially since Rachel Weisz and Sam Claflin are starring.
Release date: July 14, 2017.

Think of Rough Night as Bridesmaids meets The Hangover meets everything you love about Broad City because Ilana Glazer is in it and you know she'll bring the LOLs. The film stars Scarlett Johansson, Kate McKinnon, Zoë Kravitz, Jillian Bell, and Glazer as five friends who hit Miami for a bachelorette weekend. Unfortunately, they end up accidentally killing a stripper. The hijinks!
Release date: June 16, 2017.
If you're an avid user of social media (that is a rhetorical "if"), prepare to be slightly freaked out by Ingrid Goes West, a film about a mentally unstable woman (played by Aubrey Plaza) who becomes obsessed with a L.A.-based social media influencer (played by Elizabeth Olsen). Naturally, Plaza's character moves to L.A. to meet Olsen's, and the rest is dramatic unhinged genius.
Release date: August 4, 2017.
Yes, Baby Driver looks slightly extra in that it's a film about a getaway driver named Baby played by Ansel Elgort, who tries to ditch life in the fast lane [edit note: HAHAHA] when he meets the girl of his dreams. But we mean "slightly extra" in the best possible way. Judging from the trailer, this is the high-velocity love story we never knew we needed.
Release date: June 28, 2017.
7
'Valerian and the City of a Thousand Planets'
Cara Delevingne starring role in Valerian is almost upon us, and it looks pretty-pretty-pretttyyyy good. What we have here is your classic futuristic action-adventure—this time about special operatives Valerian and Laureline who go on a mission to battle a mysterious force (the bad kind, not the cool Star Wars kind) which is threatening the universe. You know, just your casual everyday kinda stuff.
Release date: July 21, 2017.
Behold, Hollywood's latest and greatest spy action thriller—which will hit theaters right in time to cure your summer boredom. The film takes place right before the collapse of the Berlin Wall, and stars Charlize Theron as an MI6 spy who hits Germany to take down an espionage ring. Here for it, and also this trailer is the very definition of badass.
Release date: July 28, 2017.
Casey Affleck thoughts and feels aside, his new film with Rooney Mara looks—for lack of a less pun-y term—completely haunting. A Ghost Story chronicles Affleck as a newly minted ghost (completely with a white sheet) who follows around his grieving wife. If the trailer is any indication, this movie will be very pretty to look at.
Release date: July 7, 2017.
All I See Is You stars Blake Lively as a blind woman who unexpectedly regains her sight, only to realize that her husband has been manipulating and lying to her. Dun, dun, dunnnn.
Release date: September 15, 2017.
Come for the all-star cast, stay for the riveting plot. The Book of Henry stars Hollywood darling Jacob Tremblay as a boy who—fearing for the safety of his next door neighbor crush (played by Maddie Ziegler)—plans her escape in a book. His mom (AKA Naomi Watts) decides to put the plan in action, making for a fascinating premise.
Release date: June 16, 2017.
Prepare to be terrified, because all your childhood nightmares are coming true thanks to It, the newest incarnation of Stephen King's novel about a murderous clown named Pennywise (played by Bill Skarsgård). Only watch the trailer if your interests include being afraid, and being very afraid.
Release date: September 8, 2017.
You've probably heard a lot of buzz about Dunkirk due to the fact that it stars Harry Styles, but that's just one of many tempting reasons to check out this film. The Christopher Nolan-directed war thriller also has performances from powerhouse actors like Tom Hardy, Kenneth Branagh, and Cillian Murphy, and—if the title didn't make it obvious—is about the evacuation of Dunkirk in World War II.
Release date: July 21, 2017.
Can't go wrong with Regina Hall, Queen Latifa, and Jada Pinkett Smith! Girls Trip is about a group of friends who go on a vacation to New Orleans' Essence Music Festival, and discover their wild sides. Yes, please.
Release date: July 21, 2017.
15
'Spider-Man: Homecoming'
Yes, they're making another Spider-Man movie. This time it stars Tom Holland. Yes, it looks really fun. That's all.
Release date: July 6, 2017.
Starring Alicia Vikander, Tulip Fever is 17th century period piece about a married woman who has an affair with an artist despite being very much married. Watch the trailer and let the Shakespeare in Love vibes wash over you.
Release date: August 25, 2017.
17
'The Hitman's Bodyguard'
Ryan Reynolds and Samuel L. Jackson star as a hitman and his bodyguard. What else could you want out of a summer action movie? Answer: nothing.
Release date: August 18, 2017.