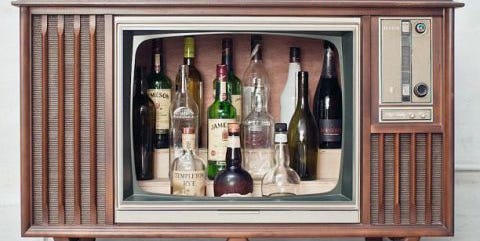 [image id='e726a54c-8489-4dc8-bf9b-7afd046d47e6'][/image]
Sorry, traditional bar carts: Your 15 minutes of fame are up. Here are 10 unique ways to store your alcohol.
When you stack double rod towel bars on top of each other, as shown on IkeaHackers.com, you get a sleek, modern wine rack. Winos can extend it as far down the wall as they want.
BUY NOW: Gatco Double Towel Bar, $39; Bedbathandbeyond.com
Water babies will appreciate Etsy seller PoppasBoats' store. He makes wooden canoes with shelving, so when they stand upright, you can store all your favorite bottles inside.
BUY NOW: Row Boat Book Shelf, $139; Etsy.com
IKEA's Kallax cube units might be the big box store's most hacked piece of furniture, so its place on this list shouldn't come as a surprise. You can buy an x-shaped piece to fit in one of the cubes, and it holds wine bottles perfectly.
BUY NOW: Kallax Shelf Unit, $145; Amazon.com
BUY NOW: Cube Storage Shelf X, $8; Walmart.com
Wooden apple crates stacked on a wire rack or bookcase work overtime: They look incredibly rustic-chic, and they hide the fact that you're sipping on Two Buck Chuck instead of fine wine.
BUY NOW: Classic Apple Crate, $35; Etsy.com
This is hands-down the most meta way to store your liquor: Let someone craftier than you carve a door out of an old wine or whiskey barrel and fit it with shelves. You'll get the honor of organizing your prettiest bottles inside.
BUY NOW: Wine Barrel Bar, $449; Etsy.com
Old-School Television Set
When the bloggers at Whiskey Ginger (now the owners of an Etsy shop) got their hands on a 1960s TV, they popped out the screen and retrofitted the piece with shelving. The trend has since become a Pinterest darling.
BUY NOW: Vintage TV Cabinet, $507; Etsy.com
Twenty-somethings: Card catalogs are the cabinets that used to hold a library's directory back in Grandma's day. Everything's stored digitally now, which means hundreds of the vintage pieces are for sale on Etsy and eBay. They come stacked with anywhere from just a couple drawers to a whopping 72, each sized just right for your pinot.
BUY NOW: Vintage Library Card Catalog, $699; Etsy.com
All it takes are some sanded, painted, and glued PVC pipes of varying sizes to create an expensive-looking wine rack. The crafter over at Adventures in Creating has a simple tutorial.
BUY NOW: Genova PVC Pipe, $9; Amazon.com
Most vintage milk crates have bottle holders already built inside, and they're secure enough to hold bottles of booze when titled sideways on the wall.
BUY NOW: Milk Crate, $85; Etsy.com