These Are the 10 Most Googled Beauty Questions of 2016
(*And* all the answers.)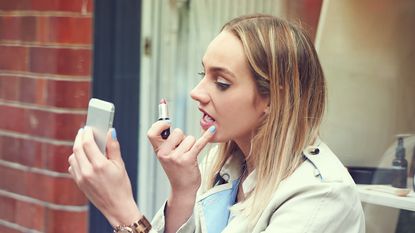 (Image credit: Getty Images)
Marie Claire newsletter
Celebrity news, beauty, fashion advice, and fascinating features, delivered straight to your inbox!
Thank you for signing up to . You will receive a verification email shortly.
There was a problem. Please refresh the page and try again.
A lot happened in 2016, some of it good (opens in new tab), some of it bad (opens in new tab). But when it comes to the beauty world, these are the burning questions you've been asking all year long...
1. How to make hair grow faster?
The quest for longer lengths can be slow, draining and irritating AF (take it from a person who has been growing their locks ever since thaat bob haircut of 2004). So I get it, most us are searching for a miracle trick that'll send our scalps into overdrive and give us Rapunzel hair in a matter of weeks. The thing is if you want longer, thicker, healthier hair, it takes commitment (ugh, I know), but hear me out... There are several things you can do that will make a difference and help your hair grow faster (opens in new tab).
2. How to remove gel nails?
Do. Not. Peel... I know it's tempting, but you'll be peeling off layers of your own nail along with the gel, and this leads to flakey talons that break if you so much as sneeze. The best way to remove your gels (opens in new tab) or acrylics is by soaking them in a nail removal acetone. I know it's time-consuming, but it works, and your hands will thank you for it.
3. How to clean makeup brushes?
Well you're in luck, because we've reviewed four gadgets designed to make the arduous task of washing your brushes (opens in new tab), a tad easier. You're welcome.
4. How to curl hair?
As someone with perma-straight hair, I understand the struggle.
Read this (opens in new tab)—it will change your hair's life for the better.
5. How to shape eyebrows
There's a few techniques to follow if you want an arch that flatters your face. Check 'em out here (opens in new tab).
6. How to apply concealer?
There's an industry-approved trick when it comes to applying concealer and it's actually incredibly simple. Apply it in a 'V' shape instead of just under your eyes (opens in new tab), this way the formula will brighten up your whole face (opens in new tab). Clever, huh?
7. How to get rid of bags under your eyes?
Eye bags can be tricky to get rid of, most are caused by thinning skin and fatty deposits. Start by finding the best eye cream (opens in new tab) to help keep the skin around your peepers as healthy as possible. Here are 22 hacks to make your eyes really pop (opens in new tab).
8. How to do a fishtail braid?
A question many of us have asked. Thankfully we have a whole step-by-step picture guide right here (opens in new tab)...
9. How to fill in eyebrows?
Well, I believe I made my feelings on brows pretty clear in point 3. But if you need a help achieving a natural brow, check out this smart trick (opens in new tab).
10. What is balayage?
The only thing you need to know is that it's super pretty, and all the celebs are doing it (opens in new tab).
Follow Marie Claire on Facebook (opens in new tab) for the latest celeb news, beauty tips, fascinating reads, livestream video, and more.
Vic is the Digital Beauty Director here at Cosmopolitan.com/UK. You'll usually find her suffering from a pizza hangover - yesss that's a real thing, covered in makeup swatches (hazard of the job), and binge-watching Louis Theroux documentaries.