My Dog Gets Facials! (What – Yours Doesn't?)
A company in San Diego makes a blueberry facial product for pups.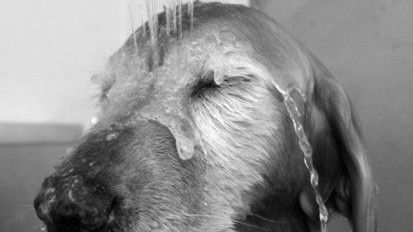 (Image credit: Marie Claire)
The other day I dropped my mega-dirty dog Luna off at a new groomer in my neighborhood and told them to give her "the works." Turns out at this place "the works" comes with a complimentary blueberry facial for the pups' dirty mugs.
When they told me about it I know my reaction should have been shock from the absurdity of dog facials, but I'm sorry, it just sounded so cute. (Pointless sure, but cute.)
But then the company that makes the blueberry facial product (South Bark Dog Wash (opens in new tab) in San Diego) told me it's especially great for dogs with long hair on their faces because that hair gets stained easily and the blueberry product brightens it all up better than regular ol' shampoo. Luna doesn't have particularly long and luscious locks per se, but when I picked her up she smelled so yummy and the groomer told me the facial was the only part of the bath she seemed to enjoy, so it seems like a win-win. That's when I realized I haven't had so much as a manicure since September but my dog gets facials. What a world.