Behind the Cover: Mila Kunis Beauty
Gorgeous is as gorgeous does.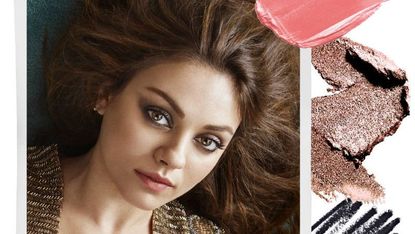 (Image credit: Archives)
"AN OLD-SCHOOL IMAGE OF BIANCA JAGGER WAS MY REFERENCE FOR MILA'S LOOK. I LIKED THE DICHOTOMY BETWEEN GLAMOUR AND GRUNGE." -Adir Abergel
HAIR: By using a setting lotion from midshaft to ends, stylist Adir Abergel gave Kunis' hair a modern, broken-down texture. "I didn't want it to have too much volume at the roots, but rather a lived-in, did-it-myself vibe," he says.
MAKEUP: For a sultry look with a hint of rock-and-roll edge, makeup artist Tracey Levy focused on the eyes by lining them with a black pencil, then smudging with a soft brush. "I wanted to give the feel of some color left over from the night before," she says. For a natural touch, Levy used her fingers to apply a coral lip-and-cheek cream.
NAILS: Manicurist Casey Herman moisturized hands, shaped nails with a file, and then brushed on a versatile, semi-sheer pink polish for a delicate finish.
Credits From Top Left, Clockwise: Emilio Pucci dress; Sydney Evan earring; A pastel cheek-and-lip color added fresh warmth; Pale polish worn at Ralph Rucci's spring show inspired the nails; Photo of Bianca Jagger
Celebrity news, beauty, fashion advice, and fascinating features, delivered straight to your inbox!