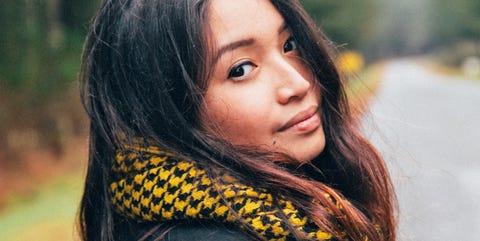 You know that feeling when you smile or talk, and you can feel your skin cracking and tightening, because it's officially turned into a flaky, dry, winter-hating mess? Well, I pretty much live in that reality year-round, thanks to my affliction of having the world's driest, most-sensitive skin to ever grace the world.
For me, that sucks. But for you, it's a godsend, because it means I've tried virtually every single so-called "hydrating" foundation to ever exist, and now have an official list of the terrible ones and the kissed-by-baby-angel ones that make even the driest of skin feel moisturized and look dewy, despite the cold-ass temps. And now, I'm sharing my winners list with you, below.
1
Stellar Limitless Foundation
Stellar Limitless Foundation, $38
I wear this foundation every single day, so you know it's true love. The lightweight formula feels more like a tinted moisturizer than a medium-coverage foundation, which means it never cakes up over flakes or dry patches. My only gripe? It's a tinge too dark for my translucent skin, so if you're listening, Stellar, please expand your light (and dark!) shade ranges so I can stop looking like I've got a case of the jaundice. Sincerely, your number-one fan.
2
CoverGirl Smoothers Hydrating Makeup
CoverGirl Smoothers Hydrating Makeup, $8
This inconspicuous little bottle houses a sheer and dewy foundation (as in, if you're trying to cover up a massive breakout or heavily discolored skin, you'll want to layer on the concealer, or just try a different formula) that actually leaves your face with the feeling like it's being continually misted with water and happiness.
3
​Cover FX Custom Cover Drops
Cover FX Custom Cover Drops, $44
Okay, although these drops aren't technically foundation—they're essentially just ultra-concentrated pigments, with almost zero water in them—that you can add to your moisturizer, lotion, tinted moisturizer, whatever, to customize the amount of coverage you want, without compromising on the moisture. You can even add these suckers to facial oils (yes, I've really tried that), and they seriously work.
4
Maybelline Fit Me Dewy + Smooth Foundation
Maybelline Fit Me Dewy + Smooth Foundation, $8
Uh, in case you don't trust me, maybe trust the 1,200 five-star reviews on Ulta, which pretty much swear by this medium-coverage foundation. Oh, and by the way, it contains zero oils and waxes, so it just feels like a light, gel-like finish on your skin that doesn't cake or crease, no matter how much you blend on.
5
Estée​ Lauder Perfectionist Youth-Infusing Serum Makeup
Estée Lauder Perfectionist Youth-Infusing Serum Makeup SPF 25, $48
You know this stuff is hydrating when they refuse to even call it foundation. But it most definitely is—except without any of the heavy, full-coverage, drying properties of usual foundations, thanks to its serum-infused formula that uses a bunch of humectants (i.e. ingredients that literally pull water from the air and into your skin) to keep skin plump and dewy all day.