Editors handpick every product that we feature. We may earn commission from the links on this page.
9 Beauty Gifts That Give Back to Worthy Causes
Make your present count towards the present (get it?).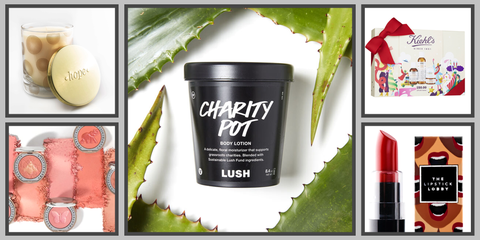 Watching someone open a present you picked out is nerve-wracking—but when you get it right, it feels amazing. But it can be tricky to find that perfect something for the people on your list you don't know so well, like your cousin's partner you matched with in the family Secret Santa or Janice in accounting who lets it slide when you turn in your expenses late. My fail-safe plan for these situations? Gift a product that has a charitable tie-in.
This year, I'll be wrapping treats like the Right to Shower's body wash, which supports nonprofits offering hygiene services to people living on the streets; a Garnier WholeBlends hair kit that helps educate children in need; and the Hope floral candle, made by a company that donates all of its profits to the Hope for Depression Research Foundation. Even if the recipients don't like the goods (though how could they not?), they'll be thrilled to know their gifts supported good causes.
This content is created and maintained by a third party, and imported onto this page to help users provide their email addresses. You may be able to find more information about this and similar content at piano.io