Travel Diary: Florence, Italy and the Gucci Flora Garden Collection
MC's Executive Beauty Editor travels to Florence for the Gucci's new fragrance collection, Flora Garden.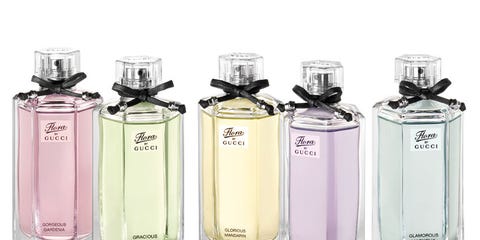 MC's Executive Beauty Editor traveled to Florence, Italy for the launch of Gucci's new fragrance collection, Flora Garden. She reports back on the five fresh scents, and the couture gowns designed to complement them.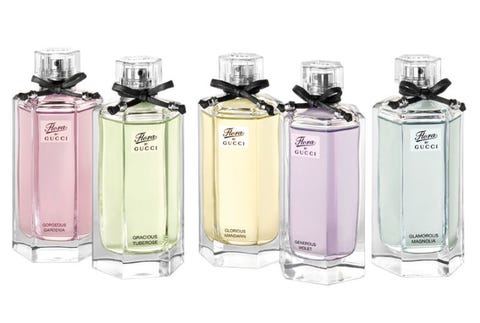 The Scent of Gucci
Picture it: Florence, the city of… Whatever it's the city of, but to me, it was the city of Gucci, Gucci, and much more Gucci as I was whisked from New York to attend the launch of the Italian house's new collection of fragrances, Flora Garden. (Yes, I am a lucky, lucky girl). Here's a recap, kids.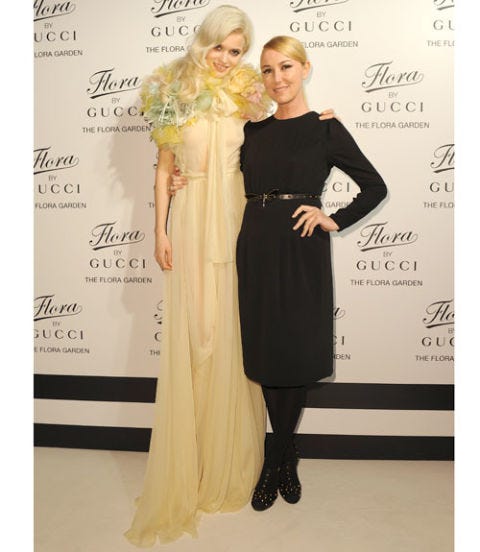 The Scent of Gucci
I arrive at the magnificent Four Seasons Firenze, surrounded by sprawling gardens, in the heart of town, and like so many architectural wonders in this Renaissance town, the structure possesses a storied past: Hardly a humble inn, it's actually a luxuriously restored palazzo — that's palace to us — and just so happens to be near both the Church of Santa Maria Novella and the pharmacy of the same name, purveyors of my absolute favorite soaps in the world. As I settle into my room, I decide I could really get used to this place.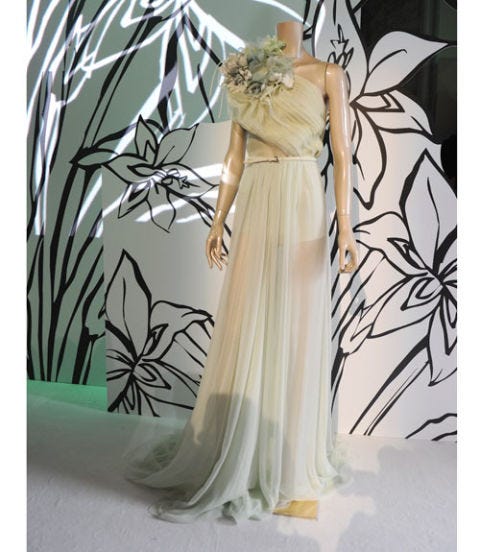 The Scent of Gucci
But no time to simply kick up my Louboutins! My first stop on this distinctly sweet-smelling tour is the stunning new Gucci Museo, a museum that recently opened to celebrate the house's 90th anniversary, located within another ancient palazzo in Florence's legendary Piazza Signoria. Here, I'm treated to a spectacular exhibition of archives ranging from fabulous luggage, to exquisite vintage gowns, to dazzling jewels and accessories, and even a majorly pimped-out 1979 Cadillac Seville complete with an interlocking G-logo hood ornament (no joke). Another showstopper is an oversized original Flora silk scarf, which has an especially glamorous heritage: In 1966, when Princess Grace of Monaco — AKA the movie star and enduring style icon Grace Kelly — and her hubby, Prince Rainier, visited Gucci's Milan Via Montenapoleone store, Rodolfo Gucci decided to commission a scarf for her and enlisted the talents of the famous illustrator Vittorio Accornero. The print — a colorful, ornate tableau of butterflies, berries and yes, plenty of blossoms — was destined to become as ubiquitous to the name Gucci as the aforementioned logo, and clearly, an inspiration for the yet-to-be revealed Flora Garden fragrances. I think it's safe to say I have officially drunk the proverbial Gucci Kool-Aid.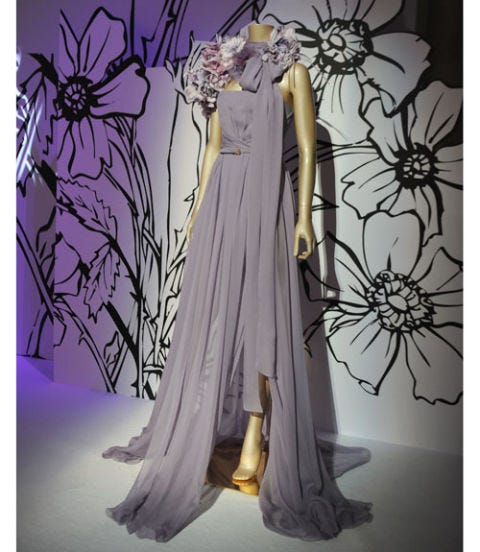 The Scent of Gucci
I get a chance to drink something a little stronger in the form of French Champagne later that evening when I find myself at a swanky soiree held in honor of Gucci Flora Garden. The concept is unveiled to us inside yet one more sweeping historic monument, the Palazzo Capponi, in a ballroom that's decorated by towering screens filled with floral illustrations and dramatic, pastel-tinted light installations. There, myself and other journalists who have traveled from all corners of the world are introduced to Flora Garden, which is actually a collection of five distinct fragrances: Gorgeous Gardenia, Glamorous Magnolia, Gracious Tuberose, Generous Violet and Glorious Mandarin. Gucci designer Frida Giannini, who looks effortlessly chic in basic black and a sleek ponytail, introduces both the Flora-inspired concept itself — each of these blooms can be found in the prints themselves — and supermodel and star of the new ad campaign, Abbey Lee Kershaw, a lanky platinum blonde resplendent in an ethereal canary-colored gown and flower-studded capelet. Equally thrilling: Just for the occasion, Giannini has created five gorgeous couture gowns, each reflective of one of the fragrances and on display within tantalizingly close proximity. I wonder, would anyone notice if I simply snatched one and walked out the door? Maybe it's time to put down the bubbly.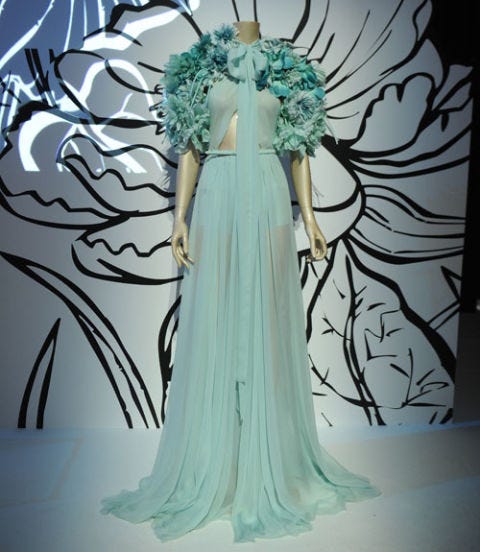 The Scent of Gucci
The next morning, I get a more intimate glimpse of the fragrance via total sensory immersion. First, I sit down to discuss the new perfumes and beauty in general with Kershaw, who is disarmingly mellow considering she's the world's top supermodel du jour. "Frida really gave me a chance," she confesses in a charming Australian accent, referring to back when she was virtually unknown and Giannini cast her as an exclusive model for a Gucci runway show. "She basically found me in a hippie commune!" Fast forward to now: They're still working together, but Kershaw, while still very much the bohemian, is just a smidge more famous. "It has been amazing to watch her become a more confident and sophisticated woman," Giannini tells me later. "She's constantly evolving." While Kershaw can't seem to pick a favorite scent from the collection, "I'm still getting to know them," she demures, she does share a few of her all-natural beauty secrets: plenty of spritzes of rosewater and pure coconut oil hair treatments. After all, you've got to be kind to bleached hair. (Pick up the April issue of Marie Claire for all of her beauty and style picks).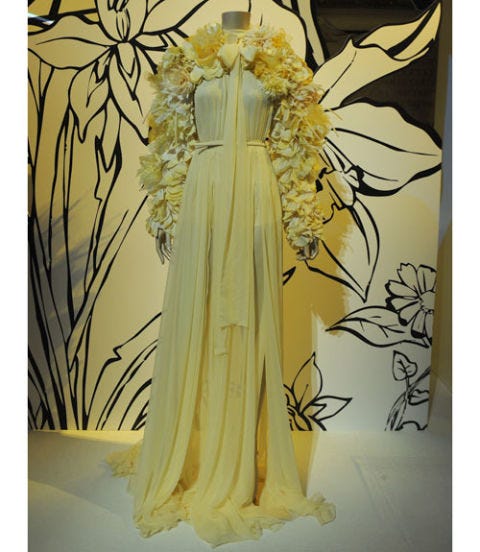 The Scent of Gucci
Next I hightail it over to a "fragrance workshop" back at the Palazzo Capponi, where P&G Prestige scent guru Will Andrews reveals the scents up close and personal. "Think of fragrance as an invisible accessory," he proclaims, which sounds quite lovely, doesn't it? Scent strips of the various perfumes are passed around, each more exciting than the next. The mandarin is particularly sparkly, the sweet tuberose is perfectly balanced by watery notes of green, and the heavenly gardenia is brought back down to earth with an infusion of patchouli. Directly after, I find myself having tea in a nearby parlor opposite Giannini herself. Elaborating on Kershaw as the face of the unveiling, she says the Aussie was perfect to embody the fragrance collection because "she is such a chameleon and yet being a model, the ideal abstract," which perfectly complements Giannini's vision for the series as portraying the five different facets of one confident, strong woman, a subject on which this powerhouse seems particularly well-versed.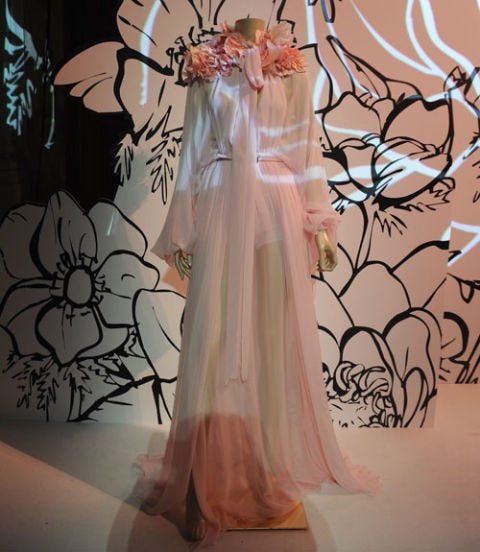 The Scent of Gucci
Later, after I've wistfully bid Firenze "ciao" and sit on a jet back to New York, I contemplate which of the pretty perfume bottles will make it to my vanity. While I'm particularly partial to their iris-tinted violet concoction (which is anything but shy), I do love the sweet, sultry and vaguely Southern scent of magnolias. For now, I think I'll simply have to rotate each of them according to my mood and outfits, which seems perfectly fitting, si?
This content is created and maintained by a third party, and imported onto this page to help users provide their email addresses. You may be able to find more information about this and similar content at piano.io