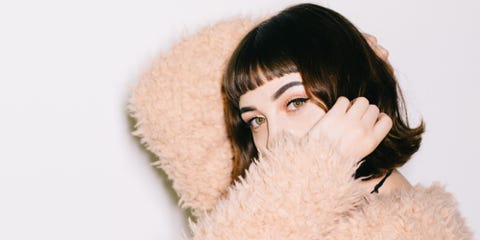 Welcome to the decade of WAY TOO MANY BROW PRODUCTS. Like, holy wow—we could probably build a bridge from California to Hawaii with the sheer number of brow gels, liners, pomades, and powders that are on the market today.
And though we're so down for having a ton of choices, we also know how completely overwhelming it can be to figure out which product to use for your own face when you've got a trillion to choose from. So to help you out, we broke down the very best brow products for every type of brow need, ahead. Get ready for a lifetime of really excellent eyebrows.
1
For super-sparse, barely-there brows…
Wunderbrow Dual Precision Brow Liner, $15.95
If you've ever tried filling in nonexistent eyebrows with a pencil, you know how 90 percent of the time, it looks like you literally just filled in your eyebrows with a pencil. But this soft, dual-angled liner really, truly mimics hair by creating precise, skinny lines that stick to your natural hair, rather than creating a hazy, block-ish shape like most brow pencils do. [Editor's note: This pencil is my absolute favorite]
2
For always-waxed brows that love definition…
Anastasia Beverly Hills Dipbrow Pomade, $18
If your brows have more angles than a supermodel and somehow always look freshly waxed, then get you a brow that can give you Instagram-level brow lines (as in super sharp and clean), like this cult-favorite pomade. It's waterproof and buildable, so you can outline and fill-in your brows with an angled brush without worrying about smudging later in the day.
3
For light, faint, hardly visible brows…
Benefit 3D BrowTones Instant Color Highlights, $24
Hey, it's not your fault you were born with super bright-white or blonde brows. Annoyingly, though, most brow products were not made for you, looking either too dark and jarring against your skin, or giving you volume you don't need. Instead, try a tinted gel, like this formula from Benefit, which subtly darkens your brows with a wash of taupe or chocolate color, and never looks stiff or overdone.

4
For skinny brows that need some XXL thickness…
Maybelline Brow Precise Fiber Volumizer, $6
Look for a formula that's loaded with fibers, which grip to your brow hairs like little thickeners. Our favorite? This drugstore winner from Maybelline, which has a bristled, tear-shaped applicator that helps distribute the fiber-loaded cream across and into your brow hairs for a natural, soft look.
5
For dark brows that don't need much…
Glossier Boy Brow, $16
There's a fine line between Cara Delevingne brows and Groucho Marx brows, and that line is an eyebrow product. Your best friend, here, will be a sheer brow gel (rather than a volumizing or darkening pencil) that's either totally clear or has just a hint of color, like this wildly loved gel from Glossier. Swipe it up and over your brows for a soft tint and a bit of shine.