The Best Beauty Looks from NYFW Spring 2013
While the clothing and accessories always take center stage during Fashion Week, the visions designers have for their beauty looks are just as strong as the ones they have for their collections. Take a look at some of the most inspiring, eye-catching hair
While the clothing and accessories always take center stage during Fashion Week, the visions designers have for their beauty looks are just as strong as the ones they have for their collections. Take a look at some of the most inspiring, eye-catching hair and makeup moments from the Spring 2013 shows in New York.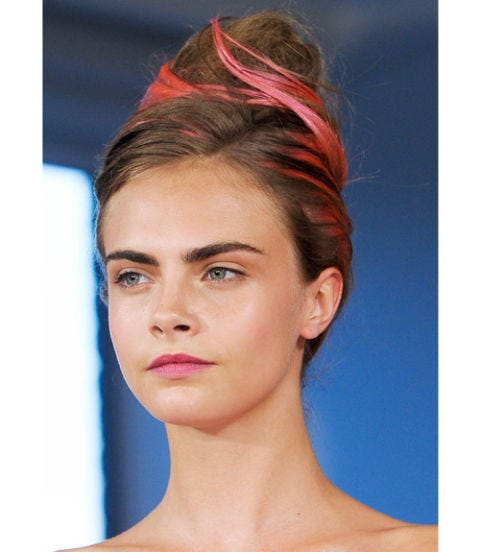 Oscar de la Renta
Oscar de la Renta's prim and proper ladies went a little bit punk this season! Orlando Pita said the inspiration for the hairstyle was "Holly Golightly meets Keith Haring," and he wove neon streaks of colored hair into the models' voluminous French twists. For the final touch of pretty, Revlon's Gucci Westman added a bright fuschia lip and a rosy cream blush.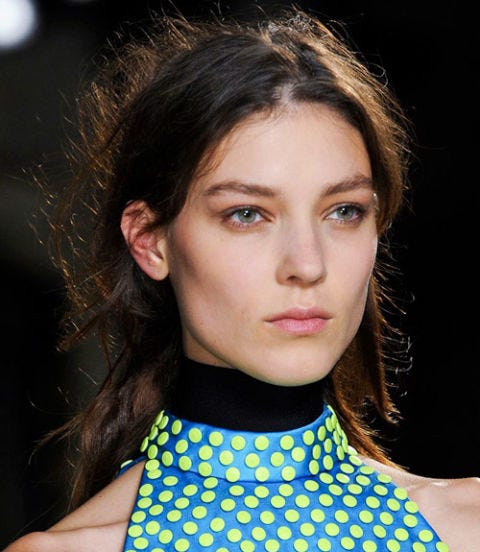 Proenza Schouler
We've come to expect a certain level of unkempt "coolness" from the Proenza Schouler beauty look each season, and for spring, Paul Hanlon for Fekkai wanted the girls' hair to look purposefully scraggly and lived-in. He tied a scarf around each model's neck—over the hair—to create a dent, as if her hair had gotten stuck under her collar. Diane Kendal for MAC added some smudged eyeliner under the eyes, and these urban girls were good to go.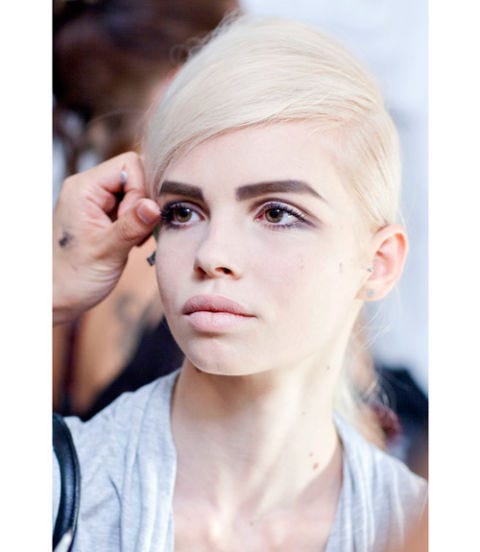 Marc Jacobs
Guido Palau for Redken created a rock 'n' roll, "party girl" look inspired by Edie Sedgwick for the Marc Jacobs show. He pulled the hair into a disheveled, low-slung ponytail with a deep side part, and teased near the crown for extra volume. Francois Nars wanted to give Edie's classic makeup look a modern update, so he concentrated on strong, square eyebrows, pale skin (no blush or lipstick!) and lots of mascara.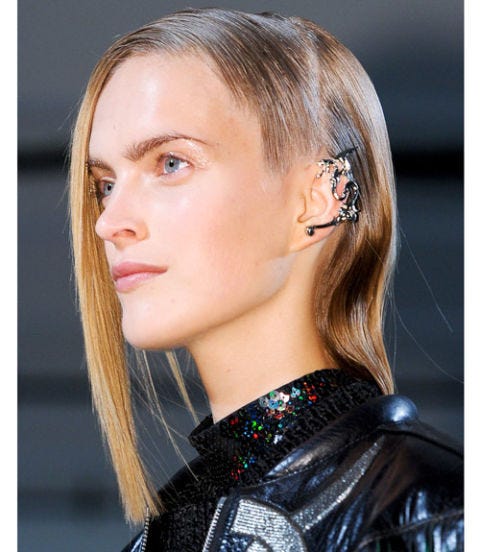 Rodarte
One of today's trendiest hairstyles is the half-shaved head, and while it looks killer, it requires a lot of upkeep and commitment. Leave it to the Rodarte girls to figure out the perfect way to fake it. Odile Gilbert created this clean, modern look by keeping the hair very straight and shiny, with a horizontal part coming forward from the back of the head.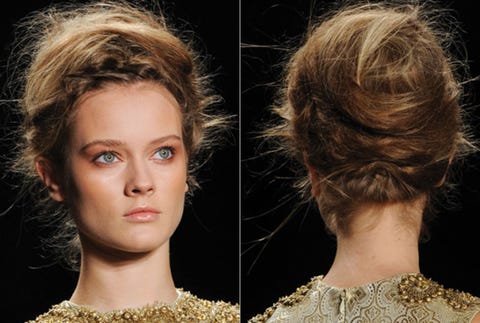 Vera Wang
Paul Hanlon for Frédéric Fekkai turned the models' hair into turbans for the Vera Wang show—the designer wanted the hair to be manipulated just like a fabric would.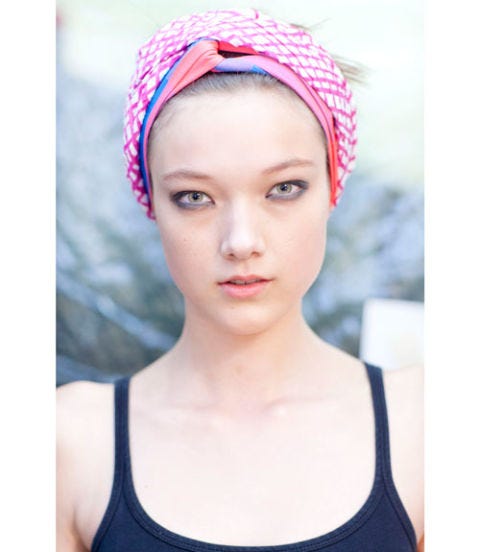 Marc by Marc Jacobs
We loved the colorful headscarves at the Marc by Marc Jacobs show, and Redken's Guido Palau made sure to create a hairstyle that perfectly accented them. He wanted the models to look like they'd done their hair themselves, so he simply twisted and pinned up the hair in the back of the head before each scarf was tied on.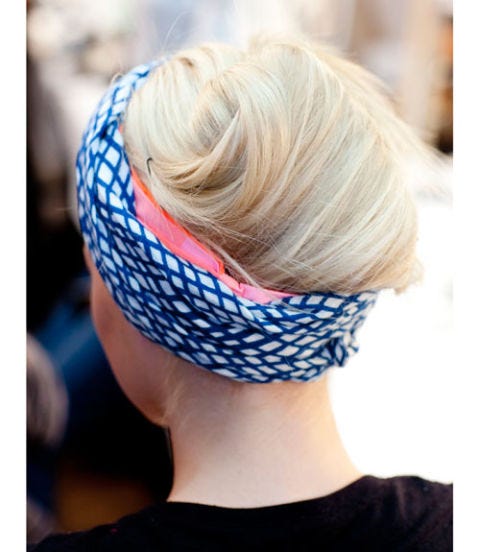 Marc by Marc Jacobs
A look at the hair from the Marc by Marc Jacobs show from the back.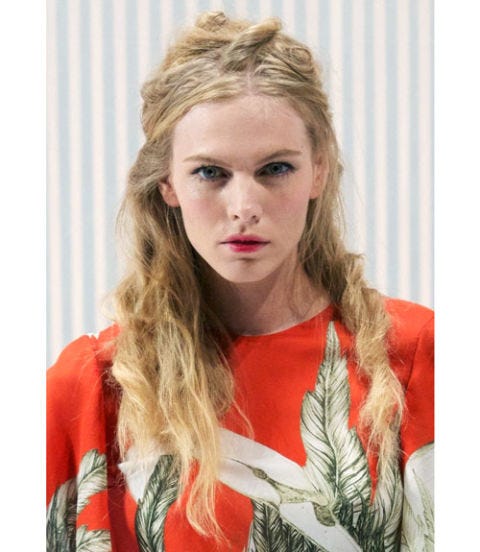 Wes Gordon
Wes Gordon's uptown girls got down and dirty this season: Bumble and bumble's Laurent Philippon created a rough, dreadlock-inspired style that was a surprising contrast to the collection. We've never seen bedhead look so good!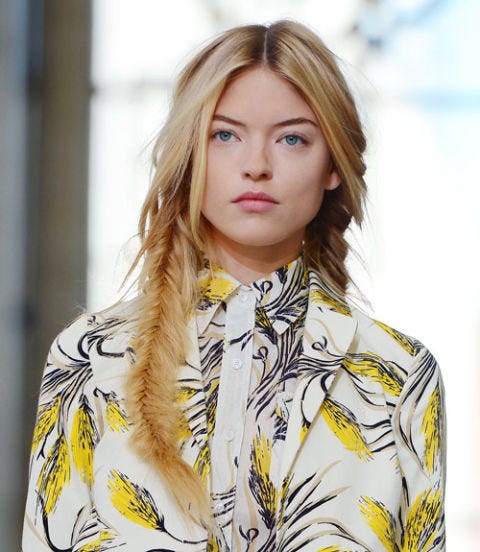 Tory Burch
The Tory Burch girl is fresh-faced and a bit bohemian this season—we love how carefree and romantic these messy fishtail braids look.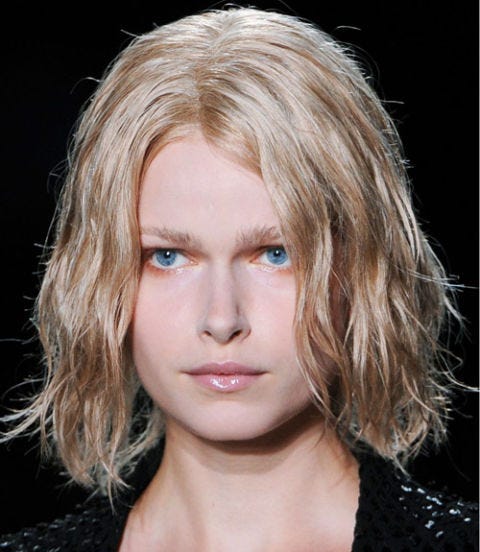 Theyskens' Theory
You may have noticed that designer Olivier Theyskens—who had become known for his signature long locks—recently chopped off all of his hair into a short, one-length bob. This could certainly be the inspiration for the hair by Odile Gilbert at Theykens' Theory. Each model in the show walked wearing a wig of the same style— but in a wide variety of colors—and each hairpiece was hand-dyed by Gilbert. She achieved the grungey look by leaving the wigs a bit wet.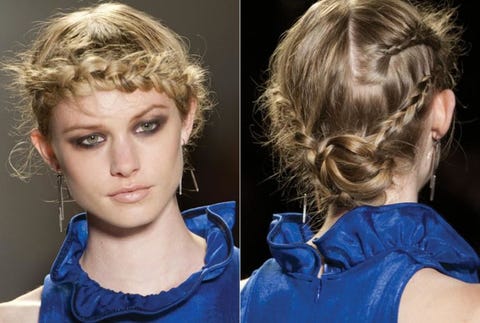 Emerson
At Emerson, a loose braid crown wrapped all the way around the head was tied with a second side braid to make a bun at the nape of the neck.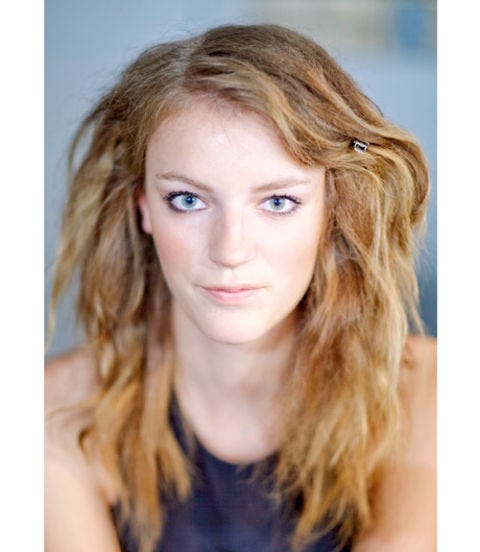 3.1 Phillip Lim
Phillip Lim got a little grunge with his latest collection, which was artfully reflected in the hair for the show. The style was purposefully messy and the bedhead-eque frizz was pinned up in the back.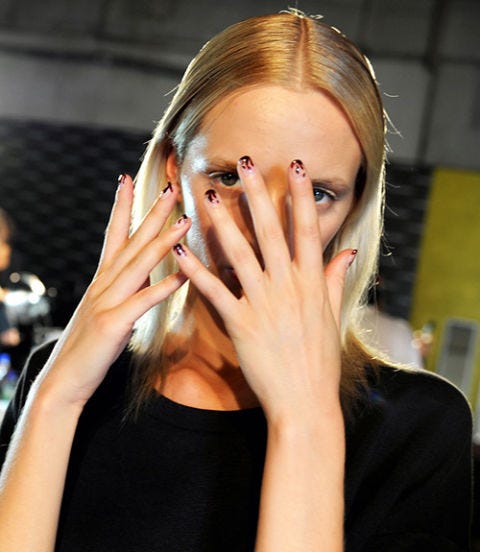 Prabal Gurung
We are counting the days until Halloween—actually, it's unlikely that we'll wait that long—so we can try out these blood-spattered nails from the Prabal Gurung show. Tracylee from Sally Hansen simply dripped dark red nail polish onto the models' naked nails and connected the drops at the top.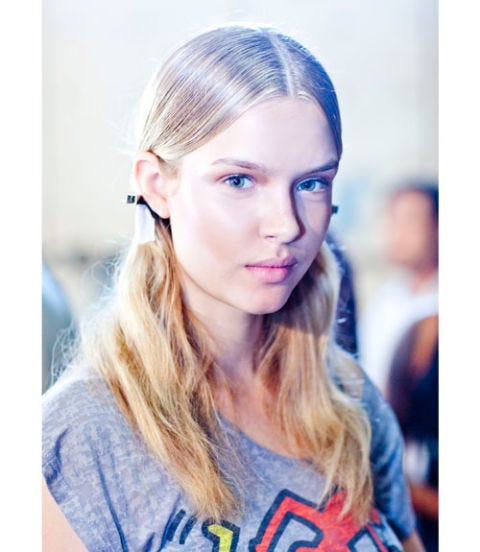 Prabal Gurung
The beauty at Prabal Gurung was ethereal and haunting—the designer wanted the girls to look like "fallen angels." Charlotte Tilbury for MAC kept skin pure with plenty of moisturizer. To amp up the spookiness, she created a very sculptural face, and created the illusion of hollowed-out cheekbones and eye sockets. As for the hair, Paul Hanlon wanted it to look a little bit greasy and lived-in—the slicked-down style was clean without being too delicate.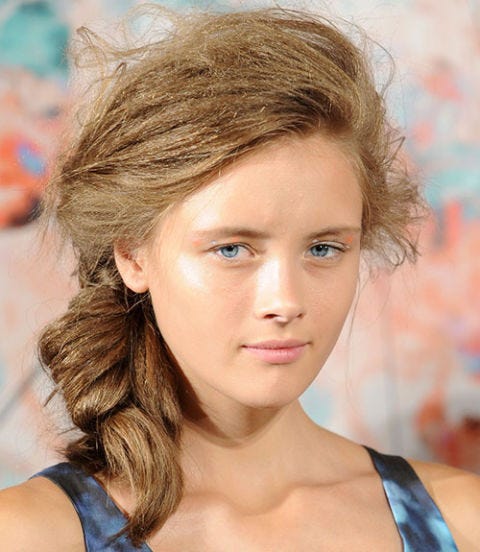 Calla
Dewy skin and messy, knotted side ponytails—Paris-based designer Calla Haynes must have taken plenty of inspiration from the unfussy, naturally gorgeous French girls she sees every day!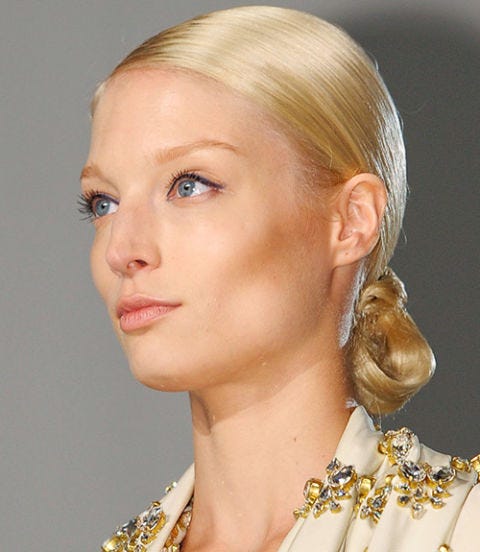 Altuzarra
At Altuzarra, Paul Hanlon created a clean, minimalistic wrapped chignon—which he referred to as a "half bow"—inspired by the minimalism of Helmut Newton. The most striking element of MAC artist Tom Pecheux's simple makeup look for the show was a thick swipe of navy blue eyeliner on the upper lash line.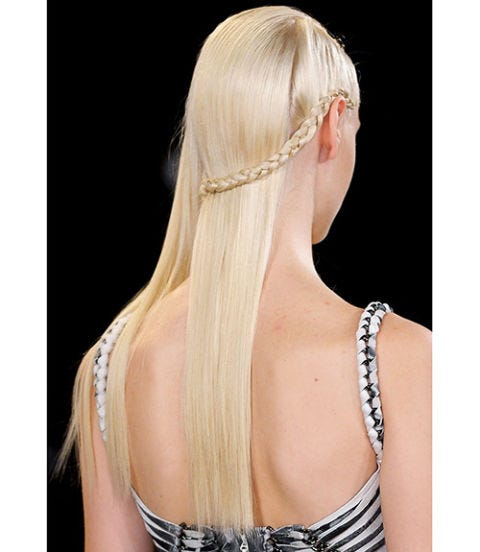 Herve Leger
A very cool peek-a-boo braid at Herve Leger.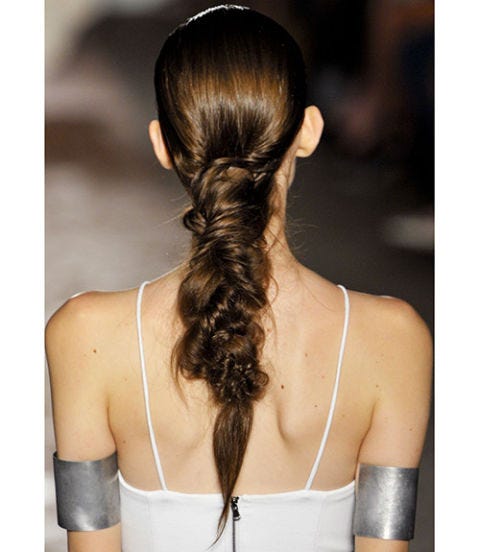 Kimberly Ovitz
A messy fishtail braid that looks like the most chic version of a dreadlock we've ever seen at Kimberly Ovitz.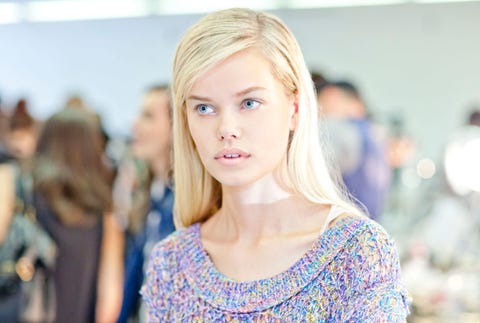 Derek Lam
Tom Pecheux for Estée Lauder kept the makeup light and delicate at Derek Lam, applying a romantic wash of aqua eyeshadow on each model, with a touch of white in the corners for added glow. The hair by Orlando Pita was just as easy—a side part and intentionally imperfect styling gave the models that cool, undone "urban girl" look that we all lust for.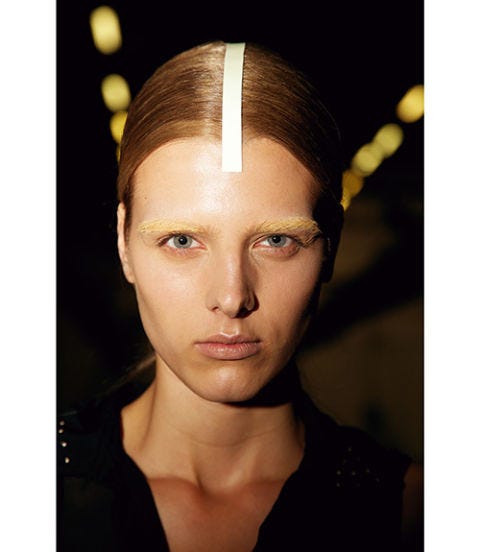 Alexander Wang
As usual, the beauty look at Alexander Wang this season was minimalistic, modern, and slightly androgynous. But, before you get bored, remember that the designer is known for always having a trick or two up his sleeve—this season, his girls glowed in the dark!
Diane Kendal for NARS kept the face simple with moisturizer and powder foundation, but while the brunette girls walked down the runway with strong, boyish eyebrows, the ladies with lighter hair had their brows bleached for a luminous effect under the finale blacklights. For extra glow, Kendal accented these models' faces with dewy illuminator on top of the cheeks and just above the eyebrows.
Guido Palau for Redken—who claims he's always working to reinvent the ponytail—drew the girls' hair into a very low, slicked-back iteration with a center part. He highlighted the dual texture—very smooth in the front with plenty of movement in the back—and to make the classic style a bit more interesting, Palau added a strip of duct tape down each model's part. Some girls got black tape and others got white, and, as you could have probably guessed, those with the latter glowed on the runway.
Jason Wu
Diane Kendal for MAC Cosmetics cited Helmut Newton as the inspiration for Jason Wu's beauty look. It was meant to be strong, sexy, and sophisticated, with a concentration boyish eyebrows and cherry red lips accented with neon pink in the center. We're picking up some '80s vibes, aren't you?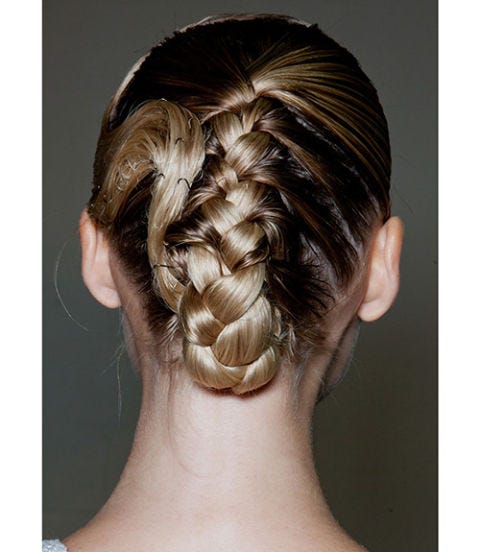 Jason Wu
Odile Gilbert for Kerastase gave each girl at Jason Wu a super-shiny "African braid," which was tight and close to the scalp. The final touch was a single, slick wave on one side of the head.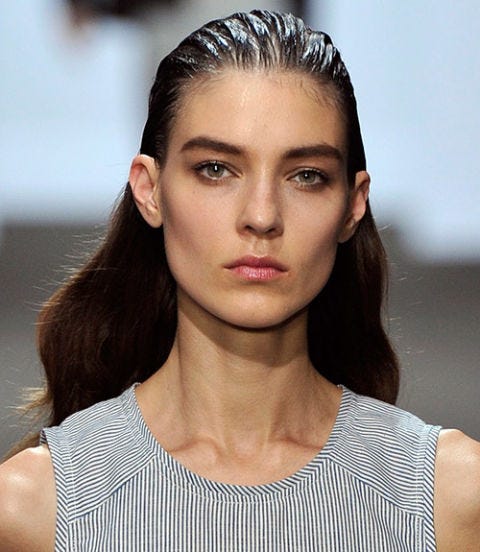 rag & bone
Guido Palau for Redken went with a sporty, '90s theme for the girls' hair at rag & bone. This tomboyish look exudes easy sophistication—which could also perfectly describe the collection. Guido kept the style wet and dramatic in front, but the back was a cascade of loose, feminine waves.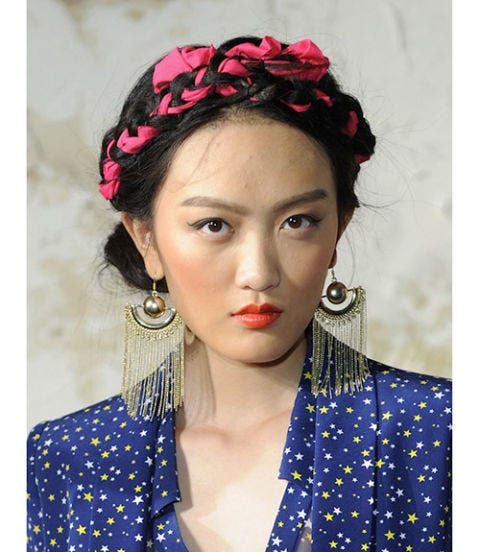 Nonoo
The Nonoo beauty look is ideal for girls everywhere this spring. Dewy skin, bright lips, and a beribboned braid crown—what's not to love?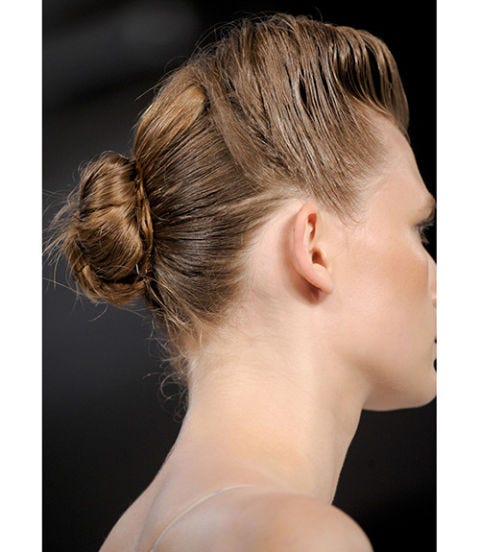 Suno
Odile Gilbert gave the Suno girls a structural twist in the front and a slick bun in the back.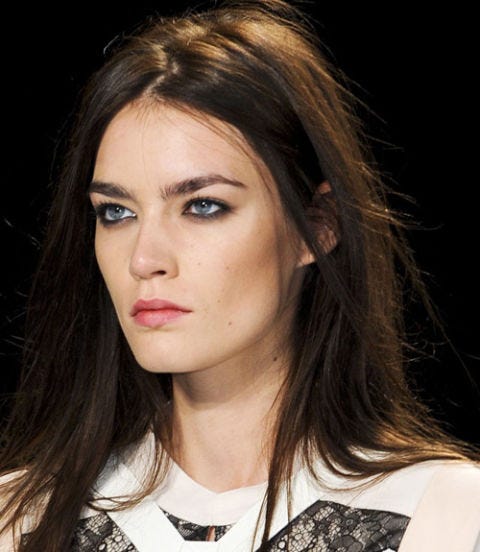 BCBG
You really can't go wrong when your beauty look is inspired by the great Kate Moss, which was precisely the case at BCBG. With messy, party-girl hair and black kohl eyeliner rimming the eyes, this style is sure to bring out the sexy, inner supermodel in all of us.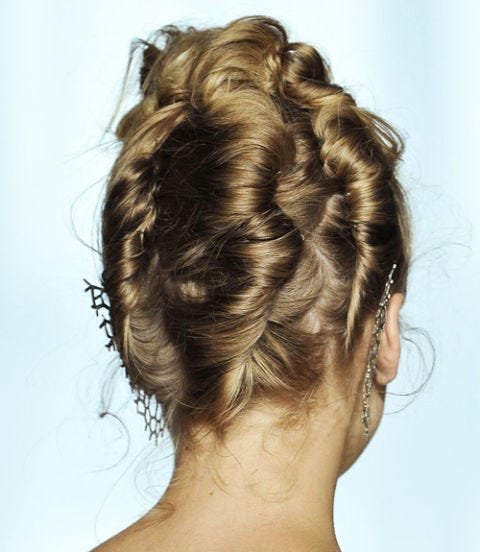 Katie Gallagher
Twisted sisters at Katie Gallagher—styled by Cesar Ramirez, these coiled strands all meet at the top, forming a small bun in the front of the head.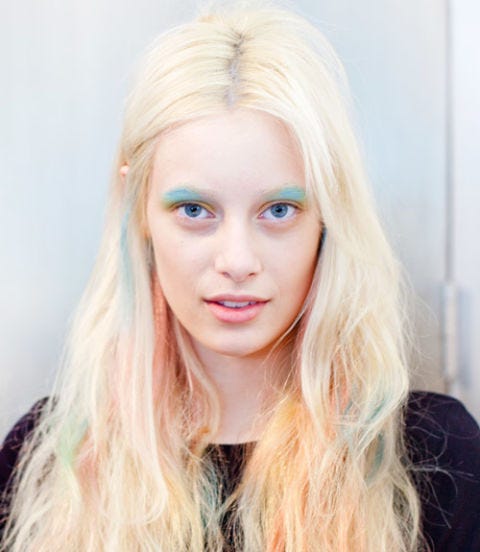 Peter Som
It's baaaaack... rainbow hair, that is. Peter Som kept his version of the candy-colored trend messy and distressed this season. Playful pastel eyeshadows served as the finishing touch to this Crayola-bright beauty look.
This content is created and maintained by a third party, and imported onto this page to help users provide their email addresses. You may be able to find more information about this and similar content at piano.io