Editors handpick every product that we feature. We may earn commission from the links on this page.
16 Oddly Satisfying Beauty Products To Trigger Your ASMR
Squish. Mash. Squirt. Prepare for #ASMR beauty bliss.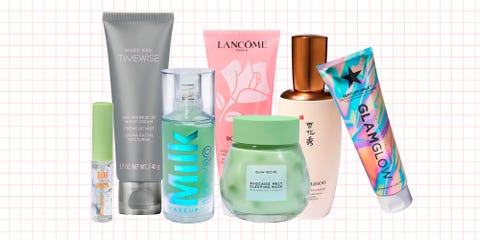 Onomatopoeia only hints at the shiver of pleasure I get from squeezing out a new hand cream, peeling off a rubbery face mask, or blending two lipsticks together. And I'm not the only one who enjoys the thrill of a perfectly textured product. In 2017, #oddlysatisfying had about 200,000 hits on Instagram; today it's increased sevenfold. Sure, some of those posts are fingers pressing floam and cakes being frosted, but many are devoted to beauty products that deliver sensorial satisfaction. CosRx's soothing hydrogels look (and feel) like slivers of a Jell-O Jiggler. Kaja's Mochi Glow highlighters have the same pleasing doughiness as their namesake. And the buttery formula of Mary Kay's anti-aging cream is a textural ode to its skin-plumping powers. I'm running outof adjectives to describe all my other favorites, so I'll let the names speak for themselves: jelly shampoo, pink cactus pudding, exfoliating peel spray, avocado melt sleeping mask. If reading those words is almost enough to trigger a tingly autonomoussensory meridian response (ASMR—also ahashtag worth searching), just imagine how gratifying it is to use them. Click through to shop beauty's most satisfying.
This content is created and maintained by a third party, and imported onto this page to help users provide their email addresses. You may be able to find more information about this and similar content at piano.io