Editors handpick every product that we feature. We may earn commission from the links on this page.
#BigLipstickEnergy: The 3 Lip Products I'm Obsessed With Right Now
"What lip is that?" A professional lipstick critic reveals all.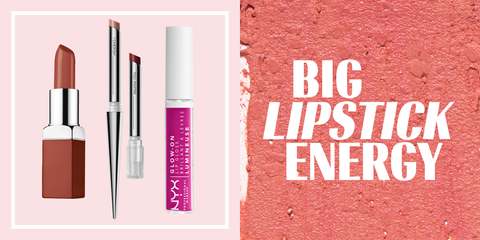 Design By Morgan McMullen
I'm a serial lipstick dater. So many lip products slide onto my desk. Some I double-tap and have all the heart eyes for. Others I ghost and leave on seen. This is #BigLipstickEnergy, an honest breakdown of how I feel about the latest lip launches. Read on for the three lipstick flings I'm keeping in rotation for now. Next week, I'll have a new roster.

The Neutral You Never Knew You Needed
Even Better Pop Lip Color Foundation Lipstick in Closer
Clinique
nordstrom.com
$20.00
THE DETAILS:
It probably doesn't cross your mind to consider your foundation shade when picking out a lipstick shade...right? Same, until now. When it comes to searching for the perfect neutral lip shade to suit your skin tone, Clinique's new "color match innovation" technology will have you thinking differently. The brand matches your foundation shade with a hue from the new neutral line of lipsticks that flatters your complexion and undertones. Why I didn't think of this beauty invention first?
WHY I'M OBSESSED:
After reading about this launch, I had an aha moment. Finding both the right foundation shade and the perfect neutral lip color to complement my deep complexion has been equally tough throughout the years. It's so smart for a brand to color-match your lip color to a foundation that already works. The result: that my-lips-but-better-effect we all love. No chalky or ashy mess is in sight. This is a true neutral for my skin tone, so all other fake nudes can take a seat now.

A Lip Gloss That's Lit
Glow-On Lip Gloss in Floral Space
NYX Professional Makeup
ulta.com
$100.00
THE DETAILS:
Thank me later for making your halloween makeup literally LIT. To the naked eye, this looks like a normal fuchsia gloss...but behold: Under a black light this gloss transforms into a neon shade. It's such a fun way to turn your makeup look up a few notches for spooky season.
WHY I'M OBSESSED:
A bright pink gloss boosts my mood when I'm feeling blah. But the unexpected glow-in-the-dark element of this $8 gloss makes this little guy extra special! Its shiny texture is practically blinding, and it's even more intense under a black light. Basically, this is the perfect lip gloss for Halloween...and for selfies.

The Perfect Kind of Double
Full Size Confession Ultra Slim Refillable Lipstick Set in I Cherish and You Inspire
HOURGLASS
nordstrom.com
$36.00
THE DETAILS:
Running low on lipstick is a nightmare. Thanks to this duo set, you don't have to worry about that anymore. The twisty cap on the bottom of this super-sleek packaging comes right off and makes refilling this tube with its sister shade (it comes as a set!) super easy.
WHY I'M OBSESSED:
It goes without saying that this lipstick has major curb appeal—it's cute af. But the functionality is what really won me over. Even when I'm not running low, the fact that I have the freedom to switch shades by simply twisting the cap off and popping on the other color whenever I want is so cool. I have to be sure and not lose the refill, but the convenience of it all makes that responsibility feel so minor. As for the texture? It's a soft satin that feels creamy like a lip balm, which is ideal for fall weather.

•••
For more stories like this, including celebrity news, beauty and fashion advice, savvy political commentary, and fascinating features, sign up for the Marie Claire newsletter.
This content is created and maintained by a third party, and imported onto this page to help users provide their email addresses. You may be able to find more information about this and similar content at piano.io