#BigLipstickEnergy: The 3 Lipsticks I'm Obsessed With Right Now
"What lip is that?" A professional lipstick critic reveals all.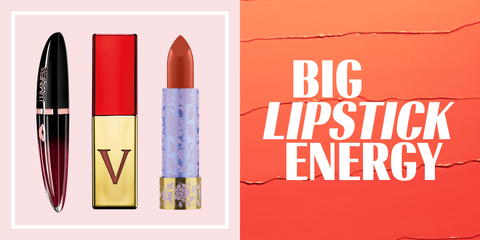 Design By Morgan McMullen
I'm a serial lipstick dater. So many lip products slide onto my desk. Some I double-tap and have all the heart eyes for. Others I ghost and leave on seen. This is #BigLipstickEnergy, an honest breakdown of how I feel about the latest lip launches. Read on for the three lipstick flings I'm keeping in rotation for now. Next week, I'll have a new roster.

Because Metallic Lipsticks Matter
Chromatic Lip Stain in Classic Red
Luminess Cosmetics
luminessbeauty.com
$24.00
THE DETAILS:
Metallic eyeshadow ruled 2019 as one of the biggest makeup trends of the year. In 2020, let's not leave our lips out—they deserve to shine, too. Start with this lip stain, which, unlike others on the market, won't weigh your lips down with gunky, chunky, glittery excess. Instead, it feels smooth, soft, and velvety on your lips, and dries down quickly to a multidimensional, metallic finish. The formula does not budge one bit, so you won't have to worry about mirror-checking every few minutes.
WHY I'M OBSESSED:
Every now and then, I have an urge to remix classic reds with a fun finish, like metallic. This sparkly red shade stands out against my skin tone and makes me want to selfie my life away. More importantly, the soft stain it's low-key af to wear. It seriously takes zero energy throughout the day. After an hour, I literally forgot I was wearing it until someone complimented me.

Because What's on the Outside Matters Too
MAC Lunar Lipstick in Marrakesh
Mac Cosmetics
nordstrom.com
$19.50
THE DETAILS:
Meet the most prismatic packing in all of the land: MAC's Lunar Illusions collection. In celebration of the Chinese New Year, the brand released a limited edition line, which IMO, already wins the Best Beauty Packaging of 2020 award. The design on the bullet is truly a work of art. Within the collection are three shades of satin lipsticks in classic colors. This deep, rusty copper tone warms up the skin with hints of orange and brown.
WHY I'M OBSESSED:
I've always loved MAC's limited edition lines. Just when I think they can't one-up the last, the brand blows me away with uniquely designed makeup products that make me want to hold on to them forever. (I blame my beauty hoarding problem on pretty packaging like this.) It's all good, though, because I actually don't own a warm-brown-orange hybrid hue quite like this. It's hard to categorize this color—it's not a neutral, because the color is super bold, but it's not necessarily a red. You just have to try it for yourself.

Because Makeup Magic Tricks Matter
Lunar New Year Vice Lip Chemistry Lip Tint
Urban Decay
nordstrom.com
$22.00
THE DETAILS:
Catching on to the Lunar New Year theme in this week's BLE? This one is a gloss encapsulated in a lucky red case for all the good fortune. The coolest thing about this gloss: Once you apply it, a mystery shade appears based on your skin's PH. It's basically a magic trick! What is the same on every wearer, though, is the glassy, high-gloss texture that feels like a moisturizing balm.
WHY I'M OBSESSED:
When makeup and skincare collide, really cool things can happen—like this color-changing gloss. If you like surprises, you'll love this. It's like a mood ring for your lips. I felt like a little kid impatiently waiting for my final hue to show up in the mirror after five minutes. It was fun! My skin's PH revealed a bright red, oil-slick gloss. Even though this texture is super shiny, it's incredibly hydrating, and doesn't disappear after an hour. Into it.
This content is created and maintained by a third party, and imported onto this page to help users provide their email addresses. You may be able to find more information about this and similar content at piano.io