The 32 Best Summer Perfumes to Spritz Anytime and Anywhere
Scents to bask in.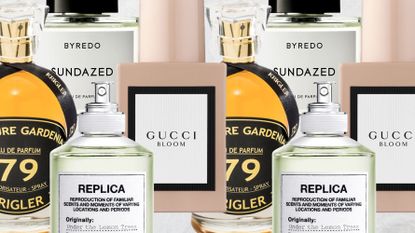 (Image credit: Design by Morgan McMullen)
Marie Claire Newsletter
Celebrity news, beauty, fashion advice, and fascinating features, delivered straight to your inbox!
Thank you for signing up to Marie Claire. You will receive a verification email shortly.
There was a problem. Please refresh the page and try again.
Ah summer: the official season of rosé, picnics in the park, and a few new summer fragrances. I can't wait for the weather to heat up just enough for me to pull out one of my favorite warm-weather favorites. And yes, having a fragrance for every season is a necessity: after all, the changing of the seasons calls for a change in our preferred fragrance blends. Our winter perfumes are usually all about cozy notes, while my personal favorite spring perfume always smells like either freshly-mowed grass or freshly-cut flowers. However, the best summer fragrances capture that feeling of a Capri vacation, or the breeze running through your hair. Think of these scents as warm weather in a bottle.
There are tons of new fragrances that have launched in 2023, so finding your new favorite summery scent will be easier than you think, I promise. Many of the picks that I've included below come right from team Marie Claire's personal collections, so they've been tried and tested by our team of editors on even the most sweltering of summer days. Some of these fragrances make you want to book a trip to somewhere even warmer, while others will bring back memories of eating juicy summer peaches and oranges—but with an adult-feeling twist, of course.
Basically, there's no reason not to incorporate this invisible accessory into your routine, even if it's just worn in the comfort of your home. Look ahead to check out some of our favorite summer scents that are sure to transport you to Bali, the Bahamas, Italy, or wherever your next vacation lies.
1/32
Ellis Brooklyn Sun Fruit Eau de Parfum
Let it be known that I am not someone who wears fruity fragrances, but Ellis Brooklyn's latest release has changed all of that for me. SUN FRUIT is a creamy, bright blend of fig, bergamot, jasmine, and vanilla.
2/32
PHLUR Not Your Baby Eau de Parfum
This scent from PHLUR is unapologetically sweet thanks to the inclusion of mimosa and vanilla. But the unexpected notes of cardamom give it a bit of adult-rated sass.
3/32
TOM FORD Soleil Blanc
If you want to just smell expensive, consider this scent from TOM FORD. Ylang Ylang and amber mix with Coco de Mer (coconut) for a scent that is in need of a vacation.
4/32
Acqua di Parma Bergamotto di Calabria
Let this scent transport you to the Italian Coast. Bergamot is grounded by cedarwood for a fruity, earthy scent that I can't stop wearing.
5/32
Yves Saint Laurent Libre Eau De Parfum
Floral and bright, this is one of my personal fragrances from Yves Saint Laurent. It contains notes of lavender and musk with touches of orange for a summer-ready blend.
6/32
Viktor&Rolf Flowerbomb Nectar
It doesn't more timeless than this bold scent from Viktor&Rolf. The Nectar iteration features notes of orange blossom for a citrusy twist.
7/32
Chloé Nomade Eau de Parfum
I love wearing warm floral scents in the summertime, and this scent from Chloé fits the bill. Fresh plum and oakmoss combine with a touch of freesia for a free-spirited-feeling scent that you won't be able to get enough of.
8/32
Marc Jacobs Daisy Eau So Fresh
The perfect blend of fruity and floral, Marc Jacobs' Daisy Eau So Fresh is a fresh, youthful scent sure to brighten your day. I like wearing it during the winter months—it's a reminder that sunnier days lie ahead.
9/32
DOLCE&GABBANA Light Blue Italian Love Eau De Toilette
DOLCE&GABBANA's Light Blue range is a staple in my fragrance collection because I pull it out as soon as the weather gets warmer. This new scent from the line smells like a mix of lemon, granny apple, white rose, and jasmine.
10/32
diptyque Orphéon Eau de Parfum
For those perfume-wearers who prefer to wear something that feels a little heavier in the warmer months, meet this fragrance from diptyque. It contains notes of tobacco and cedarwood that culminate in a fresh, unisex-feeling scent.
11/32
TOM FORD Bitter Peach Eau De Parfum
This peachy scent stays fresh (and not too overly-sweet) by way of Sicilian blood orange and patchouli. Plus, the bottle works as home decor when you're not using it.
12/32
Ellis Brooklyn Salt Eau de Parfum
This perfume from Ellis Brooklyn contains notes of jasmine, ylang ylang, and violet leaf, but it smells like the ocean to me. This is the kind of scent that you don't even notice someone is wearing because it just smells good.
13/32
Henry Rose Windows Down Eau de Parfum
Just the name of this fragrance from Henry Rose makes me think of summer nights. A blend of bright grapefruit and orange neroli blends together for a warm-feeling scent that lingers.
14/32
Sol De Janeiro Brazilian Crush Cheirosa 68 Beija Flor Perfume Mist
This lightweight body mist from Sol De Janeiro—the brand behind best-selling and incredibly well-scented Brazilian Bum Bum Cream—is tailor-made for easy summer wear. Fruity and floral, it contains notes of pink dragonfruit, vanilla, lychee, and musk.
15/32
Lancôme Oui La Vie Est Belle Eau de Parfum
You can't beat a classic. Lancôme's Oui La Vie Est Belle Eau de Parfum has been around for years but continues to be popular during the summer months every single time. Bergamot, pink pepper, and rose blend together for a truly timeless scent.
16/32
Maison Margiela Replica Under the Lemon Trees Eau de Toilette
Warning: this unisex scent will make you wish you were having a picnic in the Southern Italian countryside under a lemon tree. Le sigh. It captures the zest of kalamansi lime and citrus balanced with green tea and musk for a light and refreshing aroma.
17/32
Jo Malone London Bitter Mandarin Cologne
This warm scent from Jo Malone is just as biting as it is sweet thanks to a blend of mandarin and amber.
18/32
Byredo Sundazed Eau de Parfum
Byredo's Sundazed perfume is a citrus daydream with top notes of mandarin and lemon and a base of cotton candy and musk.
19/32
Gucci Bloom Eau de Parfum
Gucci Bloom is a summer staple, most notably for its floral notes of rangoon creeper, jasmine bud, and tuberose. Did I mention it looks great on a dresser?
20/32
D.S. & Durga St. Vetyver Eau De Parfum
Who needs a trip to the Caribbean when you have New York-based D.S. & Durga's citrus St. Vetyver perfume?
21/32
Chanel Gabrielle Chanel Essence Eau de Parfum
Inside this charming bottle sits a beautiful blend of fresh florals: jasmine, ylang-ylang, orange blossom, and grasse tuberrose. A scent meant to evoke the brightest of blooms that will make you feel fiercely chic...as all Chanel perfumes do.
22/32
Cartier Pur Muguet Eau de Toilette
Cartier is calling their latest trio of fragrances a "vibrant tribute to nature." Dreamed up by master perfumer Mathilde Laurent, this one will take you to a trip through Lily Valley during peak season. It's a single-note ingredient with a beautiful scent that can stand alone.
23/32
Coach Dreams Eau de Parfum
Road-tripping through Joshua Tree in a convertible with your best girl friends sounds like a dream, right? It's a feeling of freedom, which may seem so far from reality at the moment, that this scent is meant to embody using real bark from Joshua Trees, gardenia, and cactus flower.
24/32
Chloé L'Eau
You can't go wrong with a Chloé fragrance—one of the most ladylike scents in all of the land. Especially when it's a classic floral fragrance paired with creamy rose water and crisp magnolia for a refreshing kick. This one is light and airy, making it perfect for daytime wear.
25/32
Dior Happy Hour
We all could use a scent that symbolizes the best part of the day: happy hour. I've dubbed it the It's Five O'Clock Somewhere Scent, done the Dior way by master perfumer François Demachy who says it's "the perfume of a lovable woman and has the taste of happiness." Demachy combined jasmine and ylang ylang to evoke the freshness of this floral.
26/32
Kilian Good Girl Gone Bad Eau Fraîche
Raise your hand if you're already a Good girl gone Bad fan? Same, same. Here, the scent is reimagined just in time for summer using a fresh "aquatic" fusion of orange blossom, Moroccan roses, Egyptian jasmine sambac, and tuberose. Honestly, Kilian's description alone will mentally put you at ease: "Imagine a Grecian villa, in the midst of the summer, surrounded by the endless blue of the Aegean Sea."
27/32
Diptyque Eau des Sens Eau de Toilette
You should catch Diptyque's limited edition scent while you can. Dubbed the "Impossible Bouquets" collection complete with six lovely scents, this citrus delight is my favorite. The brand says it best: "Luminous and colorful, like orange trees warmed by the last rays of sunlight." Are you not sold yet? Trust, this fresh floral won't disappoint.
28/32
Maison Francis Kurkdjian Aqua Celestia Forte Eau de Parfum
Finally, a fragrance that'll give you a breath of fresh air. Whether you're invigorated by the summer's breeze or the ocean's waves, this refreshing scent, which is spiked with lime, cool mint, blackcurrant, and mimosa blossoms, will mimic that vibe for an easy, all-day wear.
29/32
Maison Margiela 'REPLICA' Beach Walk
A floral scent with a hint of coconut milk, Maison Margiela's "Beach Walk" is sure to remind you of days at the beach and long, balmy nights.
30/32
Giorgio Armani Ocean di Gioia
For those who enjoy a muskier scent, Armani's Gioia delivers with additional notes of jasmine, pear, and sandalwood.
31/32
Tocca Florence Eau De Parfum
This fragrance was inspired by the city of Paris and its sophisticated charm. Florence smells like pear, bergamot, and gardenia, and is also sold as a hair fragrance and a hand cream.
32/32
Cartier Baiser Volé Eau de Parfum
This striking scent heavily features the essence of lilies. It's my go-to evening fragrance.
Celebrity news, beauty, fashion advice, and fascinating features, delivered straight to your inbox!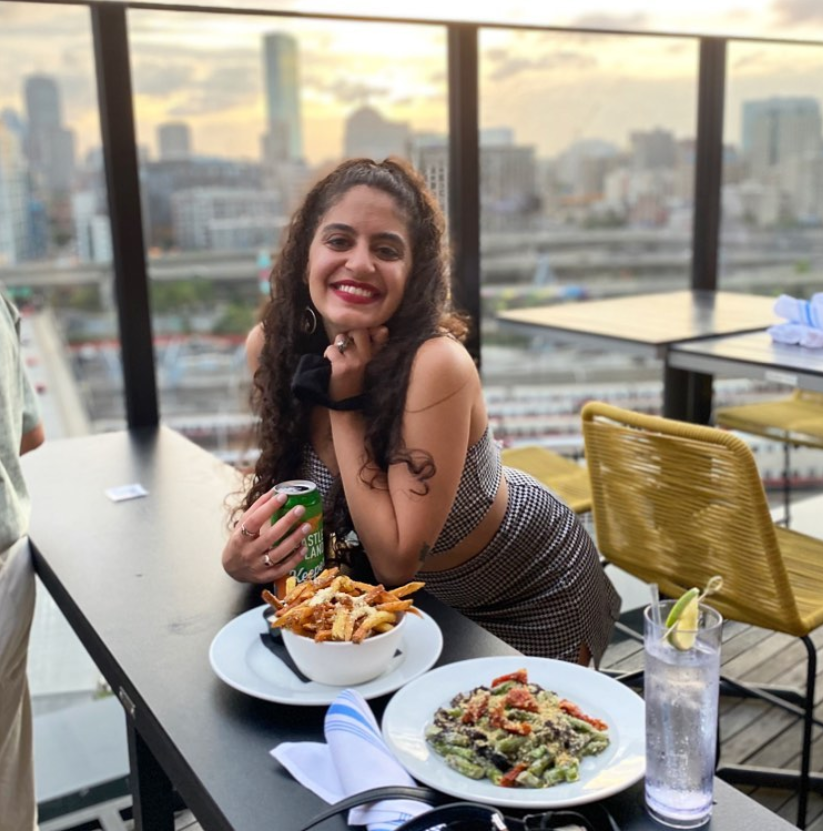 Gabrielle Ulubay is an E-Commerce Writer at Marie Claire and writes about all things beauty, sexual wellness, and fashion. She's also written about sex, gender, and politics for publications like The New York Times, Bustle, and HuffPost Personal since 2018. She has worked extensively in the e-commerce and sales spaces since 2020, including two years at Drizly, where she developed an expertise in finding the best, highest quality goods and experiences money can buy. As a film school graduate, she loves all things media and can be found making art when she's not busy writing.