The 22 Best Summer Fragrances to Spritz Anytime and Anywhere
Summer scents to bask in.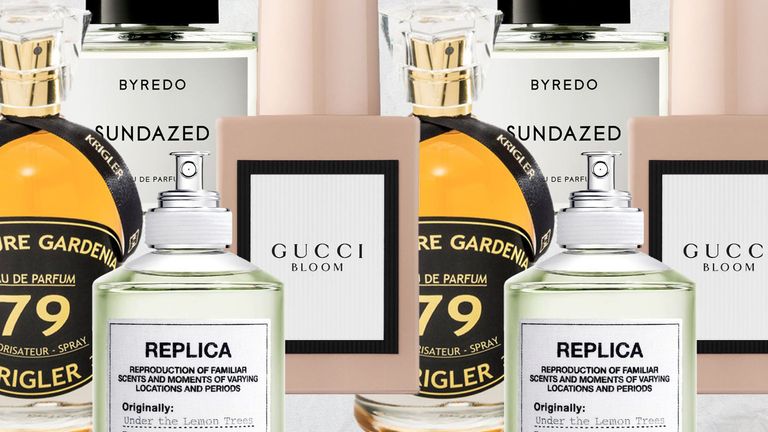 (Image credit: Design by Morgan McMullen)
Ah, summer: bring on the rosé, picnics, sunsets, crop tops, sunglasses, and breezy fragrances—all of which are once again possibilities after 15 months indoors. Much like swapping your moody nail colors for brighter, sunnier shades, summer calls for upgrading your scent wardrobe. Warmer day are ahead, which means it's time to give fresh florals, tangy citruses, and breezy beachy scents the spotlight. Not only are they guaranteed to lighten your mood, they're timeless scents you'll want to wear beyond three months out of the year.
We all could use a mental vacation right now. These scents will sensorially transport you to Italy, Greece, Joshua Tree, and more. Scent has the power to provide a sense of comfort, and studies have shown that fragrance can positively enhance your mood, reduce stress, improve sleep, and aid in self-confidence. Want to know something not so secret? I've worn fragrance to bed for years because I swear it helps me sleep better. In other words, there's no reason not to incorporate this invisible accessory into your routine even if it's worn in the comfort of your home. Ahead, the scents to celebrate the start of summer.
1/22
Byredo Sundazed
Byredo's Sundazed perfume is a citrus daydream with top notes of mandarin and lemon and a base of cotton candy and musk.
2/22
Krigler Pleasure Gardenia 79 Perfume
With a range of Krigler scents to choose from, the brand's Pleasure Gardenia makes the top of the list with its mixture of gardenia, jasmine, mimosa, musk, and vanilla.
3/22
NEST New York Wild Poppy Eau de Parfum
Calling all fruity floral perfume lovers: You'll appreciate NEST's head-turning Wild Poppy scent.
4/22
Gucci Bloom Eau de Parfum
Gucci Bloom is a summer staple, most notably for its floral notes of rangoon creeper, jasmine bud, and tuberose. Did I mention it looks great on a dresser?
5/22
D.S. & Durga St. Vetyver
Who needs a trip to the Caribbean when you have New York-based D.S. & Durga's citrus St. Vetyver perfume?
6/22
KIMBERLY New York Art Color Love
For a spritz of youth, try this crisp, fresh watermelon and ginger mint iced tea scent from KIMBERLY New York. Each scent from the BIPOC-owned brand includes organic essential oils and natural solvents.
7/22
Chanel Gabrielle Chanel Essence Eau de Parfum
Inside this charming bottle sits a beautiful blend of fresh florals: jasmine, ylang-ylang, orange blossom, and grasse tuberrose. A scent meant to evoke the brightest of blooms that will make you feel fiercely chic...as all Chanel perfumes do.
8/22
Cartier Pur Muguet Eau de Toilette
Cartier is calling their latest trio of fragrances a "vibrant tribute to nature." Dreamed up by master perfumer Mathilde Laurent, this one will take you to a trip through Lily Valley during peak season. It's a single-note ingredient with a beautiful scent that can stand alone.
9/22
Coach Dreams Eau de Parfum
Road-tripping through Joshua Tree in a convertible with your best girl friends sounds like a dream, right? It's a feeling of freedom, which may seem so far from reality at the moment, that this scent is meant to embody using real bark from Joshua Trees, gardenia, and cactus flower.
10/22
A spritz of this savory scent will make you feel sun-kissed, thanks to the luminous and poppy notes of orange blossom and citron topped off with a spicy hint of musk. It's guaranteed to be an instant mood-booster when you're having one of those days.
11/22
Chloé L'Eau
You can't go wrong with a Chloé fragrance—one of the most ladylike scents in all of the land. Especially when it's a classic floral fragrance paired with creamy rose water and crisp magnolia for a refreshing kick. This one is light and airy, making it perfect for daytime wear.
12/22
Maison Margiela Replica Under the Lemon Trees Eau de Toilette
Warning: this unisex scent will make you wish you were having a picnic in the Southern Italian countryside under a lemon tree. Le sigh. It captures the zest of kalamansi lime and citrus balanced with green tea and musk for a light and refreshing aroma.
13/22
Dior Happy Hour
We all could use a scent that symbolizes the best part of the day: happy hour. I've dubbed it the It's Five O'Clock Somewhere Scent, done the Dior way by master perfumer François Demachy who says it's "the perfume of a lovable woman and has the taste of happiness." Demachy combined jasmine and ylang ylang to evoke the freshness of this floral.
14/22
Krigler Villa Bordighera
Once vacationing becomes a thing again, pack this in your carry-on if Italy is on your bucket list. This scent, created by Mr. Krigler in 1920, represents a must-visit vacation spot in Italy called the Bordighera. Its notes inlude lemon, sicilian bergamot, rose absolute, grapefruit blossom and kashmir wood.
15/22
Kilian Good Girl Gone Bad Eau Fraîche
Raise your hand if you're already a Good girl gone Bad fan? Same, same. Here, the scent is reimagined just in time for summer using a fresh "aquatic" fusion of orange blossom, Moroccan roses, Egyptian jasmine sambac, and tuberose. Honestly, Kilian's description alone will mentally put you at ease: "Imagine a Grecian villa, in the midst of the summer, surrounded by the endless blue of the Aegean Sea."
16/22
Twilly d'Hermes Eau Poivree Eau de parfum Charming Twilly
With perfume, presentation matters. So besides the fact that this bottle will look an absolute beaut sitting on your shelf, its scent is just as gorgeous. It's a fun floral with a kick thanks to pink peppercorn paired with patchouli and rose to bring out your inner-femininity.
17/22
Lancôme La Vie Est Belle Intensément Eau de Parfum
When you want your fragrance to match the weather, this warm floral will do the honors. What brings the heat is red iris, red vanilla and sandalwood at its core, coupled with raspberry accord and jasmine absolute to round out this unique floral.
18/22
Tom Ford Rose Prick Eau de Parfum
A fresh bouquet of roses from Tom Ford, which is arguably every woman's dream, is what this pretty pink bottle embodies. These aren't your run-of-the-mill roses, though. Think: rose de mai, turkish rose and bulgarian rose topped with turmeric extract, pepper, patchouli, and more.
19/22
Diptyque Eau des Sens Eau de Toilette
You should catch Diptyque's limited edition scent while you can. Dubbed the "Impossible Bouquets" collection complete with six lovely scents, this citrus delight is my favorite. The brand says it best: "Luminous and colorful, like orange trees warmed by the last rays of sunlight." Are you not sold yet? Trust, this fresh floral won't disappoint.
20/22
Jo Malone London Waterlily Cologne
Jo Malone, world-renowned fragrance house, did it again with their most recent creation: the waterlily cologne. Created to capture dewy water lilies in their prime, the union of neroli, waterlily, and white musk will remind you of a perfectly sunny day in nature.
21/22
Maison Francis Kurkdjian Aqua Celestia Forte Eau de Parfum
Finally, a fragrance that'll give you a breath of fresh air. Whether you're invigorated by the summer's breeze or the ocean's waves, this refreshing scent, which is spiked with lime, cool mint, blackcurrant, and mimosa blossoms, will mimic that vibe for an easy, all-day wear.
22/22
Philosophy Pure Grace Summer Moments Eau de Toilette
You'll be able to savor the joy of summer days even longer with this fragrance. This is Philosophy's cult-loved Pure Grace scent revamped with sunny notes of fig, lemon, sage, and fresh dewy greens to make those memories that much sweeter.