Editors handpick every product that we feature. We may earn commission from the links on this page.
Your Instant Manicure Upgrade
Glitter, press-ons, and stickers–oh my!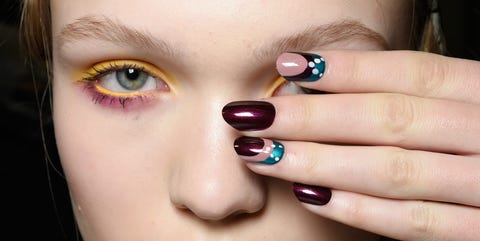 Selin Alemdar
Getty Images
Admit it: You're bored with your current nail routine. Chipped nail polishes, lackluster manicures, it's so been-there-done-that. Now is the time to try new things, and why not start with updating your nail routine? If you're anything like me, you might consider the idea of forgoing the standard manicure to be…slightly daunting. I'll admit that I'm not the most dexterous person, so anything wild like nail art just seems out of the question for me. However, with this in mind, the below products don't require intense amounts of skill to accomplish. Instead, consider these visual upgrades that might actually be easier to do yourself than anything you've done prior. A glitzy topcoat, nail stickers that make any look more fun, and more are just a click away.
The Hint of Drama
Diorific Vernis Golden Nights
Dior
bloomingdales.com
$29.00
The packaging for Dior's holiday polish is so good, you could just leave it on your shelf. But this glittering topcoat looks even better on. For an understated glimmer, paint over bare nails. For more drama, layer it over a deep shade and take it into disco territory (in a good way).
The Crystal Polish
This Gold Sleighs Me
OPI meets Swarovski in this truly glitzy collaboration. The result is 15 shades, each infused with real crystals, for a manicure that could light up any room. This gold one shines like the real thing and is perfect for holiday parties, Zoom calls, or just the casual selfie.
The New Press-Ons
Chill Tips Wavy Baby
chillhouse
chillhouse.com
$16.00
Press-ons have gotten an upgrade with Chillhouse tips. The NYC destination for glam manis now offers no-commitment press-ons that can be easily applied and removed at home. Plus, they're reusable. Put them on before a party, for an at-home photo shoot, or just to up your glam quotient.
The No-Dry Mani
Coco Lux Mani
For anyone who's obsessed with getting perfect nails but can't get the technique down, ManiMe makes it easy. These full-nail stickers can be custom sized to your individual nails and easily applied at home for a believable finish. A great manicure with no dry time? Sign us up.
The Fun Fix
Moonlit Florals Pure Pop Nail Art
Orosa
orosabeauty.com
$60.00
If you're craving a little emotionalboost, these fun and easy nail stickers (made for adults) can liven up any manicure or even bare nails. Simply choose your favorites and apply to make this DIY look professionally done. Slick the stickers with a clear topcoat for a finish that lasts.
The High Shine Nail
Miracle Gel Nail Polish Top Coat
Sally Hansen
amazon.com
$7.19
If you love the durability of gel polish but would rather skip the salon right now, this gel topcoat extends the life of any standard nail polish without the help of a UV lamp. The promise: eight carefree days of chip-free polish in an easy, one-swipe process. It also adds shine, making any style look glam!
This content is created and maintained by a third party, and imported onto this page to help users provide their email addresses. You may be able to find more information about this and similar content at piano.io