6 Self-Care Picks That Will Restore Your Peace of Mind
Unplug, unwind, and de-stress with these soothing staples.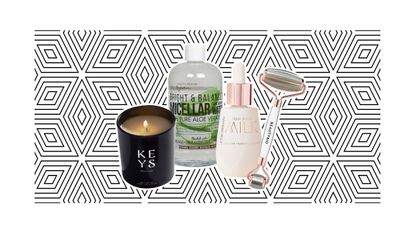 (Image credit: Future)
If we've learned anything from the chaos of 2020, it's that self-care is essential for taking the edge off of all-too-frequent stress spirals. Whether you're shopping for your nearest and dearest or treating yourself (which, by the way, we fully encourage), these items bring all the good vibes. The spa-grade beauty tools and revitalizing picks on this list will get you and your loved ones through the winter season with peace of mind intact.
1/6
Keys Soulcare Soulcare Sage and Oat Milk Candle
Although it's technically possible to take a bubble bath without a candle, we don't recommend it. Along with bringing good energy into your space, this one from Keys Soulcare has a piquant sage aroma that creates a heady, smoky warmth. Like the brand's founder Alicia Keys, it hits all the right notes.
2/6
Josie Maran Pure Argan Milk Intensive Hydrating Treatment
You know how your favorite oversized sweater is reliable, protects you against the elements, and just feels plain great when you have it on? That's what a layer of this soothing serum feels like on your skin. Formulated with pure argan oil and purified water, the lightweight emulsion delivers intense hydration that your skin will practically drink in, imparting a visible up in radiance.
3/6
Clinique Moisture Surge Overnight Mask
Give the term "beauty sleep" a literal twist with this refreshing gel-cream mask. Apply it as the final step in your nightly skincare lineup and let the hydrating formula work its magic on your skin while you sleep. Don't be fooled by the lightweight texture—ingredients like glycerin, shea butter, and algae extract flood skin with moisture so that you wake up to a soft, dewy finish.
4/6
BeautyBio Cryo Skin Icing Roller
When you really need to chill out, this double-ended cryo roller will do the trick. Equipped with stainless steel bulbs, this tool harnesses the power of ultra-cool temps to help reduce puffiness and increase blood flow. Simply store the tool in the fridge, and after your final layer of skincare, roll it over your face in an upward motion.
5/6
Urban Hydration Aloe Vera Leaf Micellar Cleansing Water
Try to find a gentler formula to sweep your day away. (We'll wait.) Rich in vitamins A and E, this formula helps lift dirt and oil from your skin without stripping it of its much-needed moisture. The aloe vera soothes irritation without leaving behind any sticky residue.
6/6
BeautyBio GloPRO Microneedling Rejuvenation Tool
In this kit, you've basically got the equivalent of a house call from your esthetician. The roller features tiny needles that kick-start your skin's natural regeneration cycle, ultimately smoothing and firming skin. The experience is totally pain-free—even soothing—thanks to the tool's gentle vibrations.
Marianne Mychaskiw is a former beauty editor and copywriter turned freelancer, covering topics like beauty, wellness, sex, and relationships. She likes long walks on the beach, and still gets emotional about Ginger leaving the Spice Girls.