All Tatcha Products Are 20% Off for Prime Day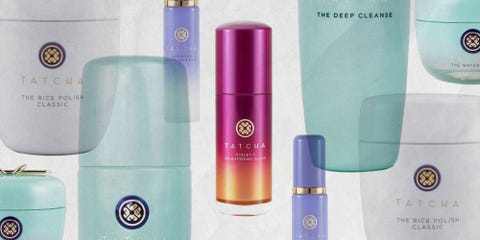 As beauty brands go, Tatcha is just a lil' baby. But when it comes to efficacy and cult status, Tatcha is one of the biggest players in beauty today. Founded in 2019 by Vicky Tsai and sold to Unilever in 2019 for a reported $500 million dollars, Tatcha harnesses the simplicity, beauty and authenticity of Japanese beauty traditions, and passes them along to the consumer in elegant milk glass bottles. The products have substance—in their ingredients, results, and packaging. And for today only, they are all on sale, too. For Amazon Prime Day, Tatcha is offering 20 percent off all the products online. Ahead a few standouts we'll be copping.
If it's good enough for Meghan Markle and Kim Kardashian, it's good enough for me. Made with Japanese rice bran and papaya extract, this exfoliator buffs away dead cells and impurities without irritating your skin. Markle said it "just sort of foams on your face and gives you a really subtle exfoliation." Sounds great, right?
$65 $52 (20% off)
The ground fibers from the Japanese Luffa fruit work as both a physical exfoliant to slough away dead skin cells, and a chemical one to loosen the bonds on clogged pores.

$38 $30.40 (20% off)
Ever wish your daily (or nightly) moisturizing cream could be completely thick and nourishing, entirely non-reactive with any other skincare (serums, retinols) and as pure as water. Your wish is The Water Cream's command.
$68 $54.40 (20% off)
4
Violet-C Brightening Serum
Tatcha's version of a vitamin C treatment is gentle, harnessing 20% of the ingredient without leaving your skin red or tight.
$88 $70.40 (20% off)
5
Luminous Dewy Skin Mist
Some people use the Paris filter and hats off to them. Others use this moony mist—it's featherlight, non-greasy, and sits atop makeup like an Instagram dream.
$48 $38.40 (20% off)
This content is created and maintained by a third party, and imported onto this page to help users provide their email addresses. You may be able to find more information about this and similar content at piano.io