The 5 Viral Beauty Hacks You Should Seriously *Never* Try
Just because you can, doesn't mean you should.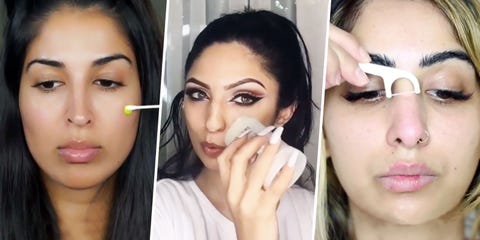 When's the last time you met someone whose life was changed by a trick they saw on Instagram? We're gonna go ahead and guess never. Which is surprising, considering every Instagram feed is consistently inundated with a billion beauty "hacks" to get rid of acne, fix dark spots, and turn you into a magical, beauty unicorn.
[contentlinks align='left' textonly='false' numbered='false' headline='Related%20Stories' customtitles='How%20to%20Get%20Rid%20of%20That%20Annoying%20Summer%20Back%20Acne%7CThis%20Weird%20Trick%20Keeps%20My%20Skin%20Matte%20*All*%20Day' customimages='|' content='gallery.4909|article.28543'] The problem is that the majority—like, almost all—of these tricks are not only created out of the sky by vloggers and influencers with no medical backgrounds, but are also incredibly, incredibly harmful for your skin, resulting in rashes, burns, and even scarring.
So rather than let you experiment with another potentially face-destroying DIY this week, we chatted with Yale University dermatologist Mona Gohara, MD, to find out why, exactly, these ultra-popular hacks are complete crap.
This content is created and maintained by a third party, and imported onto this page to help users provide their email addresses. You may be able to find more information about this and similar content at piano.io