5 Foolproof Ways to Fight Frizzy Hair
The struggle is *too* real.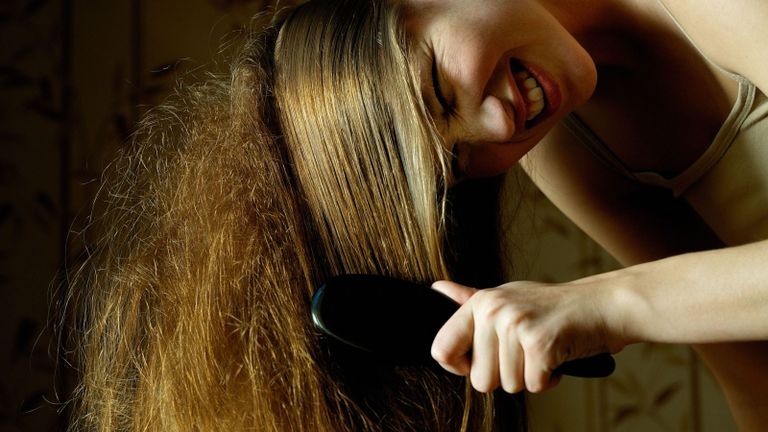 (Image credit: Getty Images)
While we're all about naturally voluminous hair, sometimes you want a sleeker look. To get the 411 on fighting the fluff when humidity strikes, we spoke with Rita Hazan stylist Christine Healey and Michael Dueñas, hairstylist to the stars and founder of Hair Room Service.
If you're air-drying your wet strands, avoiding frizz starts right when you step out of the shower. Dueñas recommends using a towel which doesn't pull the strands of your hair apart to "blot" the water out of hair. ("Aquis makes the best towels I have ever used, hands down.") Blotting, he says, reduces drying time under heat, which helps the hair maintain its natural moisture.
If you're fighting serious natural frizz, Healey recommends using a styling cream with plenty of moisture (like Bumble and Bumble's bb Styling Creme) distributed evenly throughout the hair using a wide tooth comb. Most importantly, don't touch your hair until it's totally dry!
Healey suggests sleeping like a *princess* with a satin pillow case (okay, we're listening) to reduce friction and prevent morning frizz. And as if you needed another reason to avoid tight ponytails, Healey also recommends that you avoid pulling strands along your scalp by using a soft hair tie and a looser fit.
When using a blow dryer, Dueñas notes that a leave-in conditioner used in conjunction with a thermal heat protectant *pre-blowout* always helps detangle and straighten strands (he likes Unite's 7 Second Detangler or 7 Second Glossing).
When drying, make sure to direct the air flow down the hair shaft, and to try using a ceramic blow dryer (Dueñas recommends the Infinity PRO by Conair 3Q Dryer). "It helps reduce frizz while I'm drying with its ionic technology. It's also really quiet which is huge to me, and a good blow dryer really does make huge difference in drying time and health of hair."
Split ends can be bad news for sleek strands, because the end can split all the way up the strand, causing it to frizz out indefinitely. Try to get your ends trimmed every 6-8 weeks, and use oil on the tips to keep them moisturized—Healey likes Oribe Gold Lust Nourishing Hair Oil.
"Frizz is your hair's way of reaching out to the atmosphere to expand and capture more moisture. If you give your hair the moisture it needs before you exit the shower, then it will be less likely to to get frizzy afterwards," Dueñas says.
Healey suggests using Rita Hazan Weekly Remedy Treatment in the shower for intense moisture and products infused with natural oils (coconut and argan oil, for example) or shea butter for regular shampoo and conditioner. And to really seal in moisture, Dueñas recommends deep treatments twice-a-week with Pai-shau's Supreme Revitalizing Mask.
Follow Marie Claire on Instagram for the latest celeb news, pretty pics, funny stuff, and an insider POV.
I'm a writer and editor based in New York City. I love a good coat, a well-articulated feminist rant, and face masking (yes, that's a verb) like it's nobody's business.