World Beauty Trends
Global goodies you can get stateside.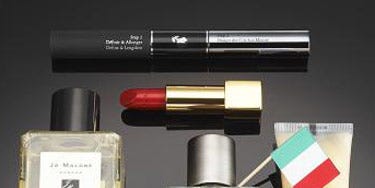 Six international Marie Claire beauty editors give us a peek at their prized cosmetic stockpiles. Here, global goodies you can get stateside.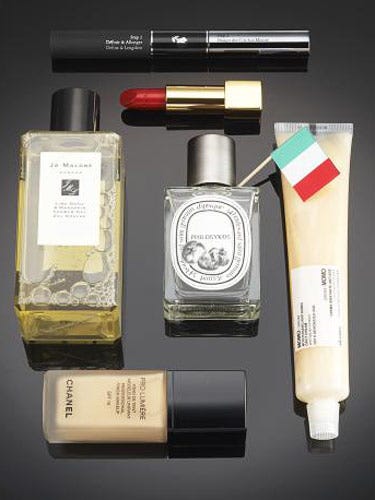 World Class Beauty
ROME REMEDIES: Antonella Bussi, beauty editor, Marie Claire Italy
Italians are born with a strong sense of aesthetics, which we cultivate in design, art, fashion - and on our faces. Full makeup - strong eyes and lips - is making a comeback. I love red lipstick from Chanel and black Lancôme Cils Design Pro mascara. A few drops of Chanel Pro Lumière Professional Finish Makeup SPF 15 perfects skin and keeps it matte all day long. Thick, wavy hair comes with the territory here, and one terrific way of taming it is with an Italian product, Davines MOMO Moisturizing Anti-Aging Daily Cream hair masque. Its super-nourishing ingredients - jojoba oil, rice protein, and walnut extract - are all-natural. Italians adore Mediterranean scents like fig and bergamot. I love Jo Malone Lime Basil & Mandarin Shower Gel and Diptyque Phylosykos perfume.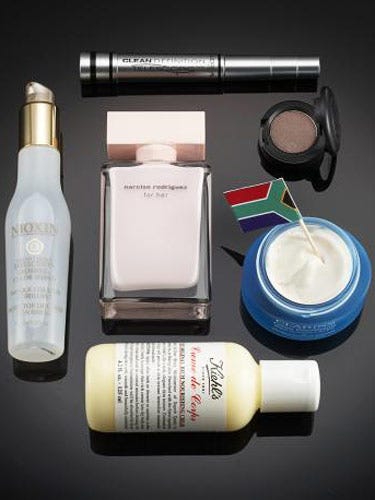 World Class Beauty
AFRICAN QUEENS: Helen Clemson, beauty editor, Marie Claire South Africa
Because of the limited access we have to products here, most women are mass-brand loyalists. You'll often hear someone say, "I'm a real Revlon girl." But imports are arriving quickly. I've just become obsessed with MAC Eye Shadow Frost in Satin Taupe and L'Oreal Paris Telescopic Mascara in Carbon Black. Most women are more into haircare than makeup, though. For thinning hair, shampoos containing rooibos, a plant indigenous to South Africa, add body. I also use Nioxin's range of care and styling products. When the air gets drier in late spring (this month), the most effective moisturizers are Clarins HydraQuench Cream for Normal to Dry Skin and Kiehl's Creme de Corps. And it's naturally very fragrant here, so soft, sensual musky scents work best. Narciso Rodriguez for Her fits the bill.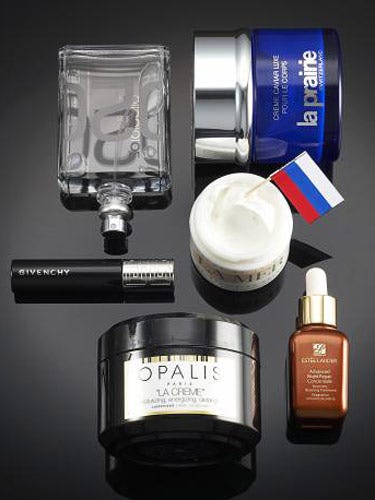 World Class Beauty
MOSCOW MUST-HAVES: Julia Kudryavtseva, beauty & health director, Marie Claire Russia
Glamour and luxury are top priorities for Russian women, and we prize the upscale beauty imports that we now have access to. I couldn't get through our infamously long winters without Crème de la Mer. For an extra layer of protection during long flights, I'll add Estée Lauder Advanced Night Repair Concentrate. La Prairie Skin Caviar Luxe Body Cream is perfect for the rest of me and feels as indulgent as it sounds: It makes my skin feel and look soft and toned. Hair needs hydration, too, whether you're battling a frigid climate or the effects of a sun-baked holiday. The French brand Opalis - very popular in Moscow - makes a wonderfully effective conditioner called La Crème that smells deliciaously sweet. And Givenchy Phenomen' Eyes mascara is a marvel; its spherical wand helps you plump up even the hard-to-reach spots. Right now I'm also crazy about the nutty finish of Escentric Molecules Molecule 02 perfume, from the U.K.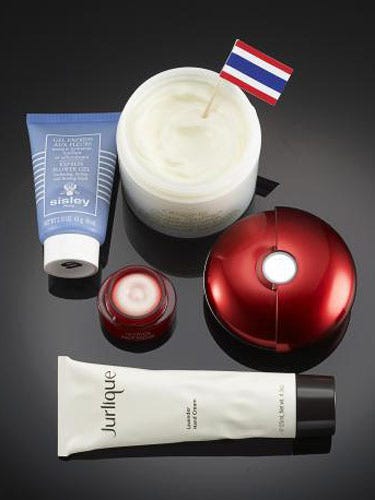 World Class Beauty
BIG BANGKOK THEORY: Pilan Sriveerakul, beauty editor, Marie Claire Thailand
The biggest obsession for Thai women - and men like me - is skin, from wrinkles to breakouts. Women do whatever they can to pursue flawlessness, whether using a traditional glow-enhancing treatment, like scrubbing their faces with turmeric powder or tamarind juice, or using Western products. For a quickie facial reboot, I love Sisley Paris Express Flower Gel Hydrating mask; for foundation I recommend SK-II Air Touch Foundation and Clarins Paris Instant Smooth Perfecting Touch. Both are sheer without sacrificing coverage. Because Bangkok is tropical, we find most perfumes too strong. All the fragrance I need is Origins Ginger Souffle Whipped Body Cream. For smooth, scented hands? Jurlique Lavender Hand Cream.
World Class Beauty
GIRLS FROM IPANEMA: Katia Del Bianco, beauty editor, Marie Claire Brazil
Brazilian women are very beauty- and body-conscious and value novelties - like cute packaging - as much as cutting-edge technologies. We prize pouty lips. One of my staples is Avon Batom Ultra Color Rich Extra Volume SPF 15, which tickles as it revs circulation, making lips fuller. My going-out-dancing gloss is Lancôme Color Fever, which is small enough to fit in my pocket. As great as our hot climate is, oily skin is part of the package. Fixes include Yves Saint Laurent Teint Parfait, an oil-free highlighter, and Yves Saint Laurent Touche éclat. Like so many naturally curly-haired Brazilians, I wear mine straight, thanks to L'Oréal Professionnel Texture Expert Superior Hold Gel. Keeping a fit figure is a must with our famously tiny bikinis. Anticellulite products, like Shiseido Body Creator Aromatic Sculpting Gel, are part of our daily beauty routines. And for perfume, Brazilians love to flirt with new options. My current fave is Prada Infusion D'Iris - light for the office, and stays fresh even if you're out all night.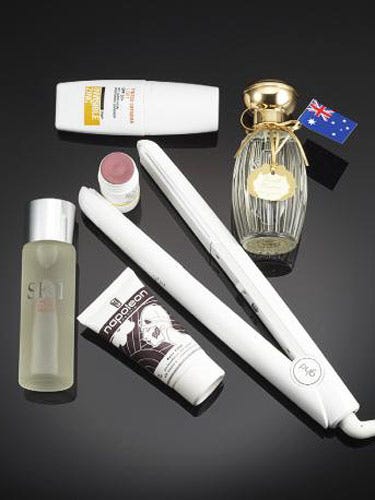 World Class Beauty
AWESOME AUSSIES: Emily Taylor, beauty director, Marie Claire Australia
Never wanting to look like they've tried too hard, Australian women cultivate a natural beachy beauty. To get the textured, ocean-fresh waves that are so popular, I go with the super-efficient GHD Professional Styler with Ceramic Technology. Sun protection is a daily priority, thanks in part to our famous skin-cancer campaign, "Slip-Slop-Slap." Invisible Zinc Tinted Daywear Sunscreen in SPF 30 and Ganehill New Generation Suncare Tinted Lip and Cheek stick - both local labels - offer heavy-duty protection with the sophisticated texture of makeup. Keeping it all in place, of course, is another challenge in our climate. Napoleon Perdis Auto Pilot Pre-Foundation Primer is melt-prevention perfection, and as fellow Australian Perdis says, "Not to prime is a crime." For year-round moisturizing, SK-II Facial Treatment Essence is fantastic. Scent-wise, the not-too-sweet Annick Goutal Vanilla Exquise is just right for days on Sydney's beaches and nights out.
This content is created and maintained by a third party, and imported onto this page to help users provide their email addresses. You may be able to find more information about this and similar content at piano.io