Debra Messing Says She "Regrets" Going on Megyn Kelly's Morning Show
"Honestly I didn't know it was MK until that morning."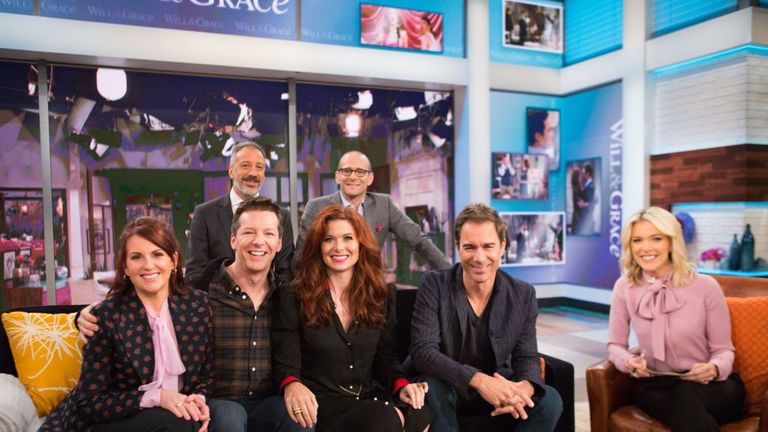 (Image credit: Archives)
One day after appearing on Megyn Kelly's hour of the Today show, Will and Grace star Debra Messing says she "regrets" it.
RELATED STORY
On an Instagram post of a bowl of cucumbers captioned #presstour, a commenter wrote: "But why did you guys do the Megyn Kelly show? That's a fail!" Messing responded: "Honestly I didn't know it was MK until that morning. The itinerary just said Today Show appearance. Regret going on. Dismayed by her comments."
The comment seems to reference Kelly saying to a Will and Grace fan Russell Turner: "Is it true you became a lawyer—and you became gay—because of Will?" The fan responded: "I look at Will Truman and I'm like, he has it made: lawyer, apartment in New York City and gay? Come on."
After awarding Turner two tickets to see a taping of the show in Los Angeles, Kelly said to the fan: "I don't know about the lawyer thing, but the 'Will & Grace' thing and the gay thing is going to work out."
Kelly also talked in the interview about the impact of the show, saying: "Culturally, it had a huge impact. Vice President Joe Biden said at the time, that he thinks no other program has had as much of an effect, in sort of, calling people's attentions to gay rights."
The rest of the cast hasn't commented on the interview but Messing's costar Sean Hayes posted a photo right after captioned: "Having fun on the premiere episode of @megyntoday."
Kate Storey is a contributing editor at Marie Claire and writer-at-large at Esquire magazine, where she covers culture and politics. Kate's writing has appeared in ELLE, Harper's BAZAAR, Town & Country, and Cosmopolitan, and her first book comes out in summer 2023.