Amal Clooney Skillfully Shuts Down Fashion Questions at Work
Even human rights lawyers have to deal with dumb red carpet questions.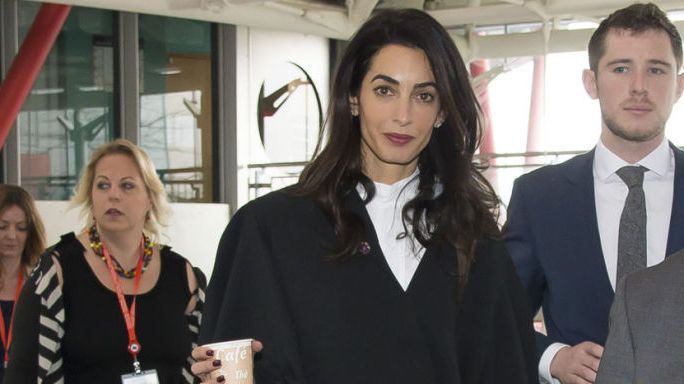 (Image credit: Archives)
We can only imagine how fast the whole 'who are you wearing?' thing gets old for celebrities. It even irks us, at home, when successful women in Hollywood have to field totally inane questions on the red carpet about their fashion choices, work/life balance, and not much else.
Amal Clooney is, of course, a human rights lawyer, but now it looks like even just being married to a celebrity subjects you to these kinds of queries. Clooney is currently representing Armenia in the European Court of Human Rights as the country makes its case against Turkish Workers Party leader Doğu Perinçek for denying the existence of the Armenian Genocide. It's obviously very serious work, but today, a Telegraph reporter asked her about the speculation around her fashion choices, of all things. Her response? She laughed, pointed to her court robes, and said, "I'm wearing Ede & Ravenscroft."
I ask Amal Clooney about the fashion speculation. She laughed & pointed to her robes, "I'm wearing Ede & Ravenscroft" pic.twitter.com/cEsuy87VdaJanuary 28, 2015
See more
Ede & Ravenscroft is a London-based tailor that often supplies robes, but the point is this: First of all, kudos to Amal for laughing off a question that would have left us fuming while were we busy representing the rights of an entire country. Secondly, we loved the subtle way she managed to remind the reporter (and in turn, the world) that when she's on the job, that's what she'll talk about—she might have incredible style, but she's a highly successful lawyer first, and a celebrity second. She barely tolerated the red carpet shenanigans when she was um, on the red carpet at the Golden Globes.
Keep doing you, Amal.
You should also check out:
George Clooney Gets Sappy Over Amal, We All Swoon
Should We Really Give Amal Alamuddin a Hard Time About Changing Her Name?
Barbara Walters Declares Amal Clooney the Most Fascinating Person of 2014