Beauty Billionaire Paris Hilton Launches Her 18th Scent
Business is good.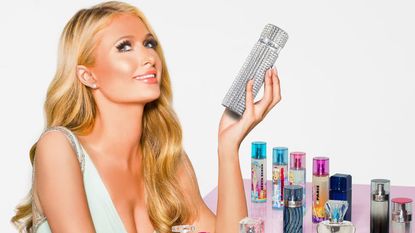 (Image credit: Parlux Fragrances)
Marie Claire newsletter
Celebrity news, beauty, fashion advice, and fascinating features, delivered straight to your inbox!
Thank you for signing up to . You will receive a verification email shortly.
There was a problem. Please refresh the page and try again.
Paris Hilton may have dropped out of our Kardashian-dominated reality culture for the last few years, but that doesn't mean she's disappeared. Far from it. The former socialite, whose biggest accomplishment at one point was coining the phrase "That's hot," has become a legitimate multi-hyphenate.
In addition to deejaying, a job that reportedly pays her up to $1 million per set, she just opened the Paris Beach Club in Manila and has multiple clothing and accessory lines. She also has a new single coming out with Birdman, called "High Off My Love." (You can expect the video to be "a mix of Madonna's 'Justify My Love' and 50 Shades of Grey," according to Hilton.) Then, of course, there's her fragrance empire. To date, Hilton has released 17 (no, that's not a typo) fragrances, sold more than 40 million bottles, and brought in about $2 billion in sales. So this week, Hilton threw a very posh breakfast (replete with flowers suspended in giant ice sculptures) for a handful of editors, to celebrate 10 years of making perfume and to introduce scent number 18 to the world.
In 2005, the year Hilton launched her first fragrance, a lot of things happened. Hurricane Katrina hit. Tom Cruise jumped on Oprah's couch. Brad left Jen. Hilton's memories from that time are a bit more specific. "I was in New York, and it was so exciting to be launching my first fragrance," she told ELLE.com (opens in new tab). "I was wearing a lot of pink because the fragrance was pink. I always try to dress like the theme of my fragrance. I was wearing a lot of pink, sparkly princess dresses!"
This new offering, the Paris Hilton Limited Anniversary Edition for Women ($65) (opens in new tab), contains the same fragrance as her original scent, which was called, simply, Paris Hilton. The new one is more concentrated than the original, though, and comes in a crystal-bedazzled bottle. "I was just looking back on all my fragrances and I just think they're all so different and really show the growth in my life and how I've changed," she said. As befits a person who has 18 different perfumes to her name, Hilton does not believe in a signature scent. While she claims to wear nothing but her own scents now, she grew up admiring her mom's classic Quelques Fleurs and Joy.
Hilton is headed to Ibiza to this summer for the third year in a row to deejay, and is no stranger to jetting around the world, so I asked her for her travel beauty tips. To combat plane skin, she slaps on SK-II's famous sheet masks (opens in new tab), as well as a mask that she says is infused with 24-carat gold. "I am like a skin fanatic. I probably look crazy wearing [masks] on the plane, but I don't care," she said. When she lands, she applies Shu Uemura eye cream and La Prairie moisturizer. The biggest beauty danger she faces, though? The "foam parties" at the end of her DJ set. "Your hair just gets really messed up from it," she said. "I have to deep condition the next day like all day long or else my hair gets so damaged from the foam." Who knew?
Here's the surprising thing about Paris, at least to me, a person who had never met her and has a definite preconceived notion of her: She's really approachable and disarming. Within minutes of coming over to our table to chat, she complimented my baby blue nail polish and another woman's hair color. Telling a girl she looks nice goes a long way toward promoting goodwill in a room. And you know what? That's hot.
You should also check out:
Eva Mendes Launches a $15 Makeup Line That's Worth Hoarding by the Handful (opens in new tab)
5 Products That Make Contouring a Cinch (opens in new tab)
Hair Inspiration for Each and Every Wedding on Your Docket (opens in new tab)