Prince William Just Revealed How He's Preparing for His Third Child
Kate Middleton is due to give birth in April.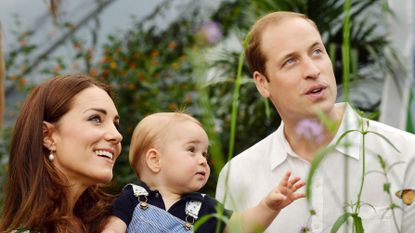 (Image credit: Getty Images)
Marie Claire Newsletter
Celebrity news, beauty, fashion advice, and fascinating features, delivered straight to your inbox!
Thank you for signing up to Marie Claire. You will receive a verification email shortly.
There was a problem. Please refresh the page and try again.
Prince William has opened up about preparing for a third child with the Duchess of Cambridge for the first time.
On Friday, the 35-year-old attended the Centrepoint Awards at Kensington Palace, an event which is designed to celebrate the achievements of young people who have overcome homelessness. During the ceremony, the Duke of Cambridge spoke candidly about family life.
He told guests, "Our third child is due in April, I'm getting as much sleep as I can."
Raymond Stoner, head of Anston Properties, quickly suggested that the royal couple save time by having twins, to which the Duke of Cambridge joked, "Twins? I think my mental health would be tested with twins."
Prince William continued, "Two is fine, I don't know how I'm going to cope with three. I'm going to be permanently tired."
The evening marked 50 years since the charity—which Princess Diana was a patron of—was first established.
And in a candid speech, the Duke of Cambridge praised the work of those involved. He said, "I feel immense pride in all Centrepoint has accomplished in that time, but with it, disappointment and frustration—frustration that in one of the most prosperous countries in the world, homelessness is still putting the lives and futures of our young people at risk."
After meeting a group of young women who attended the ceremony, he congratulated them on their success saying, "Look at you girls—you look amazing. You're smiling, you're the role models now."
He continued, "You've had difficulties and you've come through them. You're the role models for the next generation."
Celebrity news, beauty, fashion advice, and fascinating features, delivered straight to your inbox!