What Blake Lively And Ryan Reynolds's Body Language Says About Their Relationship
They're bringing back #couplegoals.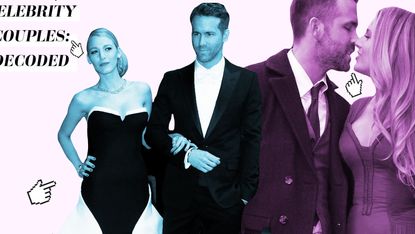 (Image credit: Getty Images/ Lucia Urbanic)
Body language can reveal many truths about relationships — but only if you know how to read it. In Celebrity Couples: Decoded, an expert interprets A-listers' interactions to shed light on their IRL dynamic.
Blake Lively, 30, and Ryan Reynolds, 41, met on the set of Green Lantern in early 2010. By October 2011, they were dating, and they married in September 2012. About two years later, they welcomed their first daughter, James, who was followed by Ines, born in September 2016. Here's what North Carolina-based body-language expert Blanca Cobb makes of the duo's interactions:
1. Ryan Holds Blake's Elbow
Above, Blake reaches out to Ryan, and he reinforces her touch by brushing his fingers along her elbow. "It's a visual way of saying, 'I'm into you, I want to be more connected to you,' " Cobb says.
2. Blake Holds Ryan's Forearm
Here, Ryan holds out his elbow to support Blake physically — and emotionally, according to Cobb, who notes the way Blake rests her left hand on Ryan's forearm. "Her relaxed fingers are spread to cover more surface area, and show no tension, stress, or anxiety. That's what you want to see in a relationship," she says, adding relaxed, comfortable-looking interactions signal a strong connection.
3. Ryan Cups Blake's Butt
Ryan's facial expression makes it look like he can't get enough of her, says Cobb. "His right hand on her tush is flirtatious — it tells the world, 'Back off, she's mine' and makes it clear he loves Blake's body." Blake, meanwhile, appears to be using her right hand either to adjust her dress or to get some skin-to-skin contact with Ryan. "She has a genuine smile, so you can tell it's not bothering her," Cobb says.
4. Blake Holds Ryan's Arm and Hand
Here, Blake holds Ryan's hand and arm in what Cobb refers to as the "double clutch." "She's pulling his arm into her body for comfort, support, and closeness — you can tell she's really into her husband," Cobb says, noting the way their attention appears to be diverted. "It's OK to pay attention to different things. You can still be in tune with each other."
5. Ryan and Blake Walk in Synchronized Step
Holding your partner by the arm is much less intimate than hand-holding — but Ryan's gesture still offers support and stability, according to Cobb, who thinks the angle of Ryan's arm looks uncomfortable. "He's willing to make himself a little awkward for her benefit, and that's sweet," Cobb says. She also notes the way both Ryan and Blake lead with their left legs — a sign a couple is in sync emotionally. Even more telling, though, are their facial expressions. "There's happiness in their faces," she says.
6. Ryan and Blake Share a Kiss
If you ask Cobb, a kiss isn't just a kiss – and this one is no exception. "They're almost mirror images of each other, which signals an emotional connection," she says of the angle at which their heads tilt, the similar parting of their lips, and the placement of their free hands. "People's bodies subconsciously reflect how they feel, and this couple's kiss says their love is hot!"
7. Ryan Holds Blake Around the Waist
Notice the way Ryan wraps his hand around Blake's side. "It's like he's hooking her and sending a silent message that says, 'You're mine, we're together,' " Cobb says. Although they're looking in different directions, the couple's close proximity maintains their connection, says Cobb, who doesn't make much of Blake's arm positioning. "It looks like she's trying to place her hand on her hip but has no room because Ryan's hand is there," Cobb says.
8. Ryan Holds the Back of Blake's Chair
When a guy places his arm on the back of your chair, he simply could be craving an arm rest — but Cobb thinks Ryan's gesture means something more. "He's staking his claim," she says. Although this can make some people uncomfortable, Blake looks pretty pleased with the situation — another testament to the couple's bond.
9. Blake Grabs at Ryan's Sleeve
Here, Ryan reaches for Blake's waist as she gently encircles his extended forearm — there doesn't appear to be tension in the fingers, which possibly would indicate stress or anxiety. "When you clutch someone, it could be about desire for that person or passion," Cobb says. The duo's matching smiles — a sign they're emotionally in sync — are also notable: "It's a candid shot, which is the best reflection of what's really going on behind closed doors," Cobb says.
10. Blake and Ryan Place Their Arms Around Each Other
"Spreading the fingers is a method to take up more space and touch your partner more," Cobb says of the way Blake plants her hand on Ryan's back. "And he's not just putting his hand on her back, but curving his fingers around her waist to get closer by reeling her in."
The Bottom Line:
"I think they have a really great relationship, enjoy each other's company, and want to let the world know," Cobb says.
Celebrity news, beauty, fashion advice, and fascinating features, delivered straight to your inbox!
Elizabeth Narins is a Brooklyn, NY-based writer and a former senior editor at Cosmopolitan.com, where she wrote about fitness, health, and more. Follow her at @ejnarins.