Colin Firth's Wife Livia Admits to Former Relationship With Alleged 'Stalker'
The Hollywood couple briefly separated in 2015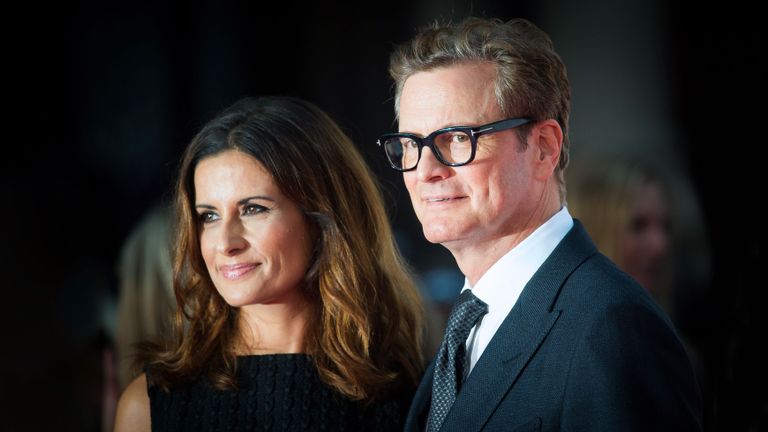 (Image credit: Getty Images)
Colin Firth's wife Livia Giuggioli has admitted she had a brief relationship with an Italian man she has accused of stalking and terrorizing her (opens in new tab).
Police in Italy are investigating journalist Marco Brancaccia, a childhood friend of Giuggioli's, whom she has accused of harassing her with a campaign of threatening telephone calls and texts, as reported by The Times (opens in new tab). Firth complained to Italian prosecutors, who have started an investigation and reportedly seized Brancaccia's computer and phone.
Film producer Giuggioli and Oscar-winning actor Firth—who have been married since 1997—revealed through a statement that they separated in 2015, before reuniting a year later.
During this time, Giuggioli said she had become involved with Brancaccia, but claims Brancaccia stalked her after their affair had ended.
"A few years ago Colin and Livia privately made the decision to separate. During that time Livia briefly became involved with former friend Mr. Brancaccia. The Firths have since reunited," the couple's representative told The Times (opens in new tab).
"Subsequently, Mr. Brancaccia carried out a frightening campaign of harassment over several months, much of which is documented."
Brancaccia—a journalist with the Italian news agency Ansa—has denied the accusation of stalking, and alleged that Livia invented the accusations to cover up the affair they had had between 2015 and 2016.

"We were romantically involved, she wanted to leave Colin for me," he told the paper, before claiming that Livia's marriage to Colin had been "over for years."

"My 'stalking' consisted of two messages via WhatsApp after she ended our relationship in June 2016, and an email," he continued.
"I wrote an email to Colin about my relationship with Livia, which I now regret sending, and she filed a complaint against me for stalking out of fear that I could go public with what she had revealed to me about her marriage and work.
He added: "In a year she sent me hundreds of messages of love, photos and videos, even a diary."

Brancaccia said he regretted sending the email to Firth, as the actor had shown "understanding."

Giuggioli is of Italian heritage and was born in Rome, while Colin gained Italian citizenship last year. The pair married in Italy and have a house in Umbria. They live with their two sons in west London.

Along with film producing, Giuggioli is the founder of Eco-Age, a brand consultancy that advises fashion companies about environmental sustainability. As an Oxfam ambassador, she is also renowned for her charity campaigning, and is a founding member of Annie Lennox's women's advocacy group, The Circle.
RELATED STORY
Naomi Gordon is news writer mainly covering entertainment news with a focus on celebrity interviews and television.